4th & Goal!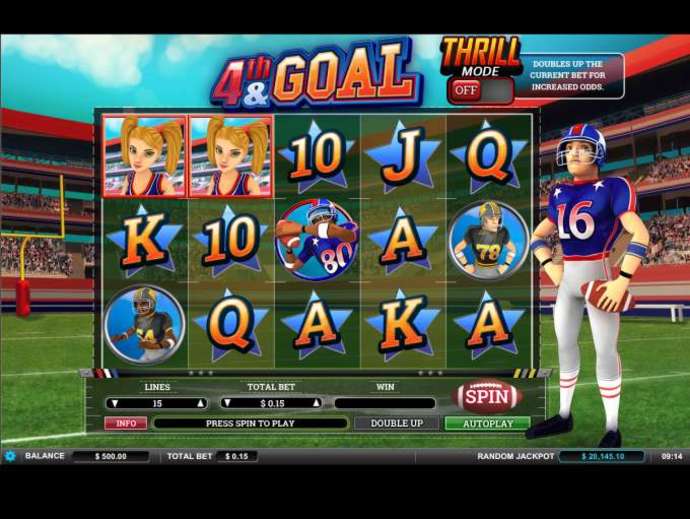 Did someone say "goal"? We're still talking football here, but this time American Football, courtesy of Arrow's Edge. If you've ever watched an NFL game, you'll know it's hard-hitting, action-packed, and full of adrenaline – and that's exactly what you'll find in this American Football themed slot too. Winnings that pack a real punch!
Right from the start, 4th & Goal brings you into the electric atmosphere of a game about to begin, complete with a stadium setting, football field and crowd. You'll also find a team full of characters that you'll be playing with, including Coach Walsh, Jerome, Sticky, Cheerleader Page, Colt, Willie, the Terminator, and more. It's your job to get the quarterback Colt through to the championship, along with the Coach, Jerome and Sticky – while heading off Terminator and Willie at the pass. Which side will win? There's only one way to find out!
Ready! Set! Hut!
It's time to get this game going! You're in control right from the beginning as the coach of your own winning team, which means you'll be able to activate any or all of the 15 paylines that criss-cross the 5 reels. Or if you feel like taking it easy, switch to auto-play instead and sit back. With bets of up to $9 per line, the max per bet is $45, so judge what you're able to afford, and go from there.
Let's get spinning! First of all you'll want to keep an eye out for Jerome – he's the wild symbol and he'll take the field as a substitute symbol at any time, completing winning combos as he goes. Then there's Page, your own personal cheerleader, and also your scatter who'll bring 10 to 20 free spins your way if you find three or more of her in a single spin.
What you're really looking out for though is the bonus game, and that's exactly what you'll trigger as soon as three or more Colt symbols land on the reels – the quarterback himself. Bring this guy into the game, and you'll instantly be taken to the bonus game, which is played in two rounds. In round one, you'll be able to choose between four different football plays. If your chosen play brings about a touchdown you'll move on to the next round. (Unfortunately if the defense tackles you, your bonus round is over). If you do make it to the next stage, you can choose between either kicking for another point, or selecting one of three other plays to score a 2-point conversion. The more points you earn, the bigger your ultimate payout will be!
And as if that wasn't enough to get you excited about winning, there's a gripping Thrill Mode as well, that you can activate at any time. Put this into play by doubling your bet, and you'll immediately increase your RTP from 93% to 96%, bringing even more potential winnings your way. Have you got what it takes to be an NFL champion? Get your gear on and let's see how many payouts you can score!
Happy Spinning 🙂