Blackjack FAQ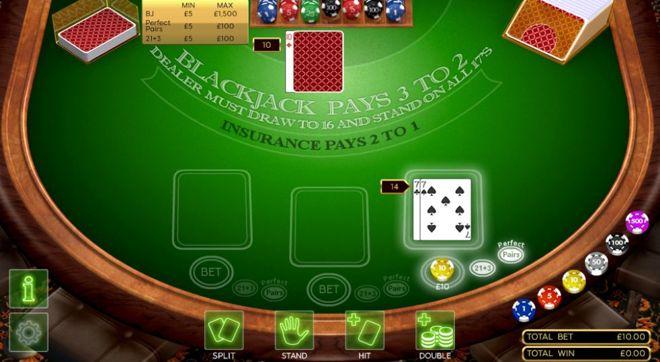 Online Blackjack FAQ
Online Blackjack players – if you've got questions, we've got answers! Take a look at the most frequently asked questions about one of the world's favourite online gambling games, and start hitting and splitting like a pro!
What is online Blackjack?
Ok, let's start simple. The same as land-based Blackjack, the object of online Blackjack is to have a card hand value as close to 21 as possible without going over. The biggest different between virtual and regular Blackjack however is that here you aren't playing against a dealer – you're playing against the casino, and outcomes are determined fairly by a Random Number Generator algorithm. Other than this, the rules and the order of play are the same as ever – sit down, place your bets, and wait for Lady Luck to work her magic!
What is live online Blackjack?
The best of both worlds, live online Blackjack gives you the convenience of playing online, with the authentic experience of playing against an actual dealer as well. Live online casino games take place in a genuine casino environment with a real live dealer overseeing each game, dealing you in and running the game as they would in a traditional casino. The action is then captured via camera and live streamed in real time, allowing you to take part via your computer or mobile device as you would any other virtual casino game. The difference? The social aspect. Not only can you interact with the dealer via live chat, you can speak to the other players round the table as well. So if socialising is the one element that's been missing from online Blackjack for you, live online Blackjack could be just the alternative you've been looking for.
What online Blackjack games are available online?
If you thought online Blackjack was limited to just one version of the game, think again! As an online player, you're spoilt for choice when it comes to Blackjack (and most other virtual casino games as well). First off there's Classic Blackjack, the most traditional version of the game, and the one you're most likely to recognise if you're simply a casual player. Variations of this often differ from casino to casino, with a different number of decks being dealt from the shoe, whether players are allowed to double down on all hands or only certain ones, and whether early or late surrender is allowed.
If you're looking to branch out from regular Blackjack however, you'll find plenty of opportunities online, with variations such as Super Fun 21, Pontoon, Spanish 21, Double Exposure, Blackjack Switch, and many more. Each of these games comes with its own set of rules, so it's best to take a look at these, and perhaps play a few games for free before you start betting with your real money. One thing's for sure though, no matter which type of game you choose to play, you're guaranteed to have a thrilling time with every card that's dealt!
How much do I need to bet?
A better question would be, how much can you afford to bet? With most online casinos accepting minimum bets as low as $1, practically everyone can afford to play Blackjack – however if you're looking to immerse yourself fully into the game, have fun, and even win some decent money at the same time, you're looking at a budget of $300 to $500 – or more if you're a high roller. Remember to always set your betting limits before you start playing, and to stick to them strictly. The more you do, the more Blackjack you'll be able to play in the long run.
Is online Blackjack legal?
While you will need to check the gambling regulations of your particular country, by and large online gambling is legal in most countries, whether played within their borders, or offshore. Make sure you're familiar with your country's legalities surrounding online gambling, and ensure that you are over 18 (or 21 in some countries) before placing your bets.
Is it safe to play Blackjack online?
All reputable online casinos take their reputation very seriously – as such, they make their players' online safety and security a top priority. To this end, they adhere to the strictest best practice standards demanded by the industry, and employ stringent encryption technology to safeguard the integrity of players' personal and financial data. In addition, casinos submit to regular third party auditing of their RNGs to ensure their ongoing fairness and compliance, and have privacy and confidentiality policies in place to protect players' information at all times. In this way, you can be sure of world-class safety and security, and complete peace of mind at all times.
Do Blackjack players qualify for bonuses?
Yes, but you'll have to look for them. As you'll see when you start shopping around for a new online casino to join, most welcome bonuses are geared towards online slots players. That's not to say that there aren't Blackjack-related bonuses out there – you'll just have to search for them. Since Blackjack has one of the lowest house edges of all online gambling games, most casinos are reluctant to offer Blackjack bonuses, however it does happen. Before you commit to a particular sign-up bonus, check the terms and conditions first. If you're allowed to play Blackjack in order to clear your bonus then go for it – it might take longer than a slots bonus would, but it'll be worth it in the end!
Can I count cards when playing Blackjack online?
No, sorry! Thanks to the Random Number Generator algorithm employed by casinos, all decks are shuffled and dealt randomly, meaning no cheating is possible. If you're a serious maths whiz, you might be able to count cards during live dealer games, where an actual croupier is dealing, rather than a computer – but bear in mind that security will be watching you, and will step in should any suspicious activity be discovered on your account. By far the best Blackjack strategy to employ is to practice, practice, practice. Get as much time as possible on the tables, read up on profitable strategies online, consult the help guides at your casino, and turn yourself into a Blackjack expert through hard work, time and skill. The rewards will be more than worth it!