Book of Oz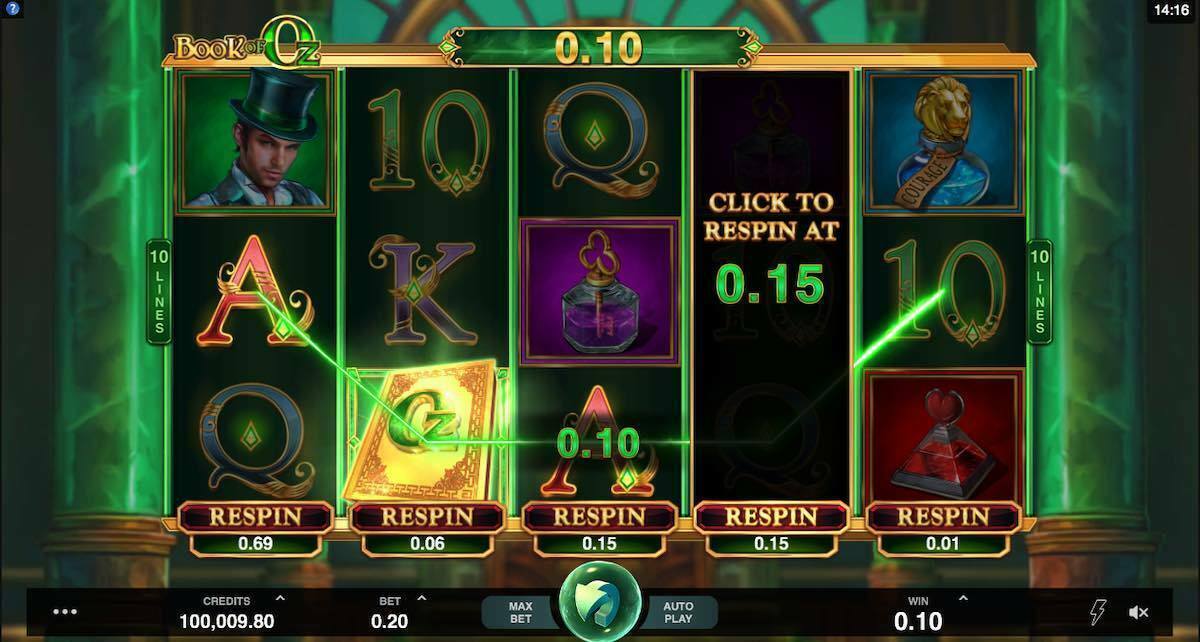 Want to enter an emerald city of wealth and riches? Then get ready to go on a winning adventure with the Book of Oz, a fantasy-themed slot that's sure to excite and delight. Based on the beloved books by L. Frank Baum and fresh from the gaming wizards at Microgaming, Book of Oz promises a storybook escapade with untold treasure at journey's end.
Ready to walk the Yellow Brick Road? Then let's set off on a winning exploration right now!
Somewhere over the rainbow, big jackpots wait
You know the books, you know the movies, now it's time to get to know the game. And what a game it is! Packed full of fairytale imagery, Book of Oz features keys, books, wizards, and heart, brain and courage potions, as well as the usual playing card symbols, all scattered amongst five reels and 10 paylines, and all waiting to bring winnings your way.
Bet up to five coins per spin, starting at bets of 0.01 per coin, all the way up to 2.00, with a max bet of 100.00 on every spin. Remember to keep an eye on your bankroll as you travel – you'll want to make sure you still have enough for the return journey!
Just as Oz is full of mystery and wonder, so too is Book of Oz, replete with bonus features and numerous ways to win. Take the unique respin feature for example – your chance to spin the reels over and over until you hit a winning combo. How does it work? Simple! Just spin the reels, and if you land on a combination that's almost a winning one, you'll have the chance to respin a reel of your choice in exchange for an additional bet. Complete the winning combination and you'll be in the money!
Then there's the free spins feature – a bonus opportunity that allows you to win unlimited free spins. Keep an eye out for the book symbol, acting as a scatter throughout the game, and if you find three, four or five, you'll win 10, 12 or 25 free spins respectively. Before each free spin, one symbol will be randomly chosen. Come across that symbol during its chosen spin, and it'll expand to fill the reel, boosting your wins at the same time. Even better, get a qualifying number of scatters during your free spins round, and you'll instantly trigger even more free spins, giving you winning potential that's almost unlimited.
Finally, make sure to scan the reels for the all-seeing, all-knowing, all-powerful Wizard of Oz. As the highest-paying symbol in the game, this is one you most definitely want to see. Get five of a kind, and you'll be rewarded with the highest payout in the game – a multiplier of 5 000x your original bet. So the more you stake, the more you could win with Microgaming and Book of Oz!
Since the game is based on Baum's source material rather than the much-loved 1939 movie featuring Dorothy and Toto, some imagery might be new to you – but what won't ever get old is the excitement you'll experience when you hit a winning combination. So get ready for the journey to Oz, and look forward to huge jackpots along the way. You're definitely not in Kansas anymore!
Happy Spinning 🙂