Crazy Gaming Locations: Part 2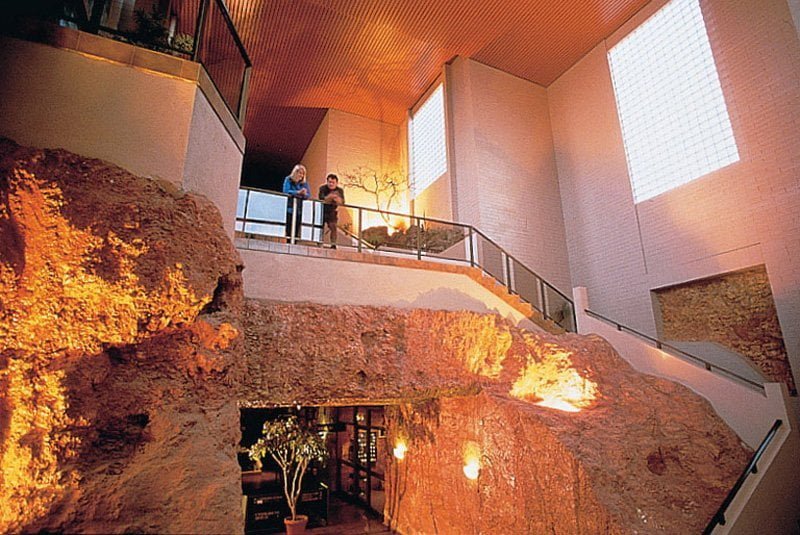 In a passenger jet, deep underground, in a taxi cab and in Antarctica – there are some casino locations that are almost literally out of this world! We're not done with our look at the world's wackiest casinos though – read on and find out just how far some people will go to place their bets…
A gambling oasis
Thought you were done reading about underground casinos? Think again! Although this time we're not going underneath someone's house – instead we're going underneath an actual desert. And no, we're not joking.
Welcome to the Desert Cave Hotel – one of the features of the red-hot Australian Outback, and an oasis of delights for weary travellers. Of course, it's not just randomly stuck in the middle of a massive patch of sand; instead it's located in the Australian desert town of Coober Pedy, a short (ha ha) 850km drive from the city of Adelaide. And just as the inhabitants of this small town chose to sometimes sleep in its abandoned mines in order to escape the scalding heat of the day, so too is the Desert Cave Hotel built both above and below ground for a cooler internal environment.
Go underground here and you won't find the opals that used to be mined in the depths of Coober Pedy. If you're lucky though, you might just strike jackpot gold! That's because with slots and other casino machines on offer, there's plenty to be won and plenty to enjoy too. Plus when you're done playing underground, you can sleep, eat, drink, shop and relax too. It's a once-in-a-lifetime entertainment opportunity, and it's definitely one for the bucket list. That's a fact you can bet on!
Playing in puddles
If you're anything like us, you always got told off for playing in puddles and making a mess when you were a kid. Now that you're an adult, however, you're literally being told to play in water – by the Rivers Casino in Des Plaines, that is.
We're always amused by the loopholes that casino operators will find in order to offer gambling legally, but this is by far one of the most creative we've ever heard of. Why? In the state of Illinois, casinos can only operate on water. This means that most of the casinos you'll find in the state are housed in riverboats. Not so for the Rivers Casino however, as this ingenious gaming establishment was built over the smallest 'body' of water you can imagine – literally a hole that was dug and filled with no more than a few inches of water. So, a puddle. Talk about following the letter of the law!
However, while the casino might be built over a small puddle, it's home to huge gaming entertainment, in the form of more than 1 050 slots, table games, and other casino favourites. Want to see for yourself? It's just minutes from O'Hare International Airport, and it's open 22 hours a day too – no excuses, and no life jackets needed!
Water under the bridge
We're carrying on the water theme here, but not in quite the same way. This time the casino is legitimately on an actual body of water, and is also legitimately the oldest casino in the world (still in operation, that is). We're talking of course about the Casinò di Venezia, and while it's business as usual inside, it's a little different outside – as the only way it's accessible to the public is via gondola.
Being located in Venice, this should come as no surprise – this Italian city is known the world over for its labyrinth of canals. Catching a gondola is as commonplace as catching a cab in other cities, and this is exactly what you'll need to do in order to gain entry to the Casinò di Venezia.
Once you're inside, you'll have hundreds of casino games to play and architecture dating as far back as the 1600s to appreciate, not to mention various tournaments throughout the year as well. So if you're interested in joining in the fun, get ready to hail a gondola and enjoy one of the most unique gambling events you'll ever experience!
All aboard for winnings
We've had TV series, books, movies, and plays take place on trains – why not casino gambling too? That's the question that the company X Train asked in 2012, when they first considered installing a casino on a train. Obviously thinking about taking the concept of mobile gaming just that one step further. The idea was to open a casino on a train route between Las Vegas and Los Angeles, and give people the chance to entertain themselves with their favourite games while on the move – what's not to love?
Unfortunately the idea failed to generate interest, and so the plans were abandoned. Until 2017, that is, when the forward-thinking (no pun intended) concept was resurrected by the same company, this time rebranded as X Rail Entertainment. Due to make its maiden journey in late 2019, the casino train is expected to set off from Las Vegas housing popular games such as Roulette, Blackjack, Poker, Craps and more. We're not sure of the exact launch date but we'll be sure to buy tickets when we do. There's winning on the move, and there's the X Train – full speed ahead for jackpots!
Ahoy there mateys!
Of course there had to be a casino known as 'The Pirate Boat', and of course we had to end with that same entry. If you've ever visited the Chinese enclave of Macau, you've no doubt seen the Macau Palace itself, proudly standing tall on top of a floating barge, offering a variety of slots, Blackjack, Baccarat and more, with a VIP section for private gaming as well. So popular is this casino, also colloquially known as 'The Pirate Boat', that it even featured in the James Bond movie, The Man with the Golden Gun. You won't find 007 there today, but what you will find is top quality gaming, made all the more entertaining by its intriguing location. Yo ho, yo ho, a winner's life for me!
Happy Spinning 🙂