Feel the winning power of Pixiu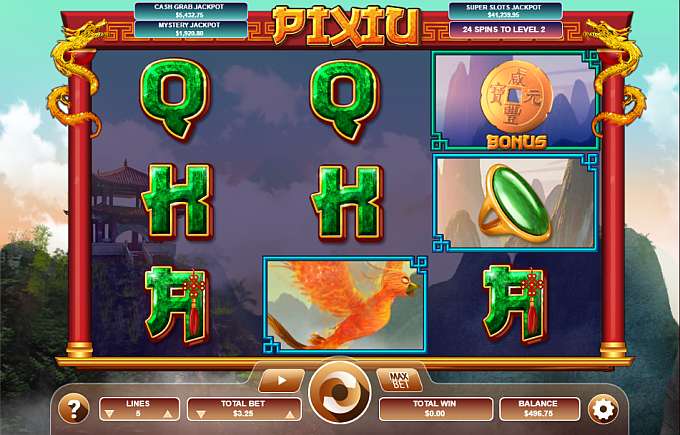 Ever heard of Pixiu? If not, you're in for a treat – perhaps literally. That's because apart from being an action-packed slot from Arrow's Edge, Pixiu is also a mythical Chinese creature, one said to be able to draw wealth from all directions. Pictured as a winged lion, Pixiu is known for being helpful to those going through a bad year, particularly financially – so if that's a space you connect with, Pixiu could be just the slot to help you change your fortunes!
Log on to this mystical slot, and you'll instantly be greeted with a peaceful countryside scene, one featuring a temple, waterfall, mountains and birds – all creating the perfect ambience from which to start your winning journey. Along the way you'll discover animated symbols such as firebirds, eagles, green and red dragons, each one guiding you towards winning combinations. With 3 reels and 5 paylines, there's plenty of action to look out for, so keep your eyes open!
Unlock huge winnings with Pixiu
We said that Pixiu was known for drawing wealth from all directions, and we weren't joking. That's because in this gripping video slot, you'll find not one, but four different playing levels – and each one you unlock will bring bigger bonuses and more free spins your way! Not only that, the more you play, the more chance you have of winning one of three random progressive jackpots too!
So how does the Pixiu adventure work? According to the number of spins you play:
Level 1 – 1 to 25 spins
Level 2 – 26 to 50 spins
Level 3 – 51 to 75 spins
Level 4 – 76 to 100 spins
As you can see, for every 25 spins you play, you'll move up a level – and the more levels you reach, the bigger the payouts you'll qualify for. Not only that, you'll have access to more free spins, and more winnings in the bonus game too, so the longer you stay and play, the more you could ultimately win!
So what's in it for you when it comes to the bonus features on offer? A choice between a fixed bonus amount, free spins, or a shot at the bonus game itself. Get three bonus coins on the reels, and you'll instantly trigger the bonus round, where you'll then choose a coin to select one of the three options available. If you choose the free spins coin, the number of spins you receive will be dependent on your level at the time: level 1, you'll earn 10 free spins; level 4, you'll earn 25. Choose to play the bonus game, and you'll keep selecting coins to make Pixiu grow, until you reveal a stone to end the round altogether.
Of course the winnings don't end there though. At any time throughout the game, you could randomly win one of the three exciting progressive jackpots on offer: the Cash Grab Jackpot worth up to $5 000, the Mystery Jackpot worth up to $10 000, and the Super Slots Jackpot, worth up to a massive $45 000!
The Pixiu creature is all about wealth, and so is the Pixiu video slot too. Spin the reels today and find out just how powerfully one game could end up changing your life for the better!
Happy Spinning 🙂