Gadgets, Gizmos & Gift Ideas!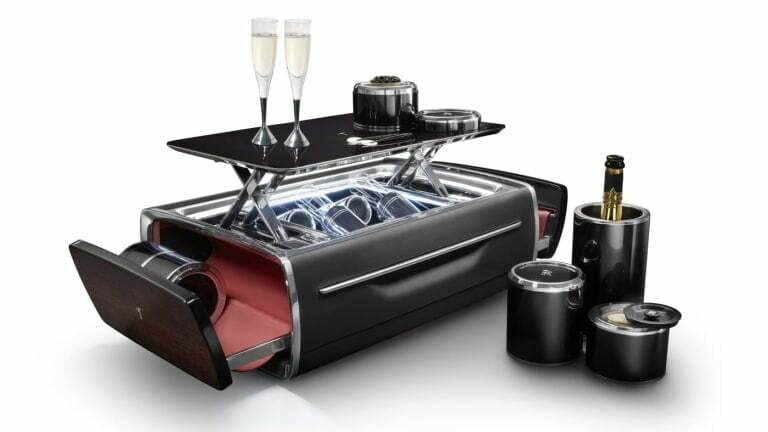 Just won an online casino jackpot and looking for extravagant ways to flash your cash? Take a look at our round-up of the hottest luxury and lifestyle items on the market right now.
The ultimate computer mouse
We mostly just use our laptop track pad, but if a mouse is more your style, then we've found the perfect gift for you to give yourself this year. Inspired by the hugely fashionable Eames Lounge Chair, the 'Lounge Mouse', designed by Chinese-American inventor Shane Chen, is just what every chic office space needs – and just what your hand needs as well.
With the Eames lounge chair and ottoman having been originally crafted from moulded plywood and leather, the Lounge Mouse follows the same artistic inspiration, with the base of the mouse fashioned from bent plywood, and the top of the mouse covered in softest leather, with the scroll wheel in the centre. In this way, the Lounge Mouse represents the ottoman of the initial Eames Lounge Chair pairing, and a hugely comfortable one at that.
Turn the mouse over and you'll see its inspiration inscribed on the underside, "A Tribute to Charles and Ray Eames", paying homage to the legendary designers of the Eames Lounge Chair. And while we're not sure what one of these would set you back, we are sure that with this computer mouse at your laptop's side, you'll soon find more and more reasons to log on and try it out. Because your hands could always do with a little pampering.
Take your champagne places
You already know that a Rolls Royce is by far one of the most elegant and sophisticated ways to travel. Now this iconic company has gone one step further by transporting not just passengers, but champagne as well – to the tune of $47 000!
Introducing the Rolls Royce Champagne Chest, the most luxurious way to get your bubbly moving – because why would you physically hold it when you can lock it up safe in a hugely expensive chest instead? Write out a cheque for the $47 000 asking price, and you'll receive a chest crafted from aluminium and carbon fibre, covered in premium quality leather and oak, with the Spirit of Ecstasy logo subtly revealed as well.
A touch of a button opens the chest, revealing four crystal champagne flutes with aluminium bases and the ever-recognisable RR marque inscribed on them. The chest also contains two hammocks for champagne storage and safety, with the lid converting into a convenient serving tray (butler not included). With all the designer style and quality craftsmanship the Rolls Royce brand has become known for, this chest is a must for those with a lot of money and a lot of taste as well. If that's you, we can't wait to come round and make an inaugural toast with you sometime. Cheers to that!
Celebrating 100 years of luxury
Do people even own books anymore? Isn't life all about Kindles and tablets and e-readers these days? Well, the design geniuses at Bentley disagree – so much so that they've put out their own book this year, and are pretty convinced that people will read it.
Why? Because this isn't just any book. This is the 100 Carat Edition of The Bentley Centenary Opus, a book designed to celebrate 100 years of Bentley, and, at a massive $254 000, worth more than the starting price of some Bentley models themselves!
So what makes this book so sought-after – and so pricy too? First of all there's the limited edition nature of the publication. With just seven copies printed, the 100 Carat Edition of The Bentley Centenary Opus is a hot ticket item, and a hard-to-come-by one at that. Then there's its bulk – over 60 pounds and 800 pages of pure book, telling the story of Bentley from its origins to its modern day iterations, with a foreword by designer Ralph Lauren and a closing chapter by CEO Adrian Hallmark. And finally there's its lavish presentation – a cover encrusted with diamonds and a choice of white gold or platinum Bentley badge on the front.
Of course there are some more 'affordable' editions of the book, such as the Centenary Edition for $3 950 and the Mulliner Edition for $16 000, with 500 and 100 copies of each printed, respectively. But by far the jewel in the crown is the sparkling 100 Carat Edition – so if you've got $254 000 lying around the house, add something new to your library rather than your garage, and splurge on this racy little number before it completely sells out.
Spice up your life (and your living space)
You're not a Spice Girls fan until you've literally lived in Spice World. And now, thanks to Airbnb, you can do exactly that. Taking accommodation out of the box, Airbnb is now giving all Spice Girls super fans the chance to stay overnight in the iconic bus from the movie Spice World – yes, the one painted just like the Union Jack (and Geri's infamous dress).
Located in London's Wembley Park, the bus is listed on the Airbnb website, and is free for bookings on 15 and 16 June – so if you want to live like a Spice Girl, best you get those bookings in fast. The bus itself isn't too shabby either – in fact it's a plush homage to 90s interiors. Think pink Union Jack cinema chairs (obvs), vintage 90s furnishings, neon lights, animal print and everything else you need to take you back to Spice Girls era, and make you feel like a diva for a night (or two). Currently the bus is being rented out for $126 a night, but if you're not already in London, you'll have to fork out for plane tickets too. It might sound a bit on the pricy side, all things considered, but what better gift to give yourself than a step back in time to girl power pop. And remember to take a partner with you, because friendship never ends!
Happy Spinning 🙂