Have Fun – At the Copa!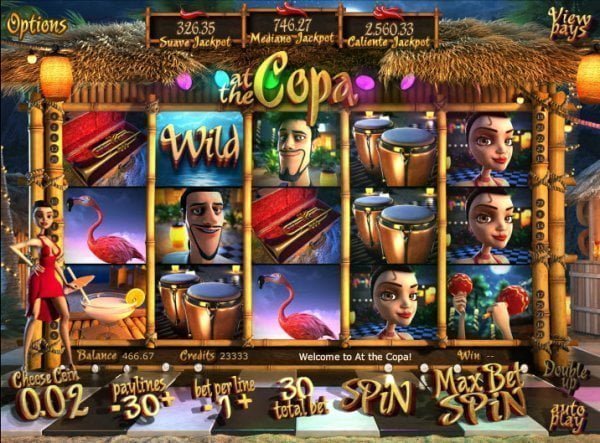 Get your dancing shoes on because we're about to end the year with a huge party At the Copa! A vibrant video slot from Betsoft, At the Copa takes a Latin dance show theme, throws in some bonuses, progressives and colourful characters too, and makes every spin a winning celebration! Are you ready to hit the dance floor? Then it's time to get your jackpot on, only At the Copa!
Log on to get playing and you'll soon see there's nothing dull and dreary here – only a slot that's ready to get the party started. Think colour, think sound, think pulsing energy, and you'll have an idea of just how exciting At the Copa can be. And the good news is that even if you have two left feet, you'll still be able to play for huge winnings on this 5 reel, 30 payline slot, complete with free spins, progressives, wilds, scatters and non-stop rewards too!
First things first, as soon as you start spinning the reels you'll be introduced to your guide Carolina, a fiery dance diva who'll show you her moves on the side of the screen, while she interacts with the characters on the reels too. Her suitors Pedro and Rico will soon pop up too, battling it out for her affections as they dance among the reels. Along the way, you'll also find enough Latin flavour to keep the fiesta theme alive, from cocktails and maracas to dancers, trumpets, flamingos and more.
So what are you playing for? A thrilling 7 500 coin jackpot, which, if you bet max, means a top payout of $3 750. What's more, there's a progressive of up to $430 000 to go after as well! Remember, in order to win the ultimate payouts, you'll need to bet max – which in this case means a bet of $0.50 on each of the 150 coins available per spin – 5 coins for each of the 30 paylines available. That works out to a max bet of $75, but if that's a little too rich for your blood, you'll be able to start at just $0.02 per coin instead.
If you're looking to dance your way to sizzling hot bonuses At the Copa, you've come to the right place. Just look at what's in store for you throughout the game:
Bonus game 1: Get the wild ocean symbol on the third reel and it'll expand to fill the entire reel, completing all winning combinations as it goes. What's more, with every re-spin it'll add an increasing multiplier all the way up to 5x. The bonus round ends as soon as there are no more winning combos to be found.
Bonus round 2: Find two of the shoe icons on the reels and get 10 free spins, plus a random multiplier of between 2x and 10x during the round as well. To add to your winning total, you'll also be able to choose one of the dancers to act as wild during your free spins and get those winnings rolling in.
Finally there's the progressive jackpot round, which you'll trigger by finding chilli icons on the reels. Get five chilli icons randomly, and you'll win the Suave jackpot. Find chilli icons on the second or third paylines, and you'll win the Mediane jackpot. And finally, get all five chilli icons on the first payline, and you'll win the top Caliente progressive!
It's all happening At the Copa, so if you're in for a party, come and join in on the winning action today!
Happy Spinning 🙂