Hot Hand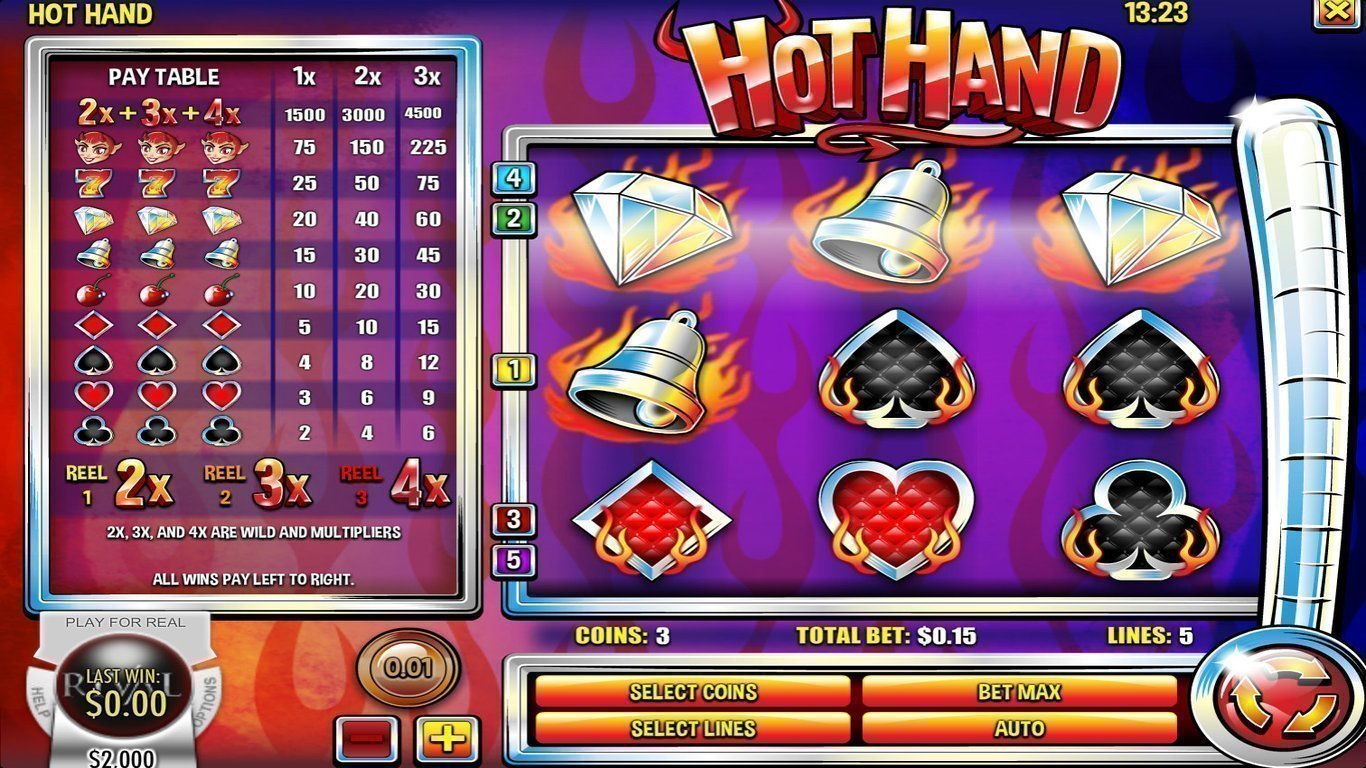 Pros
Unique theme
Good bonus features
Make every spin sizzle with the Hot Hand video slot
Spring is on the way in the northern hemisphere, and things are hotting up at Rival Gaming too with Hot Hand – the hell-themed slot that takes winning to a whole different level. Get ready to meet Bernadette the she-devil who's set to bring fiery jackpots your way!
We hope you like fire because you'll find a ton of it in Hot Hand, from the Fire 7 to the Fire Diamond symbol, with bells, cherries and the playing card symbols thrown in for good measure. And while Hot Hand is fairly traditional in its 3×3 reel combination and 5 payline set-up, it packs a sizzling jackpot punch with payout potential of up to $112 500!
Pay attention when you go to place a bet, as you'll need your wits about you. Choose your number of paylines, choose your number of coins, and choose your coin value too – whatever fits your budget best. With bets starting at $0.01 going up to $5, and three coins available per line, your betting amounts range from $0.01 to $75, so there's plenty of scope for every size of bankroll. As always though, you'll want to bet max if you can, as with line bet payouts of up to 1 500x and a top jackpot of up to $112 500, the rewards are more than worth it.
So what's so hot about Hot Hand? The wilds that's what – and there are three of them to look out for. Pay attention to the reels, as each of the three gets its own dedicated wild. On reel 1 you'll find the 2x wild, on reel 2 the 3x wild, and on reel 3, the 4 wild. Get one wild and any winning combination you have will be completed, and multiplied by the wild's value. Get a combination of the different wilds however, and you'll be boosting your wins by 12x – plus, if all three of the wilds appear on a payline, you'll score the max line bet of 4 500 coins, or 1 500x your original bet. Best of all, get the wilds in multiple positions on the same reel, and your jackpot potential could increase exponentially, all the way up to the top payout!
Remember though, if your bankroll is looking a little lean, don't be tempted to play past your means. Keep the golden rule of gaming in mind at all times, and never bet with more than you can afford to play with. Instead, set yourself strict wagering, loss and deposit limits, and stick to them at all times. Playing a little today could be what helps you to play a lot tomorrow, so put your boundaries in place and gamble responsibly whenever you log on. And yes, that also means staying away from alcohol while you play, as awesome as the idea of having a sip while you spin might be. There's playing to have fun, and then there's playing with zero ability to make any kind of informed decision – and nobody wants to be that guy. Instead, you want to be the person who places quality bets and plays to have a fantastic time – and that's exactly what you'll have with Swinging Sweethearts, Hot Hand, and any and all of our video slot picks. So what are you waiting for? Log on, choose your game, and let the good times roll!
Happy Spinning 🙂