Lilly's Pad – bringing jackpots just a hop, skip and a jump away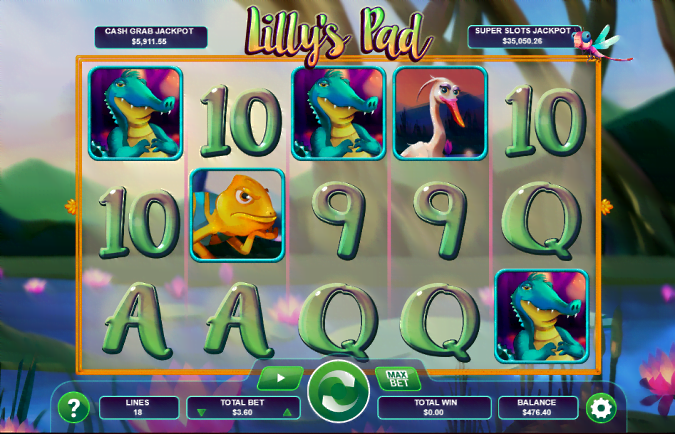 We've done dogs, we've done wildlife, now how about something a little different – with Lilly's Pad! Set against the backdrop of a gorgeous sunset, Lilly's Pad centres on a pond, and all its friendly neighbours, from Lilly the frog herself to turtles, dragonflies, lizards, herons, and a (kindly) crocodile too.
While many slots create a fast-paced atmosphere, Lilly's Pad has a more relaxing, sociable feel to it. So instead of speeding through spins, take your time and enjoy every aspect of the game, from its inviting graphics to its welcoming wins as well.
Want to get started? You'll have 5 reels and 18 paylines working in your favour, each one filled with lovable animals, insects, birds or amphibians. Find the dragonfly and you'll have found the wild, which substitutes for all regular symbols on the reels. And in a fun new twist, one of three different patterns will be chosen before each spin, and laid over the reels, so you'll be able to see exactly where any wilds will land – as they'll take up the open positions in the pattern. More wilds means more winnings, and more excitement for you!
Lilly's not done with you yet though. Get the frog bonus symbol on the reels and you'll find the bonus feature – a game that gives you 12 lilies to choose from with the ultimate goal of revealing a prize. With a number of different rounds in the game, and winnings only revealed at the end, there's a huge build-up of winning anticipation – and hopefully huge payouts by the end of it as well!
Want to enjoy all that Lilly's Pad has to offer, plus two exciting progressive jackpots for good measure? Then make Lilly's Pad your next stop online, and play for fabulous payouts and memorable moments too.
Happy Spinning 🙂