Online Baccarat FAQ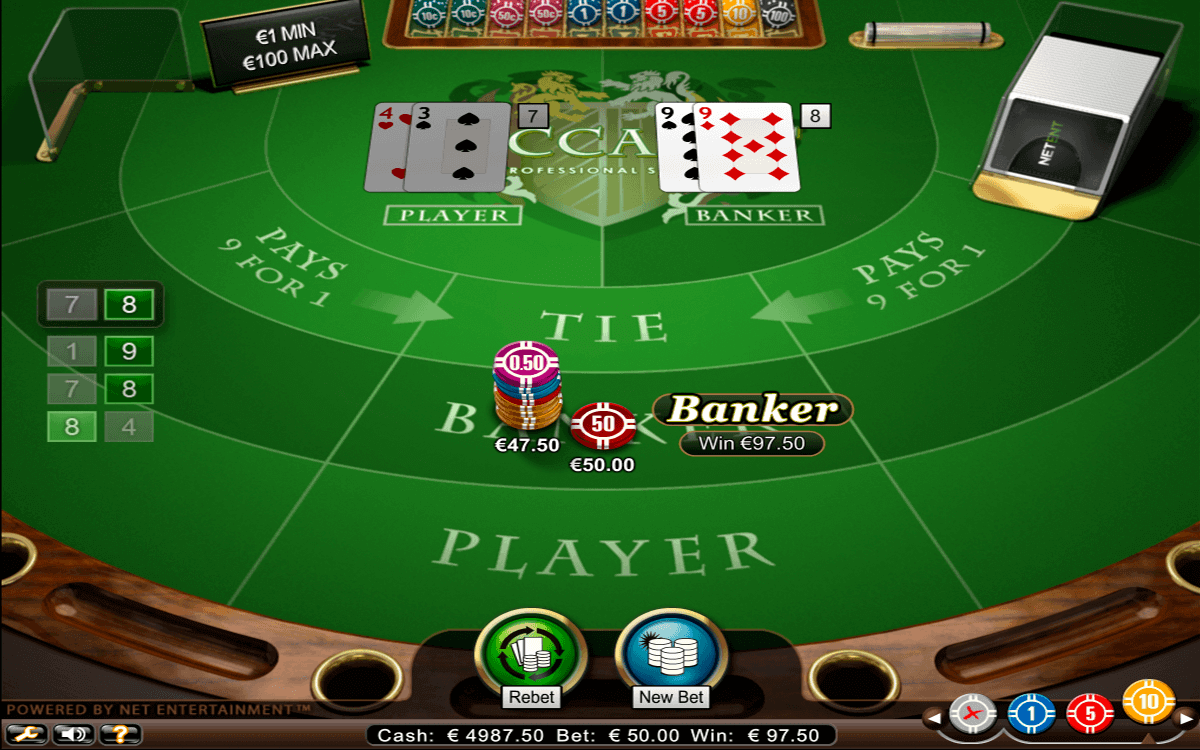 Ever wondered exactly what Baccarat was all about? It's a game of mystery and intrigue for sure – thanks in no small part to its popularity among the rich and famous, including the legendary James Bond himself. At the same time, however, its reputation can make it somewhat intimidating, particularly to new or beginner players. Which is a shame, as the game of Baccarat can be highly captivating, and rewarding too. That's why we've put together a list of frequently asked Baccarat questions for you – just take a look, discover how simple it really is, and start placing your winning bets with confidence and pride!
What is online Baccarat?
At its core, Baccarat is about predicting outcomes, and it's this simple fact that has made it such a tantalising game, ever since it was first played in the Middle Ages. Originating in Italy, Baccarat quickly became a much-loved pastime of the upper classes, who could afford to place high stakes bets and take expensive risks. From Italy, the game quickly moved to France and Monte Carlo, then across the ocean to Cuba, finally finding a home in the elite gaming rooms of Las Vegas where red velvet ropes and private gambling halls kept it a game strictly for the uber-wealthy.
Following on from gaming's evolution into the digital space however, online Baccarat became far more accessible than its real-life version, thanks in no small part to the lowering of its historically high limits. With this change firmly in place, a new audience was able to appreciate the excitement of the game, and keep its popularity as enduring as ever. So whether you prefer your Baccarat online or at a brick and mortar casino, you'll find plenty of places to play, and plenty of limits to suit your bankroll, no matter what the size!
How is online Baccarat played?
Very simply, you'll be glad to know. There are no complicated rules or sophisticated gaming strategies needed – only one betting decision and a love of the game.
At the beginning of a game of Baccarat, all that's required from you is to predict whether one of two hands will win – the Player hand or the Banker hand – or whether there will be a Tie between the two. Once you've placed your bet and made your decision, two cards will be dealt to both the Player and the Banker positions, and you'll win or lose according to the outcome of the deal.
It's worth noting here that the only part of Baccarat that might be slightly confusing to a newcomer at first is its card hand value system. Unlike Blackjack, for example, that takes cards at their face value, Baccarat has its own unique value system, with Aces worth 1, 10s and face cards worth 0, and cards from 2 to 9 worth their face value. Should a hand's value add up to double digits, for example 12, the 1 and the 2 will be added together, making a total hand value of 3.
So what type of hand value are you looking for in Baccarat? One that's closest to 9 as possible, with a hand value of 8 or 9 known as a 'natural' win. A hand of zero is known as 'Baccarat', and while it's the name of the game, it's the hand that you don't want. If the hand you've bet on has the value that's closest to 9, you win. If not, or if the hands are tied (and you didn't bet on a Tie), then you lose. And don't worry – the house will take care of adding up all hand values for you, and automatically dealing a third card in certain cases as well. So there's no need for you to do any complicated mental gymnastics – the casino will handle it all for you. All you need to concern yourself with is placing your bet, sitting back, and enjoying every moment!
Is online Baccarat difficult to learn?
As we've just discussed, no. All you need to do is bet on either the Player or Banker hand, or a Tie between the two, and the house will take care of the rest. If you want to learn more, you can always commit the hand value system to memory, or read about Baccarat strategy, but essentially the game is about making a single decision, and finding out if it's worked in your favour. If you're worried about spending your real money on a game you've never played before, you can always choose to play for free till you're feeling comfortable, then upgrade to real money play later for real winnings and real excitement!
Is online Baccarat different to real life Baccarat?
Not really – in fact the two variations are fairly similar. The only real difference between the two is that online Baccarat makes use of computer software to deal the cards and a Random Number Generator to determine the outcome, while real life Baccarat depends on a shoe to shuffle, and a dealer to manage the game and its outcomes. You'll still have the same betting options and the same rules – so if you ever want to move from online to real life, or vice versa, you'll be in familiar surroundings either way.
What's more, if you're looking for the convenience of online play combined with the atmosphere of a real casino environment, then live dealer Baccarat is always an option – again with the same rules and the same order of play.
What types of online Baccarat are available to play?
As with any online game, there are a number of variations available for Baccarat players – so if you want to take a break from the traditional version of the game, you should find one or more of these popular varieties available at your online casino:
Chemin de Fer – a European version of the game.
Baccarat en Banque – a game similar to classic Blackjack, however players are only allowed to bet on the Player hand, of which there are two.
Punto Banco – also known as American or Nevada Baccarat.
Mini-Baccarat – a smaller version of traditional American Baccarat.
Progressive Baccarat and Super Bacc – games that require an extra ante to be placed for the chance to win a share of a progressive jackpot or an extra payout.
What should you look out for in online Baccarat?
By far the biggest element to look out for in Baccarat is the house edge. It's worth noting that the Player hand has a house edge of 1.24%, the Banker hand has a house edge of 1.06%, and the Tie has a massive house edge of 14.4%! You don't need to be a rocket science or a mathematician to know that betting on the Player or Banker hand is by far the best way to go. If you want to keep your bankroll as intact as possible, stick to either of these bets, stay away from Tie bets, and enjoy every moment of your new (and hopefully lucrative) gambling experience.
Good luck!