Riverboat Casinos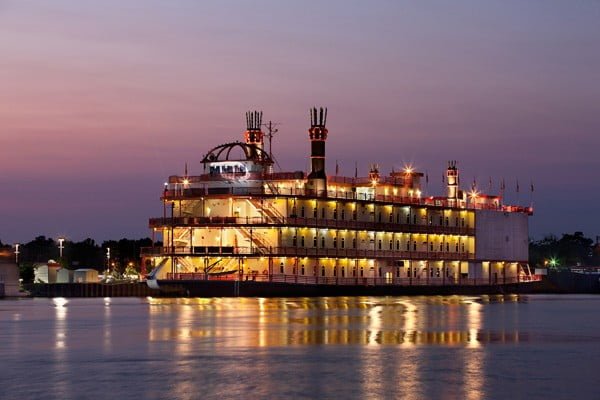 The thrilling legacy of riverboat casinos
How much fun are land-based casinos? From the plush interiors to the glittering lights, the buzz of casino machines, the thrill of the atmosphere – they're completely exhilarating in every way. And let's not forget how much there is to actually do at a casino resort in addition to gambling – usually concerts, movies, restaurants and activities like bowling or ice skating are at the top of the list. Even better, when you're done, there's no need to even go home – just book yourself into a lavish room and enjoy the ultimate in luxury and world-class customer service.
But what about other types of casinos? Are they just as electrifying? No, we're not talking about online casinos – we already know how mesmerising they can be. We're talking about casinos that take bets not on land, but on water. That's right, we're getting into the game with riverboat casinos, one of the oldest forms of gambling, and one of the most exciting too. Take a look at just how colourful the history of riverboat gambling has been over the years, and find out where you can say 'Ahoy' to huge jackpots today!
Exploring riverboat casinos
Way back when they were first established, riverboat casinos were often the only legal way that patrons could indulge their love of gambling in the USA, as most land-based casinos could only be found in Las Vegas or Atlantic City.
Established in the 19th century, the chief goal of riverboat casinos was to avoid paying taxes, while remaining as incognito as possible. Built to resemble paddle steamers in order to be attractive to prospective gamblers, riverboat casinos travelled mainly along the Mississippi, avoiding docking in towns along the way so as to not cause a disturbance. With the Mississippi a prime area for trade, many people flocked to its shores, among them, professional gamblers. Since many of these gamblers were known for being scammers or con artists, they preferred to stay away from dry land, plying their trade on riverboats instead and never staying long enough on shore to be noticed by the law.
Following their legalisation in the 20th century, riverboat casinos began to increase in popularity in certain states, the first being Iowa, which saw the first legal riverboat casino take to the water in 1989. Illinois and Louisiana soon followed Iowa's example, as did Indiana and Missouri in 1992, and Mississippi in 1994. While each state had its own rules governing the operation of riverboat casinos, such as whether or not the casinos had to be docked, or had to be cruising in order to accept bets, in general all riverboat casinos were allowed to offer a variety of 'skill' games to patrons, such as Blackjack, Craps and Roulette.
With their legal introduction into polite society, riverboat casinos were soon able to shrug off their slightly tawdry reputation from years gone by and take on a more respectable look and feel. Today riverboat casinos look similar to their Vegas counterparts on the inside, but on the outside can still sometimes resemble their paddle steamer predecessors of old, with all the associated mystery and intrigue of Mississippi gaming in the 19th century.
Placing your bets at the world's top riverboat casinos
If you've yet to set foot in a riverboat casino, you're in for a real treat. Just like their land-based competitors, they're more of a resort destination than simply a casino, and boast top quality entertainment and gourmet restaurants alongside their world-class gaming facilities. Take a look at some of the riverboat casinos docked around the USA and start getting ready to come aboard!
Hollywood Casino Baton Rouge
Want the glitz and glam of Vegas, but on the water instead of on land? Then you want the Hollywood Casino Baton Rouge, a riverboat casino in Louisiana that's known as much for its extravagance as its thrilling gambling opportunities. Choose from 1100 slots games as well as table games like Blackjack, Three Card Poker, Cajun Stud, Roulette and more, and keep your dreams of luxury living afloat with huge jackpots to be won! Then when you're feeling peckish, take a seat at the resort's famed jazz brunch on the first Sunday of every month, or feed your appetite for deliciousness at any one of three delectable dining destinations, and set sail for first-class entertainment!
Amelia Belle
Another of Louisiana's famed riverboat casinos, the Amelia Belle is every gambler's delight, offering a range of exhilarating casino games from slots and Blackjack to Craps, Mississippi Stud, and Ultimate Texas Hold'em too. Just as with the Hollywood Casino Baton Rouge, you'll also find plenty of other activities to while away your time, like the notorious all-you-can-eat Cajun buffet, where you can prove just how refined your taste for quality is!
Harrah's Council Bluffs
It might not be the first place you think of when someone mentions riverboat casinos, but Iowa has plenty of surprises up its sleeve when it comes to rolling on the river – like Harrah's Council Bluffs. Spread out over three levels and featuring hotels and restaurants too, Harrah's offers over 1000 slots and 35 table games, as well as top player rewards, 240 exceptional hotel rooms, two restaurants, plus a nightclub as well. Looks like Iowa came to play!
Grand Victoria
If you're looking to place your bets on the river, don't forget about Illinois. While the state boasts a number of smaller riverboat casinos, it features a few larger ones as well, such as the Grand Victoria – a stately lady on the outside and a stylish one on the inside. While you'll enjoy its traditional exterior, its electrifying interior is where you'll want to be, filled as it with top casino games spread out over a spacious 30 000 square feet. Play your way to adrenaline-packed winnings and then make your way to Buckingham's for a well-deserved bite afterwards. It's everything you could ever want in a casino, now with a gangplank too!
River Belle
Of course just because you like the idea of riverboat casinos doesn't mean you actually have to get up off your couch and go to one. That's because we've got you covered – with the River Belle Online Casino! Based on the riverboat casino theme, this grande dame of gambling features over 350 top Microgaming casino games, along with prizes, promotions and rewards too. Step aboard, open an account, and let the captain and crew take you on a winning journey down the Mississippi, full of jackpots and excitement galore. Because thanks to the internet, you don't actually have to get up to go places anymore – especially when those places involve life-changing winnings!
Happy Spinning 🙂