Robin in the Woods and Yellow Brick Reels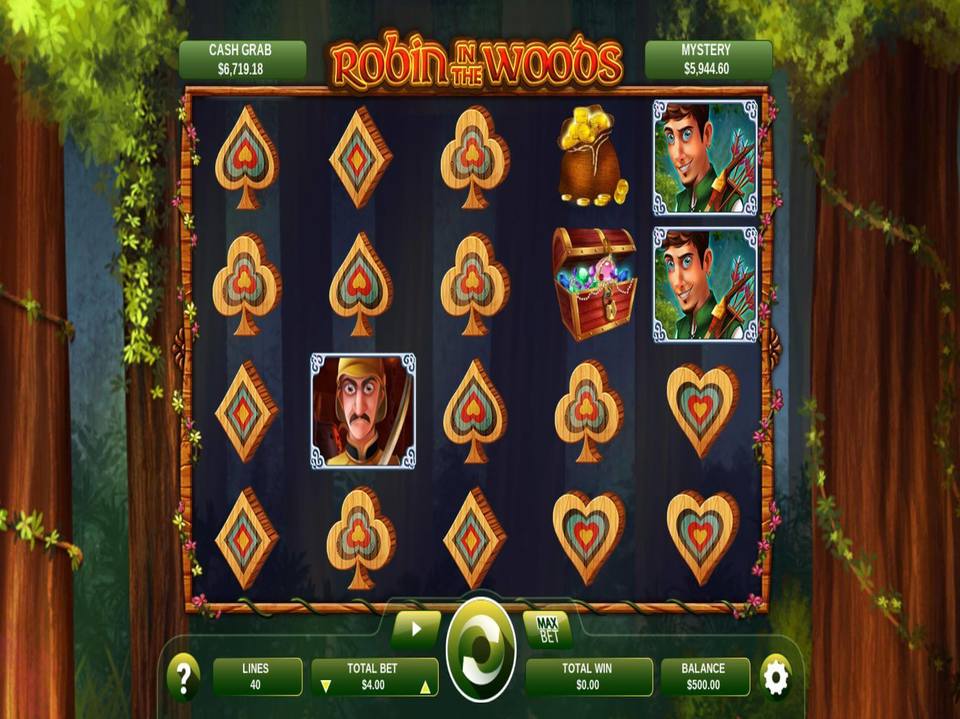 Lovers of fairy tales and fantasy, this one's for you! We've found two of our favourite stories, now reimagined as online slots by Arrow's Edge. Take one or both for a spin and turn your dream of winning a casino jackpot into a reality!
Robin in the Woods
Robin Hood, Robin Hood: Prince of Thieves, The Adventures of Robin Hood… whether in films, TV series, books or cartoons, the tale of Robin Hood and his merry men is one that has transfixed us for centuries. Stealing from the rich, giving to the poor, living in a forest, and leading the Sheriff of Nottingham on a wild goose chase – what's not to love?
Now this age-old tale has been transformed once again – into a 5-reel, 40 payline slot! Instead of watching it or reading about it, you can join in the madcap fun yourself, all thanks to the Robin in the Woods online video slot. From Sherwood Forest and the nasty Sheriff himself, everything you love about the time-honoured tale is yours to enjoy, complete with glittering jackpots too! Spin the reels, try your hand at bonus games, and fill your pockets with gold, all in the name of fun, fair maidens, and fantastic gaming excitement!
Bonuses, free spins and riches galore
While the real Robin Hood took his treasure from nobility and royalty, the only place you'll need to look is the reels. Start spinning, and if you find a vault on the third reel with arrows on either side, you'll have found an instant prize at the same time. The reels will fade away, a bow will shoot an arrow at the vault's lock, and as soon as the doors open, your prize will be revealed.
Keen for more winning action? Then look out for arrow symbols on both reels one and five. As soon as you find them, the reels will slide back, allowing you to shoot three arrows. Each symbol your arrows hit will immediately become a sticky wild, staying in place for three respins to earn you even more winnings.
Part of the allure of tales of Robin Hood is the love story between him and Maid Marian – and you'll find her in this slots fantasy as well, along with a little winning romance too. Watch out for the young lady symbol, because as soon as three of them land on the reels, they'll instantly trigger a bonus feature for you, giving you two hearts to choose between, in order to play one of two bonus games.
Get the Extended Wilds game, and you'll have ten free spins coming your way, along with two or three arrows. Watch to see where the arrows hit, because any symbol they strike will have its entire reel become wild for the duration of the free spins. Even better, if two arrows strike the same reel, you'll be awarded a 2x multiplier every time the wild reel completes a winning combination.
Should you select the Sticky Wilds game instead, you'll receive the same ten free spins, this time with up to four arrows in play. Any symbols the arrows hit during the free spins round will immediately become sticky wilds, contributing to winning combos till the end of the bonus game.
Best of all, in both the Extended Wilds and the Sticky Wilds games, another prize could be coming your way in the form of a golden arrow. Should this appear during your bonus round, the arrow will be aimed at and shot towards a target, ultimately winning you a Mini, Minor, or Major prize, depending on where it lands. Add to that a top payout of 750x your original bet, as well as two randomly triggering progressive jackpots, and you'll see just how lucrative a game Robin in the Woods can be. So practice your archery and get ready to rake in huge winnings – although unlike Robin, you can keep every last cent for yourself!
Yellow Brick Reels
From Robin Hood to Dorothy Gale – and while you may be more familiar with the 1939 Judy Garland classic than the original source novels by L. Frank Baum, The Wonderful Wizard of Oz is still hugely popular in modern culture, more than one hundred years after its original publication. So what does this famous work look like in slots form? Let's find out!
With storybook-style graphics, Yellow Brick Reels brings all your favourite Oz characters and symbols to life, from the Scarecrow, Tin Man and Cowardly Lion to the Wicked Witch, Good Witch Glenda, and of course Dorothy herself. Not to mention a few flying monkeys, spinning houses, munchkins, and the titular yellow brick road too.
What are you playing for in the Land of Oz? Only huge glittering winnings, that's what – in the form of a 5 000 coin maximum payout. With 5 reels and 25 paylines, it's your choice as to which lines to activate, but with wagers of $0.01 to $10.00 per payline, there's an option to suit every budget.
We're off to play for winnings!
First things first, you'll need to know the high-paying symbols before you hit the yellow brick road towards the Emerald City. Look out for the wild symbol, in this case Dorothy, as she'll complete all winning combinations, and substitute for all other symbols, excluding the Wizard of Oz scatter. Then there's the lion symbol – get one of these on each of the five reels, and you'll have that 5 000 coin payout coming your way, roaring with jackpot rewards.
There's more than enough to keep you entertained while you're hunting for jackpot lions though – like the bonus game triggered by three Wizard of Oz scatters. Unlock the bonus game and you'll find yourself in a dark forest, where you'll have to click on glowing eyes until you find the Wizard himself. Find him on your first try and you'll be awarded 20 free spins. Find him on your second or third, and you'll receive 15 or 10 free spins respectively. Once you find him, he'll also reveal a multiplier of 4x, 8x or 10x – and if you find the Wizard during your bonus free spins, you'll retrigger the bonus game for even more winnings!
The best part about Yellow Brick Reels? There's no need to go all the way to Oz to find your fortune – just log into your account, spin the reels, and your heart's desire could soon be yours in a matter of minutes. Good luck!
Happy Spinning 🙂