Rule the reels in World Leaders!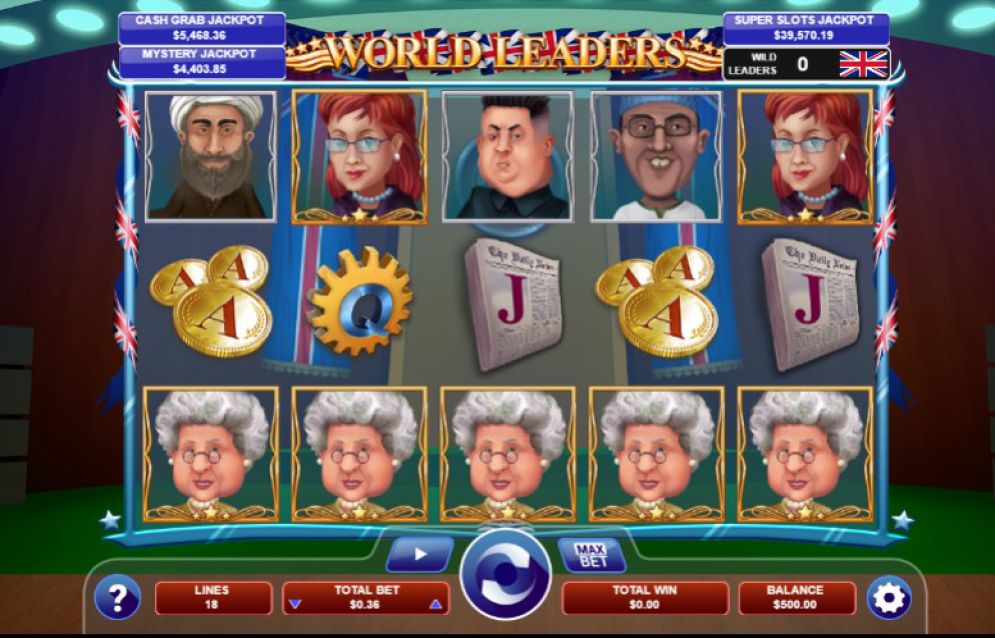 If you feel like being head of state for a day, then spin the reels on World Leaders and find out what it's like to be on top! Whether you're a fan of politics or not, you'll be able to dive straight in and hopefully conquer a world of jackpots.
With 5 reels and 18 paylines, World Leaders takes you round the globe with the most powerful presidents and prime ministers, in a journey of winning domination. Along the way you'll find wild symbols related to three of the world's superpowers: Britain, the USA, and Russia, each with their own thrilling bonus. What's more, you'll also have three progressive jackpots to play for as well, bringing even more payouts your way. So let's dive right in and start ruling the reels!
As with most video slots, the wild symbol is one you'll want to look out for, although in World Leaders you won't just have one wild to find – you'll have three! Spin the reels 25 times and a globe will appear on the screen, spinning round and round till you stop it. Once you do, you'll activate one of the three wilds in play – a crown, a bear and an eagle signifying Britain, Russia and the USA respectively. Whichever wild you land on will then be chosen as the active symbol going forward. That's not all though – each different wild comes with its own individual bonus feature:
Britain: This wild will duplicate itself on the reels, giving you the best chance of a big payout.
Russia: Get a round of free respins while the wild shifts one position to the left after every spin.
USA: You'll see the wild expand one of three ways, helping you to complete as many winning combinations as possible.
Looking for scatters? You'll find those too – plus a whole bonus round when three or more land on the reels. Once the bonus game is triggered, you'll be taken to a feature screen with 12 telephones and four world leaders. Each of the leaders will offer you a different cash prize, which you'll win as soon as you choose the right telephone to call them. The more leaders you call correctly, the more you'll win – until you call one of the leaders three times, at which point the round will come to an end.
Looking to really make your mark as a world leader? That's what the three progressive jackpots are for, each of them being triggered randomly as soon as they hit their set prize ranges. Just play as normal, and you could hit one of these three jackpots at any given time:
Cash Grab Jackpot: $2 000 to $5 000
Mystery Jackpot: $10 000
Super Slots Jackpot: $40 000 to $45 000
Just one spin is all it takes, and you could soon be on top of the world. So give World Leaders a spin and find out what it feels like to rule for a day!
Happy Spinning 🙂