Set off on a winning quest with Viking Rising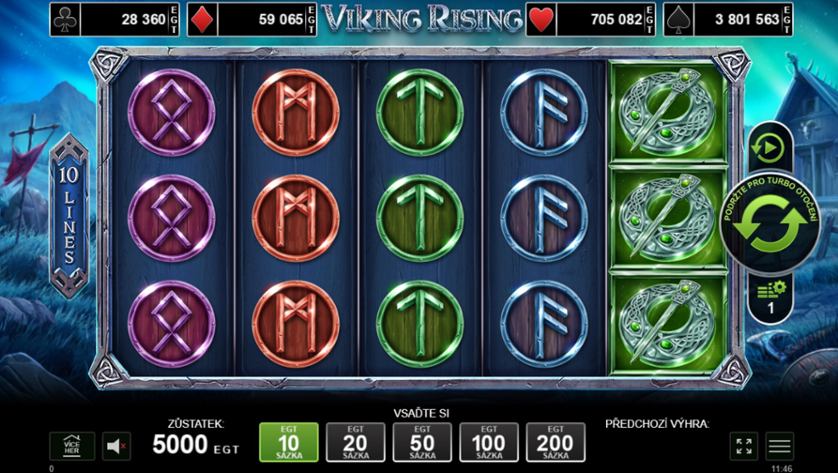 If what you know about Vikings is how they're typically depicted throughout history – bloodthirsty marauders, horned helmets, the whole nine yards, then get ready to have your mind blown. While their conquering spirit is well-documented, what you won't hear as much about is their surprisingly civilised way of living – fishing, farming, trading and crafting, with a focus on religion, law, art and architecture as well. Not your typical Viking, right?
In the same way, Viking Rising isn't your typical slot – because not only does it take the Vikings as its theme, it comes with four levels of jackpots too. Rise up the levels and you'll go all the way to the top payout, just like the mighty Viking warrior you are!
Want to join in the battle for glory? Then this 3×5 reel slot is where you'll start. With 10 ways to win, an RTP of 95.42%, and bonus features like wilds, scatters and free spins too, every roll of the reels is an experience alive with exhilaration!
To stay in the game as long as possible, make sure you keep an eye on your bankroll and bet responsibly. Minimum bets start at $10, but if you can afford to wager more, you can choose a bet size all the way up to $200 per spin – just make sure whatever size you settle on, it's one you can afford to play for the duration of your gaming session. You're a Viking now, and you want to be on the battlefield for as long as possible!
If you're ready to wage war on jackpots, then it's time to get those reels rolling! Find the wild on either reels 2, 3 or 4, and it'll instantly substitute for all other regular symbols, completing winning combinations as it goes. Even better, it could bring even more loot your way by expanding and revealing a multiplier at the same time. Get more than one wild on the reels, and you'll get the highest value multiplier added to your payout. Told you we were here to take home rewards!
There's more for the taking than just wilds though – find scatters on reels 1, 3 or 5 and you could find 8, 11 or 18 free spins for yourself, along with wild multipliers from 1x to 3x. And as if that wasn't enough to fill your coffers, you'll also have the chance to select a mystery choice option, giving you a random mix of spins and multipliers for an even more adrenaline-packed winning experience.
Finally, you'll have the chance to rise up through the jackpot ranks thanks to the jackpot cards feature – a bonus round giving you four different winning levels for each suit of cards. Choose any 3 cards from a selection of 12, and if all 3 are from the same suit, you'll win the first jackpot level. Carry on up all the different levels, and if you win each one, you'll get to the ultimate level 4 jackpot!
Don't hold back – unleash the fighter in you and prepare for victory with Viking Rising!
Happy Spinning 🙂