Snow Wonder Slot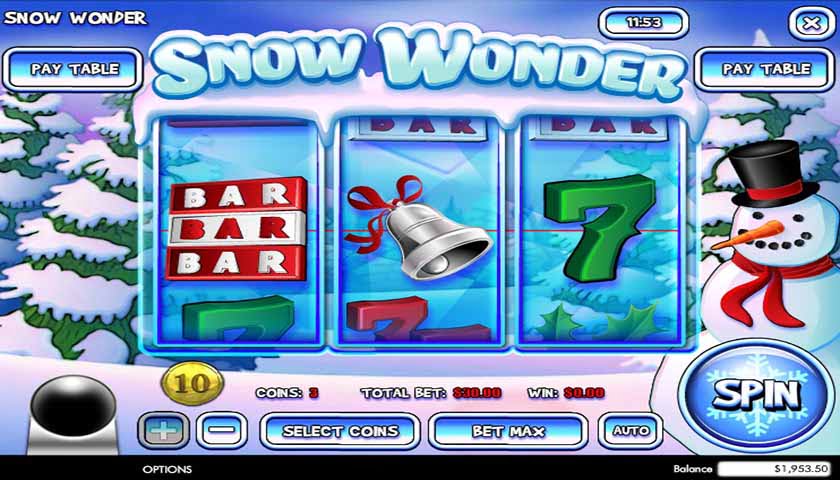 What's Rival Gaming got up its sleeve for you this Christmas? Discover the wonder that is Snow Wonder – a 3 reel 1 payline video slot that packs a frosty winning punch! Log on and you'll immediately be transported to a winter wonderland, with a snowy backdrop of trees and mountains, and of course a smiling snowman too. Take a closer look and you'll find the spin button cleverly located in his tummy – your ticket to thrilling jackpot winnings.
Give the button a press and the reels will instantly begin to roll, bringing a host of wintry symbols your way, in the form of pine cones, holly, bells, bars and more. Play 1 to 3 coins on every spin, line up 3 matching symbols on the payline, and you'll be in the money! With 13 different winning combinations, there are plenty of chances for payouts, each one bigger than the last.
So what do the bets look like? With up to 3 coins available on every spin, each coin is worth a minimum of 0.01 up to a max of 1.00, giving you a total max bet of 3.00 per spin. Bet the maximum if you can afford it, and if you hit the top payout, you'll earn yourself an added bonus of 250 coins.
While Snow Wonder doesn't have much in the way of bonus features to offer, what it can give you are payouts in the form of:
Single bars: 5 to 15 coins
Double bars: 10 to 30 coins
Triple bars: 15 to 45 coins
Green 7s: 20 to 60 coins
Red 7s: 30 to 90 coins
White 7s: 75 to 225 coins
Bells: 100 to 300 coins
Pine cones: 150 to 450 coins
And as if that wasn't enough to get excited about, find three bunches of holly on the payline, and you'll win between 750 and 2 500 coins – all the more reason to bet as much as you can afford!
With an RTP of 94.96%, Snow Wonder might not be the biggest paying slot on the market, but it's solid entertainment in a classic slots format. So if that's something you're in the mood for amid the hustle and bustle of the chaotic Christmas season, then slow things down with a spin of the reels on Snow Wonder. You'll be glad you did!
Happy Spinning 🙂