The Benefits of Playing Slots Online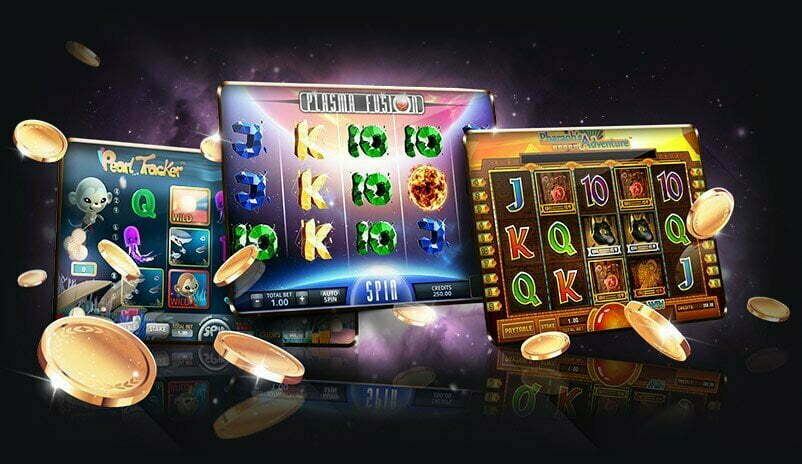 This Friday, we thought we'd give you some sound advice for the Holidays. SURE, you can play slots at your regular land-based casino if you're a fan of the reels, but did you know there are some surprising, and often rewarding advantages to playing slots online too? Take a look…
1. You can get comfortable. Entering a land-based casino might take you a little out of your comfort zone if you've never been to one before – the lights, the sounds, the throngs of people. If you're not into crowds, if you have social anxiety, or if you just want to play in a more relaxed atmosphere, online slots games are for you. After all, there's nothing more chilled than curling up in your favourite armchair with a slots game or two, and spinning the reels in the comfort of your own home. Or even taking your gaming mobile and playing online wherever you go – on holiday, in a coffee shop, or even on your daily commute. The more comfortable you are with your playing, the more you could end up winning!
2. You can take the pressure off. Land-based casinos are great fun most of the time, but the slots areas can often become overcrowded at certain points, meaning that you could stand queuing for a machine for ages, or feel pressured by the waiting crowds behind you into making careless or costly decisions. Thanks to online slots gambling, however, there's no more waiting, and no more pressure either. Simply log on anytime, day or night, and you'll always have a seat ready and waiting for you. Plus since you're a VIP in your own home casino, you'll never need to feel influenced into making a hasty decision. Take all the time you want and play your slots, your way!
3. You can wear what you like. Sit where you like? Tick. Play when you like? Tick? Wear what you like? Double tick! Obviously if you're playing from home or anywhere else that's convenient for you, you can wear what you like when you play – a significant departure from land-based casinos, most of which have strict dress codes that players need to follow. Not your online slots casino though – put on your slippers, throw on your jammies and you're ready to make your play for that progressive!
4. You can play anytime. Insomnia keeping you awake in the early hours? Log onto your slots casino and play. Bored on a Sunday afternoon? Log onto your slots casino and play. Waiting for your dinner guest to arrive? Log onto your…. ok, ok, you get the picture. If you're sensing a pattern here, that's because there is one. With online slots gambling, there's no need to wait till opening hours, and no need to drive to a casino either – just log onto the casino anytime you like, and you'll have a vast range of slots games available, literally at your fingertips. So if you find yourself with some unexpected free time, whether it's 1:37pm or 4:23 am, you'll always find your online slots casino ready and waiting to welcome you.
5. You can avoid distractions. People, noise, staff, even smoke – all of these external factors can cause you to be distracted in a land-based casino, often leading you to make less than optimal decisions as a result. Thanks to online slots casinos however, you can play in as quiet an environment as you like, with no disturbances, disruptions or distractions to take away from your focus. Create a calm, zen-like space for yourself, then go slay those slots like a boss!
6. You can play hundreds of slots games. Literally. Land-based casinos generally have a diverse selection of slots for players to enjoy – the trouble is that thanks to crowds, it's often difficult to play more than one or two of them in a single session. Here's where online slots casinos come in handy – not only will you be able to play any game you like, you'll be able to choose from a range of hundreds! Yes, hundreds. From classic slots to 3- and 5-reel slots, video slots and progressive slots too, any and every slots game you can imagine will be available to you, and only ever a click away. Choose from providers like Microgaming, Playtech, NetEnt, Real Time Gaming and more, and enjoy the best of traditional and brand-new slots 24 hours a day, 7 days a week. The party never stops as long as the slots are spinning!
7. You can play for free. Not a slots expert yet? The quickest and easiest way to get comfortable playing any type of casino game is to play for free first. But finding a land-based casino that'll let you play slots for free could prove to be tricky – if not downright impossible. Thankfully, most, if not all online casinos offer a 'play for free' option, allowing players to place bets with virtual casino credits and familiarise themselves with the games on offer. So if you're nervous about placing real money bets, boost your confidence with some free play wagers first. Then once you're sure of your skills, go clean up on the real money reels!
8. You can win more. No jokes. Land-based casinos have much higher overheads than online casinos – such as rent, salaries, entertainment and more – and the way they keep their own costs down is by reducing the payout percentage for players to around 70 or 80%. By contrast, online slots casinos have far fewer overheads, and so can afford to pay out more to players, in the region of 92% and upwards. Hear that sound? That's the sound of an online slot machine about to pay out – best you hit the bet button to claim your winnings!
Need any more incentive to start playing slots online? What about the huge welcome bonuses, regular promotions and incentives, easy deposit mechanisms and strict security controls too? It's everything you ever wanted in a casino, all available from your computer or mobile device 24/7. So curl up on the couch, slip your shoes off and get those reels rolling!
Happy Spinning 🙂