The most common mistakes made by online slots players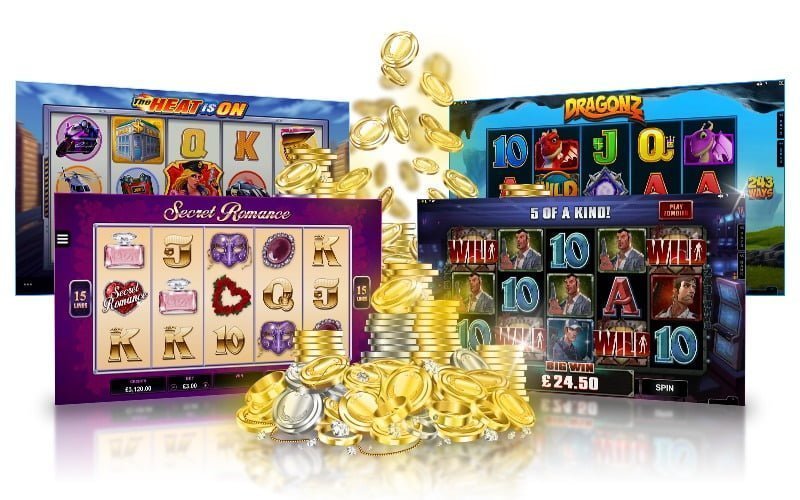 As slot machine fan, you know just how much fun playing online can be – the thrill of watching the reels spin; the anticipation of waiting for a jackpot to potentially come your way… It's hugely entertaining and adrenaline-packed at the same time.
Even better, unlike games of skill such as Blackjack or Poker, there's very little strategy to be found in online slots, which is part of what makes them so attractive to players. No complicated mechanics to learn, no patterns to memorise – just bet, wait, and hopefully celebrate!
That said, however, there are still important elements to keep in mind – and being unaware of these, or ignoring them, could lead to you losing more often than you win. So what are some of the most common mistakes made by players when enjoying online slots? Let's take a look!
1. Not paying attention to the rules. Sure, there aren't many rules to learn when it comes to playing online slots, but there are a few, and you should always make sure you're aware of them before you start spinning to win. Every online slot is different, and every one has different mechanics and different bonus triggers, so it's worth paying attention to these before you play. Do wilds pay out on their own, or do they only complete winning combinations? Do you need only one scatter to trigger a bonus game, or do you need three or more? And if there's a choice between bonus games, which one would be the most lucrative for you to select?
Knowing the answers to these and other questions ahead of time can help you to make informed decisions and improve your game play too – all of which can help to boost your bankroll in the end. So don't ignore the game help guides and don't just rush in unprepared. Take a few minutes to familiarise yourself with the game you're about to play, and you could soon find that extra knowledge paying off!
2. Not trying a variety of different slots. This mistake is usually one made by new or inexperienced players, however veterans can also fall into this trap from time to time. Most reputable online casinos have a huge variety of online slots for players to choose from, everything from classic 3 and 5-reel slots to the latest video slots, and huge progressive jackpots as well. So how do you decide what to play first?
Traditional wisdom dictates that first you play for free to get a feel for spinning slots online, then once you're comfortable in an online environment, you upgrade to real money play and try your hand at different games till you find a few you enjoy. You then specialise in playing those, and wait for the winnings to come your way. Simple, right?
In fact while this is a practical way of approaching online slots play, it can sometimes be a little limiting. Perhaps you're having a bad day on one of your favourite slots. Perhaps you're bored with your usual selection. Or perhaps you're looking for bigger and better payouts. Whatever the reason, if you ever find yourself in a rut when it comes to playing slots online, it's time to shake things up! Step out of your comfort zone, try your casino's newest and hottest slots, push yourself to play games you've always wanted to try but never had the courage to, and take some risks (that you can afford!) and see if the rewards follow. Sensible play is great, but not to the point where it becomes boring and predictable. Playing online is about having fun, first and foremost, so if you ever find that the sizzle has gone out of your gaming, put it back with some new and innovative gaming, and watch sparks fly!
3. Not reading the terms and conditions. You've claimed your sign-up bonus, how important can reading the terms and conditions be? Actually, very. While you might be used to simply checking the box when it comes to terms and conditions, if you're claiming a welcome bonus online, you need to actually read the rules it comes with. Why? Two words – wagering requirements.
Whether you're claiming a no deposit, free spins, or match bonus, or any other kind, always make sure you're aware of the wagering requirements for that particular bonus first – as failing to meet these requirements could result in your bonus being taken away from you. Additionally, check to see whether your bonus qualifies for withdrawal, whether there are any particular games you need to play with it, and if the casino has set any other guidelines for you to follow. The more you know about your bonus, the more fun you'll have with it, and the more likely you are to be able to keep it as well!
4. Not relying on luck. The difference between slots games and table games is usually what keeps so many players coming back for more – the fact that complex strategies and betting systems aren't needed when playing slots. Unlike games such as Blackjack and Poker, where skill is an important factor, online slots rely wholly on chance, which makes employing strategy a useless, and often costly exercise. Rather than complicating your game play with unnecessary strategies, and blowing through your bankroll as a result, let fate take charge, place your bets within your pre-set limits, and let the reels land where they may!
5. Not avoiding participation slots. They might seem like fun with all their bells and whistles, but in fact, participation slots should be avoided as far as possible. Why? When you're playing a participation slot, such as Wheel of Fortune, you're not just paying the casino, you're paying the manufacturer of the game as well – as part of all winnings from participation slots go back to their manufacturers. It's for this reason that the RTP isn't as generous on participation slots as it is on other games, often with a percentage of just 85% paid back to players over time. In the future, stay away from official games linked to certain movies, TV shows or other themes, as these ultimately cost more to play, and stick with what you know. It's always the best way to win!
6. Not understanding RTP. Since we touched on it in the previous point, it's worth dedicating some time to RTP (or Return to Player), as understanding it can help to influence your slots payouts in a positive way. Essentially, RTP is the theoretical amount returned to players over a period of time – the percentage players can expect to have paid back to them. Obviously the higher the RTP the better, so it's important to look out for slots that offer favourable RTP percentages. Generally slots with an RTP of more than 95% are the best to choose, however it's important to remember that this is a theoretical number, and doesn't necessarily mean you'll win 95c back for each and every $1 you wager. Still, it's best to stick to slots with higher RTPs, as, if nothing else, you'll enjoy them more with every spin.
What's also important to note about RTP is that it isn't necessarily the same during bonus rounds, e.g. a game's RTP might be 97% in the base game, but only 94% in the bonus game. Moreover, hit frequency is also important to take into account when choosing a slot, as this refers to the frequency with which a slot pays out. Find one that has a high RTP, a high hit rate, and take bonus round RTP into account, and you'll be golden!
7. Not straying from progressive jackpots. We get it. You're after that seven-figure multi-million jackpot, the one that's going to change your life in an instant. So that's why you're playing progressive slots, and it's why you won't consider playing any other kind. There's absolutely nothing wrong with that – after all, if you're looking for a huge online slots payday, then progressives are most definitely the way to go. However, there are a few points you need to bear in mind in order to help the progressive jackpots pay out.
First and foremost, always read the terms and conditions before you start playing (we told you they were important). With few, if any, exceptions, progressive slots will only pay out the max amount on a max bet, so unless you're betting the top amount with every spin, you'll miss out on that huge jackpot you're looking for. Of course, betting max can have an impact on your bankroll, so you'll need to decide how much you can afford to bet before starting a session, and ensure you stick to that limit stringently.
Next, bear in mind that with progressive jackpots, it's you as the player who's funding the top payout, as with every bet you place, a portion goes towards the ultimate jackpot. So again, it's up to you to manage your bankroll to ensure that you don't fall into the trap of chasing payouts that you're essentially subsidising yourself, along with everyone else playing the same game at the same time. Once more, it's up to you to keep a close eye on your account, and ensure you never play with more than you can afford to lose, no matter how exciting or tempting the jackpot action becomes!
8. Not keeping a cool head. We know what it's like. You're on a winning streak and you want to stay there for as long as possible. Or alternatively, you're on a losing streak and want to get out of it as quickly as possible. Either way, you're chasing that next big win – and most likely losing a fair amount in the process.
Don't fall into this trap. Remember that slots are always about luck, and that luck has the potential to change at any instant. Rather than blowing through your whole bankroll in a single session, take your big win, log out, and live to play another day. The same goes for a losing streak – if you're just not finding your flow, don't throw more good money after bad. Instead, keep your wits about you, end your session, and find something else to entertain you. There's always tomorrow – and by then, you might find your luck has changed for the better!
9. Not practicing effective bankroll management. It's so tempting to just jump right into a gaming session and throw caution to the wind, but this kind of approach can be so dangerous too. If rule number one of online gambling is to have fun, then rule number two is to always, always manage your bankroll!
There are a number of different ways of doing this, and you'll find the one that suits you best, but one of the most popular ways of keeping online gambling spend in check is to budget for it, just as you would any other monthly expense. Calculate how much you can afford to spend gambling online every month, then stick to this amount strictly. You can break it down further into daily or weekly spend as well, if this helps. Once you've determined your budget, you can then look into setting yourself specific limits for each session, and you can choose to only gamble with the profits you make, and keep a baseline cushion in your account at all times. Ultimately the way you manage your bankroll is up to you, but no matter how you choose to take care of your gambling spend, make sure you always know what you're giving to the casino, and what you've got left in your account. There's no such thing as being too prepared!
10. Not taking a break. Yes it sounds strange – why would you want to take a break from gambling, especially when you're on a roll? In fact, playing without a break is a very common gaming mistake, and one that's easy to fall into when given the repetitive nature of slots. You start playing, and before you know it, hours have passed and you haven't given a thought to your bankroll.
It's for this reason that it's important to step away from the casino regularly during a gambling session. Not only does it give you a chance to clear your head, it also allows you to come back feeling refreshed and revitalised, which can help you to make more informed gaming decisions too. So just as you plan your gaming sessions and your bankroll spend, plan your breaks too, and you could see your winnings soar as a result!
Happy Spinning 🙂