The world's craziest casino locations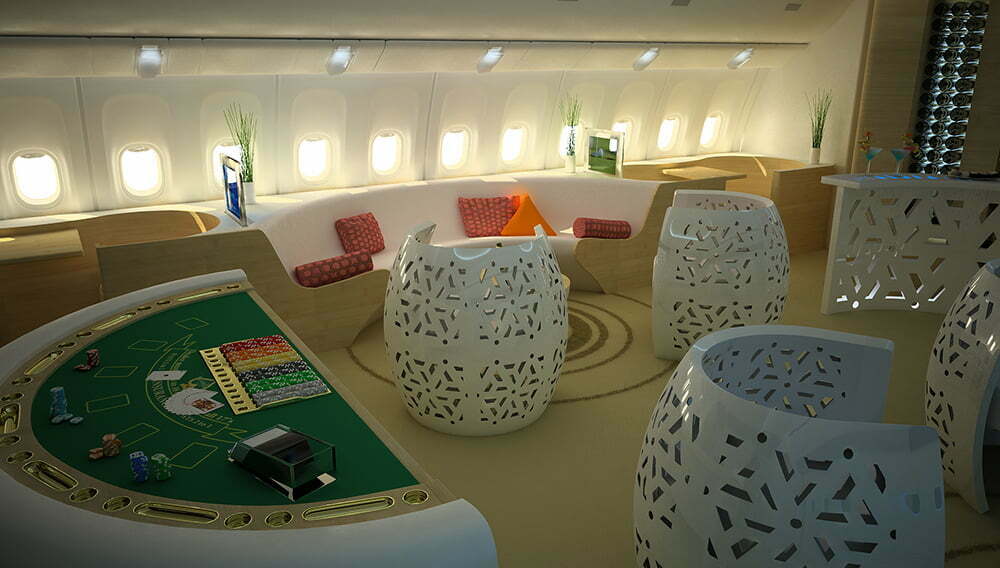 From riverboat casinos to haunted casinos to the world's oldest casinos, we've covered some interesting places to play over the years. But nothing beats the entries on this list of gaming establishments – because whether they're high in the sky or deep underground, they're definitely set in some of the wackiest locations we've ever seen. Take a look for yourself…
1. Flying high
These days you can convert your aeroplane seat into a completely horizontal bed, take a shower on a plane, take an emotional support animal on a plane – so why not play a few hands of Blackjack too?
That's the question that French firms AirJet Designs and Designescence asked, which led to the innovative Casino Jet Lounge concept – a passenger jet fitted with a fully functioning casino!
Of course, given certain airspace laws and regulations, particularly those of the United States, Casino Jet Lounge is still firmly in the concept space. But we're completely on board (ha ha) with the concept ourselves. Just think – you board a plane, you have a bar and lounge to relax in, and gaming tables and slot machines to enjoy. Forget movies and music – Casino Jet Lounge is a far more entertaining way to pass the time on long haul flights. And if you can make some money in the process, where's the down side? No news as to when Casino Jet Lounge will move from concept to reality, but we'll keep you posted – and we'll be at the front of the queue when tickets go on sale!
2. Going underground
We know that illegal casinos are sometimes known as 'underground', but this is ridiculous! Ok, so, not actually ridiculous, but certainly super unusual. Welcome to the casino at North Cadbury Court in the UK – a gaming establishment that's actually underneath someone's house! We can't make this stuff up.
Pay a visit to this unique gambling venue, and you'll be led downstairs to the basement that's been kitted out as a casino large enough for 30 players. Featuring a dedicated croupier as well as Blackjack and Poker tables, and a Roulette wheel too, the North Cadbury Court casino is exclusively open to private parties – so if you're thinking of passing by and knocking on the door for a quick game or two, you'll unfortunately be out of luck.
What makes this casino even more unusual though, is the fact that it's sitting underneath an actual Elizabethan mansion, complete with 21 bedrooms and the ultimate in luxury and modern conveniences. It's no ordinary home however – instead it's an event venue, usually hired out for weddings, conferences and the like. So if you're thinking about doing something different for your birthday this year, why not get 30 of your nearest and dearest together and have your own private casino party? We know we would!
3. Mountain majesty
There are plenty of casino resorts the world over that boast stunning views and world-class luxury, but Resorts World Genting (RWG) in Malaysia is in a league of its own. Why? Because it's set 6 000 metres above sea level, at the top of Mount Ulu Kaliin, next to a 150-year-old rainforest. And as if that wasn't impressive enough, it's not just one resort – it's six hotels, each with their own casino, as well as shopping centres and theme parks too. Essentially it's everything you love about entertainment, set on the rooftop of the world, and featuring thousands of your favourite casino games, and more jackpots than you can count. Sure, it might take some getting to, being 45 minutes away from the capital, Kuala Lumpur, but from what we know about RWG, it'll be worth the effort.
4. Winning on the move
We've heard of mobile casinos, but in 2016, Grosvenor's Casino in the UK took the concept and made it literal – by putting a casino into the back of a taxi cab. Now you don't have to spend your time browsing your cellphone or watching taxi TV – instead you can place a few bets and hopefully make enough money to pay your cab fare, and then some!
So what does the 'World's Smallest Travelling Casino' (as it was dubbed) feature? A Blackjack table big enough for three players, a dealer seated next to the driver in a reversed passenger seat, a TV, and a bar. Unfortunately, as the casino was created as part of a summer sports promotion for 2016 only, it's no longer in operation, however while it was on the road it travelled all around the UK, taking hundreds of passengers safely to their destinations, while providing winning entertainment along the way. For our part, we think it's a fantastic idea, and we may or may not be looking into doing the same with one of our cars…
5. Just chilling
If you're not looking at the starkly beautiful views, or conducting scientific research, is there actually anything to do in Antarctica? Ask the population of between 1 000 and 5 000 people, and they'll most likely tell you no, there isn't. Just imagine – no shops, no cinemas, no concerts, no sporting events – what do people do all day? Particularly when temperatures can drop to as low as -60˚C in parts.
Believe it or not, while there may not be much in the way of distractions on Antarctica, there is one that's hugely popular with the residents – a casino! Built in the back room of a chapel on the Argentinian-run Esperanza Base, the one and only casino in Antarctica isn't a luxurious affair, understandably. Instead it features a few basic card tables, space for Blackjack and Craps, and real money gaming. Obviously it's a little far to travel if you're looking for gambling that's out of the ordinary, and we're not even sure if non-residents are allowed to take part, so don't book your trip just yet. One thing's for sure though, a casino in Antarctica is definitely one of gaming's craziest locations, and a once-in-a-lifetime gambling experience too – sub-zero temperatures and all!
Happy Spinning 🙂