The World's Most Expensive Auction Items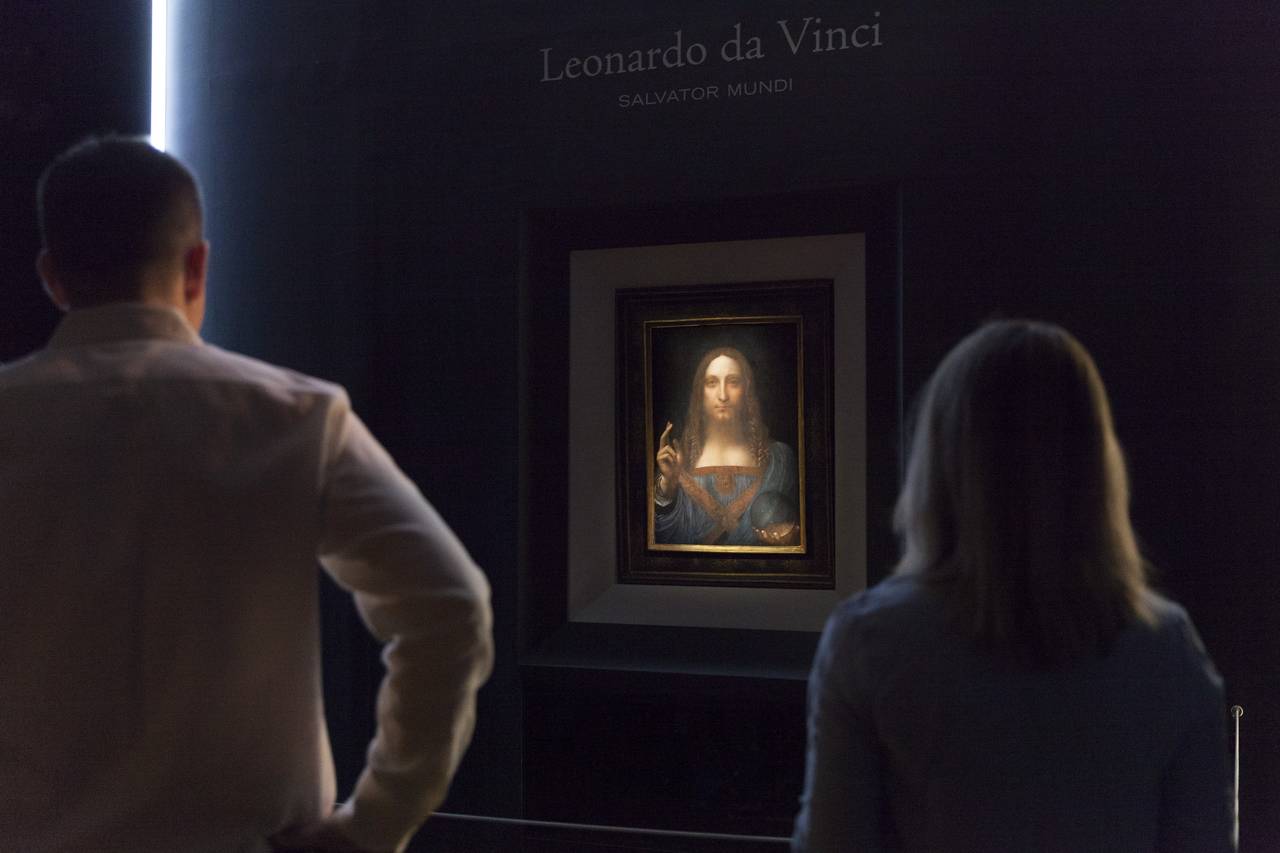 Ever wondered what it must be like shopping as an ultra-wealthy person? Do you just walk around with a suitcase of money, pointing at things and having store people wrap them up for you? Or do you go out armed with an Amex Black Card, swiping it left, right and centre?
Since we're not actually ultra-wealthy ourselves, our guess is as good as yours, but what we do know is that if you're at the top end of the millionaire or billionaire scale, you don't just make purchases in actual stores, you make them in auction houses too. Wave that paddle around and you could end up with some seriously extravagant and historically important items too, just like these…
Salvator Mundi – $450.3 million
Sold at Christie's of New York in November 2017, Leonardo da Vinci's Salvator Mundi holds the title of the most expensive painting auctioned to date, coming in at an unbelievable $450.3 million. Already a talking point because of the hugely involved marketing strategy in place before its sale, the painting became an even hotter topic after its record-breaking auction price. Was it a battle of paddles until the last bang of the hammer? Sadly no, as it was contested between two phone bidders, but even that war lasted a nail-biting 19 minutes. While the identity of the winning bidder was kept secret, rumour has it that the painting was ultimately bought by Mohammad Bin Salman Al Saud, the Crown Prince of Saudi Arabia, who purportedly donated it to the United Arab Emirates. Probably the safest place for it to be. Having an armed guard standing watch over it at your home would be just way too extra.
Man Pointing – $141.3 million
A sculpture of a man pointing? How much could that seriously be worth? Well, if you're sculptor Alberto Giacometti, it's worth a cool $141.3 million – or at least it was when it was auctioned at Christie's in May 2015. Known for his famed elongated figures, Swiss artist and sculptor Giacometti is today one of the most prized and expensive sculptors of all time, with collectors shelling out increasingly huge sums for the chance to own one of his pieces. Created in 1947, the work was originally intended to include a second figure, an idea that was eventually discarded. Today the piece stands on its own as the most expensive sculpture ever auctioned – a fact of which its owner, hedge fund businessman Steve Cohen, is only too aware. Do they even make cheques worth $141.3 million? Enquiring minds want to know…
The Pink Star – $71.2 million
Ok, enough about art. Let's talk diamonds – they are a girl's best friend after all. And if we're going to talk diamonds, we have to talk about the Pink Star, the largest flawless pink diamond ever graded by the Gemological Institute of America. Weighing in at a massive 59.6 carats and measuring 1.06 by 0.81 inches, the Pink Star was originally mined by De Beers in 1999, and sold in 2013 to a New York diamond dealer for $83 million. Unfortunately when the buyer defaulted on the sale, the jewel was returned to Sotheby's, and revalued to $72 million. Don't worry, this story has a happy ending though, as it went on to be purchased by Chow Tai Fook Enterprises of Hong Kong for $71.2 million in April 2017, making everyone involved in the transaction very, very happy. The only question still to be answered is how many bodyguards would you need when wearing the Pink Star – one or two?
1962 Ferrari 250 GTO – $48.4 million
From stars to cars – but not just any car. This is the famous 1962 Ferrari 250 GTO by Scaglietti, sold at auction by RM Sotheby's in 2018 for $48.4 million and the most expensive car to ever come under the hammer (not literally, don't worry). Sold by Gregory Whitten, formerly of Microsoft, the car fetched a whopping $10 million more than the previous record-holder, nabbing the title in winning style. If you're thinking about making this beast part of your own car collection, best you get to it – only 36 were ever made, so time is running out!
Fauteuil aux Dragons – $28 million
Don't be put off by the fancy French name – this is a chair. Obviously not a random chair though, in fact it's one of the most expensive pieces of furniture ever sold at auction. Designed by the Irish artist Eileen Gray and crafted from leather and wood, Fauteuil aux Dragons was created in honour of the lover Gray met when she first moved to Paris, the singer Marie-Louise Damien. Later sold to Yves Saint Laurent and his lover, the chair fetched a record price at auction when it was sold by Christie's of Paris in 2009. Some people might spend a few hundred dollars on a decent chair; this buyer spent $28 million. We hope it's comfy!
The Graves Supercomplication – $11 million
It's got the word 'complication' in its title and no, it's not just a clever name – this watch is super complicated indeed. Made by famed watchmaker Patek Philippe in 1933 for the banker Henry Graves, the watch includes features that can that gauge moon phases, the star chart of Manhattan, and sunrise and sunset. Sold in 1999 for $11 million, the watch was later returned to Sotheby's, along with other pieces of jewellery and more watches, in order to settle debts to various auction houses with a combined total of $83 million. So yes, it's up for grabs if you have the cash, and want to know the time and whether it's a full moon or not.
The 1856 Magenta One-Cent Stamp – $9.5 million
Ok so no one really uses stamps anymore (except grandmothers) but that doesn't take away from this stamp's immense rarity. Although weighing in at only 0.04 grams, the 1856 Magenta One-Cent packs a huge financial punch, having been sold for a whopping $9.5 million in June 2014 – its fourth world record sale. And its price when it was first created? A single cent. Now that's a serious return on investment – something you might want to think about when spending your own casino jackpot fortune!
Happy Spinning 🙂