The World's Most Expensive Drinks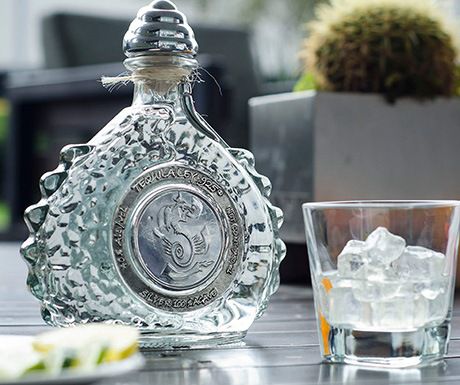 We've already given you a breakdown of the world's most expensive food – not once, but twice. But what about the world's most expensive drinks? Is there anything out there that's fit for an online casino jackpot celebration, or are you doomed to store-bought bubbly for the rest of your life? Spoiler alert: no, you're not. But you will need a good few zeroes in your bank account to say cheers with one of these…
Tequila Ley .925 Pasion Azteca – $3.5 million
If you need a shot of tequila after looking at the price tag, you're not alone. At $3.5 million, this isn't your normal 'throw back six shots on a Friday night' tequila – instead it's more 'take out a home loan before you're even allowed to look at the bottle' tequila. And what a bottle it is, adorned with over 6 400 diamonds, crafted from 3.6kg of pure platinum, and boasting a full 415 carats of sparkle. In fact, this one-of-a-kind tequila is so unique, and so expensive that it's yet to be sold. And while the price may have a little more to do with what's on the outside, rather than with what's on the inside, we're sure that the actual tequila itself is just as brag-worthy. But until someone's brave enough to take the plunge and splash out on this Mexican extravagance, we'll have to stick to our usual brand, and live in hope. Ole!
Henri IV Dudognon Heritage Cognac Grande Champagne – $2 million
Is a drink automatically better because it comes in a fancy bottle? We can't answer that from experience, but we'd love the chance to try! If you'd like to test that theory for yourself however, and you have a few online casino winnings to spare, why not spend $2 million of them on a bottle of Henri IV Dudognon Heritage Cognac Grande Champagne? Liberally encased in 24-karat gold and covered in diamonds, the bottle is a work of art in itself, nestled in a genuine platinum casing. And the liquid inside? A 100-year-aged cognac, the kind you save for a super special occasion. Although we suppose that every day you're an online casino winner is a special occasion. Cheers to that!
Diva Vodka – $1 million
The name says it all – because you'd have to be a diva to buy vodka for $1 million when you could get a normal bottle for a few bucks down at the off-license. Thing is though, this is no normal vodka – instead, it's 'gem-filtered' vodka, which is a fancy way of saying it's filtered not once, but three times, through ice, Nordic birch charcoal, and precious gemstones. It's then infused with natural spring water and captured in a bottle with a wand of Swarovski crystals running through it. Because why drink basic vodka when you drop $1 million on a bottle and go extra AF instead? Talk about being a diva…
Armand de Brignac Midas – $215,000
Now for something a little more affordable… haha, that's sarcasm, as at $215 000 a bottle, Armand de Brignac Midas is anything but affordable. Unless of course you're a movie star, a rapper, a professional athlete, or an online casino winner. So what exactly is it? Only one of the biggest bottles of champagne in the world, that's what. While this 30-year-aged champagne does come in a variety of sizes, the biggest 30-litre bottle is the one that gets the most attention, because at 30 litres, it's the equivalent of 40 regular-sized bottles of champagne in one. That explains the giant price tag – what it doesn't explain is how one would pour it without the help of a crane or some serious upper body strength. We guess that's where being a professional athlete comes in…
The Sapphire Revelation by Bombay – $200,000
Not really keen on anything yet? Then how about some gin? Bombay Sapphire is already known the world over for making delicious gin, but recently they outdid themselves by producing the Sapphire Revelation – a limited edition series of jewel-shaped gin bottles crafted from crystal, sapphire and diamonds, and filled with the finest, headiest gin ever tasted. Ok, that might be a little subjective, but what's a fact is that long after you've taken the last sip, you'll still want to keep the uniquely extravagant bottle as a talking point. All you'll need is $200 000, and you'll be able to add it to your collection instantly. Now, where did that tonic water go…?
Penfolds Ampoule – $170,000
There's red wine and there's Penfolds Ampoule – a limited edition bottle by Australian winemakers Penfolds, exclusively crafted to house the 2004 Kalimna Block 42 Cabernet Sauvignon. With only 12 bottles in existence, this is one wine you'll want to add to your collection, especially as each ampoule comes stunningly presented in its own individual wooden case. With a price tag of $170 000 it's up to you as to what you'll want to save it for. A special occasion, a rainy day, or maybe just a Thursday? It's your choice – just make sure you serve it in a goblet that's every bit as fancy as the ampoule itself. Standards, darling!
1811 Chateau D'Yquem – $130,000
At $130 000 a bottle, the 1811 Château d'Yquem might not seem that extravagant (at least compared to other entries on our list) but in fact it holds the Guinness World Record for being the most expensive bottle of white wine for sale in 2011. Is it even drinkable at this point? Despite originating from a 300-year-old Bordeaux vineyard, the fact that the wine itself is over 200 years old probably renders it more of a collector's item than an actual drink – but what a wine to own.
See anything you like? If there's a tipple or two you'd like to taste test, don't take out a bank loan. Rather try your luck at your favourite online casino first, and see what fortunes await. Remember, keep a clear head while you're playing and stick to soft drinks to help you make informed decisions. Then when the jackpot strikes, you'll be able to celebrate with a drink fit for a multi-million winner! Now that's something worth saying cheers to!
Happy Spinning 🙂