The World's most Expensive Furniture: Part 2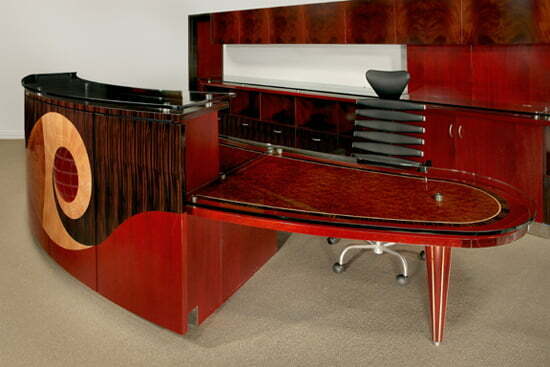 You loved our look at the world's most expensive furniture so much, we just had to let you in on more of our extravagant finds. If you've got the online casino jackpot in your bank account, we've got just the lavish items you need to furnish your palatial new home:
George II Parcel Gilt Padauk Cabinet – $3.9 million
You've got to have something to store your bits and pieces in right? Although this might be a little too luxurious for such a mundane task. Created by master craftsman Thomas Chippendale, this glorious piece of furniture was auctioned off at Christie's in 2008 for the eye-watering price of $3.9 million, making it more art than actual cabinet. May we suggest putting this piece on display as is, and finding somewhere else to keep your crockery? It's too beautiful for Great-Aunt Edna's china – unless the china is as valuable as the cabinet, of course.
Solid Gold Stool – $1.3 million
Why furnish your home with ordinary stools when you can own a solid gold one instead? At $1.3 million, it's cheap at the price! (That was sarcasm, just by the way.) If you're the type of person who likes your furniture bright and shiny, then this could be exactly the right investment for you – a stool crafted from no less than 50 kilograms of solid gold, designed and crafted in a jewellery store in China's Jiangsu Province. We don't know how much shipping would cost if you wanted to order one of your own, but we'd guess it would also be worth a pretty penny. Just make sure that once it's installed in your home, no one EVER puts their feet up on it. You can call it a golden rule, if you like.
Parnian Desk – $200 000
Ok, now we're getting to more reasonably priced items – if you call $200 000 for a desk a reasonable price. Obviously there has to be a reason for that price tag, and if you're the Parnian company in Arizona, it's because each of your desks is custom-built, crafted to the highest standards, and a world-class blend of luxury and design. In fact, this particular desk combines no fewer than six different types of wood, including Carpathian elm, ebony and Abanos, and is topped with a piece of specially made glass as well. While it was originally created as a piece for Parnian's North Scottsdale showroom, we're sure you could convince them to part with it – provided your cheque had enough zeroes on it, of course.
PlumeBlanche Diamond Encrusted Sofa – $184 000
Why have just another ordinary couch when you can have one encrusted with diamonds? That's the question French design company PlumeBlanche asked, and it's why they ended up crafting the ultra-luxurious Diamond Encrusted Sofa, one worth a completely insane $184 000. Although, when you consider what it's made of, the price is perhaps a little less insane. Think solid mahogany upholstered in ultra-fine full grain white leather, and liberally embellished with diamond-studded platinum buttons for the ultimate in opulence. And just to add a touch more sparkle, the PlumeBlanche logo itself is shaped in half a carat's worth of diamonds too. Designed as part of a limited edition, only 50 of these sofas were ever made, so if you're looking for one for your own casino jackpot mansion, you'll have to do a little investigative work first – but we're sure it'll totally be worth it in the end!
Archeo Copper Bathtub – $67 557
There's nothing better than sinking into a gorgeous relaxing bath at the end of a long day – and now with the Archeo Copper Bathtub, you can turn that little luxury into a hugely extravagant one. No ordinary ceramic bathtubs for you – instead you can fill this solid copper tub with a steaming 270 litres of water, add your favourite bubble bath, get your rubber ducky, and that's you sorted for the evening! Elegant and sophisticated, it's the perfect focal point for a lavishly designed bathroom, with its warm copper tones, delicate tap and shower unit, and beautifully designed accessories as well. Even better, at five feet long and two and a half feet wide, it's big enough for two, so you can draw one bath and save water at the same time – all for environmental purposes, obviously. Of course it's not just a bathtub (and a gloriously opulent one at that), it's a talking point too, having been designed by the same people who restored the Statue of Liberty's torch. So the next time someone tries to one-up you, you can have that little mic drop ready and waiting.
Vividus Mattress – $59 750
A bad night's sleep can leave you grumpy and irritated all day, while a good night's sleep can leave you floating on cloud nine from morning till night. At $59 750, the Vividus mattress was most definitely designed with the latter in mind, with even its name being the Latin for 'full of life'. Made from ultra-luxurious materials including lamb's wool, horse hair, silk, flax, and cashmere, the Vividus mattress is a prime example of Swedish ingenuity, with each one taking between 140 and 160 hours to create. Want to find out what it feels like to sleep on a gorgeously fluffy cloud? The Vividus mattress is the closest you'll get – making its nearly $60 000 tag a small price to pay.
Northland Refrigerator – $11 000
If you're asking "What's so special about a refrigerator?" then you've clearly never come across a Northland refrigerator (or freezer) before – possibly one of the most luxurious ways to keep your produce crisp and fresh. The crowning glory in the Northland range however is its $11 000 unit, one with an impressive 48.3 cubic feet capacity, and a 72" refrigerator/freezer combination. Featuring a modern stainless steel and glass design, as well as innovative interior lighting and easy-wipe shelves, it's by far the most stylish way to store and display your food. Just make sure that all the naughty treats are hidden at the back – as far as your visitors know, all you live on is kale and mineral water and good thoughts!
Happy Spinning 🙂