Top Horse Racing Movies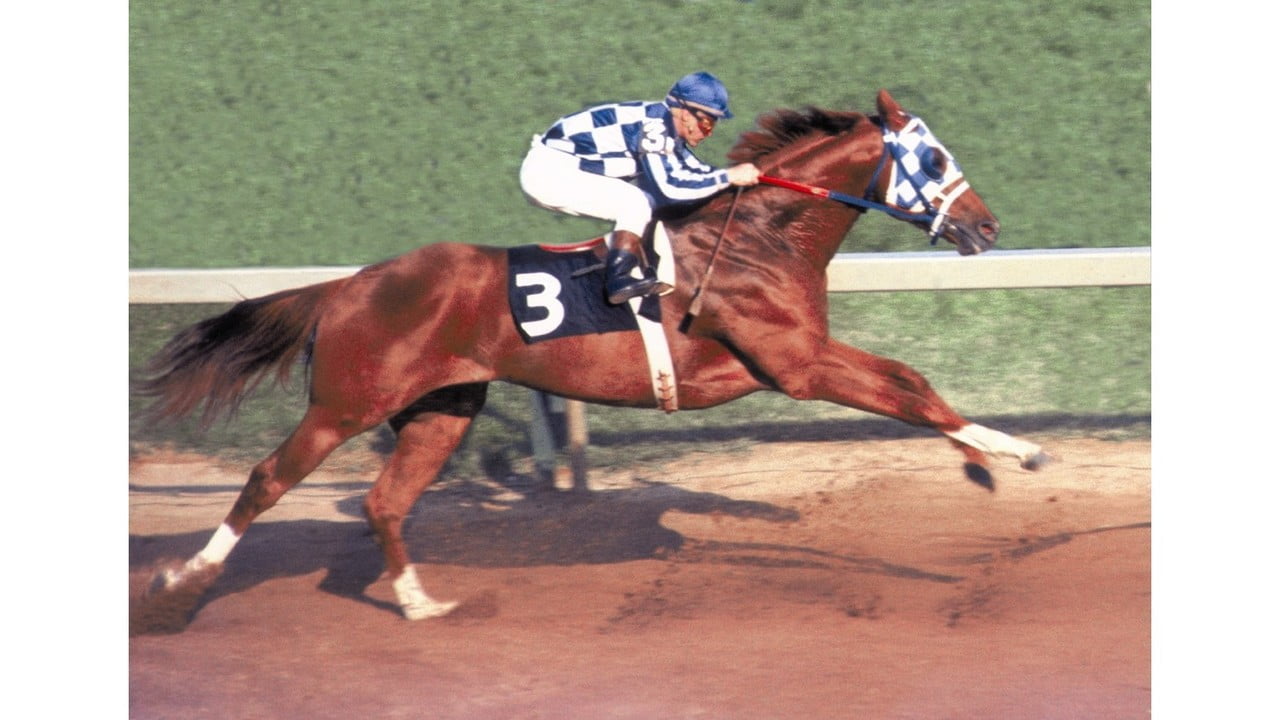 Winning by a nose – the world's most popular horse racing movies
From Ancient Egypt and Syria, to Babylon, Greece and Rome too, horse racing has captured the imagination of audiences since time immemorial – not to mention making a crucial appearance in Norse mythology too. Perhaps it's the thrill of seeing majestic beasts pitted against each other in a race for glory. Perhaps it's the adrenaline that comes from placing your bets and seeing the winnings roll in right before your eyes. Perhaps it's a plucky underdog story, or the unique sophistication of the racetrack itself.
Whatever it is, horse racing has been the stuff of legend for centuries – and more recently, the stuff of exhilarating movies too. Even if you're not horse racing's biggest fan, you're sure to have seen a movie or two about the sport of kings in your time, as they never fail to attract a crowd. Take a look at our pick of the most popular horse racing movies ever made, and see if you have any of your own to add to the list.
Phar Lap, 1983
Most horse racing movies tend to focus on the USA, however Phar Lap has the distinction of being a horse racing movie about a New Zealand horse adopted by Australia – and one that raked in an impressive $9 258 884 at the Australian box office to boot.
Foaled in New Zealand and raced in Australia, Phar Lap was the continent's most famous and iconic racehorse during the 1930s Depression era. Taking the hopes of a nation with him every time he sprinted down the racecourse, Phar Lap overcame a number of obstacles to become one of Australia's biggest success stories, and a national hero. Sadly for Phar Lap, his glorious achievements came to an untimely end when he collapsed and died after racing in Mexico – supposedly as a result of a plan by the mob, although no concrete evidence was ever brought to light.
Filmed in 1983, the story of Phar Lap is widely agreed to be almost flawless, with the relationship between the horse and his trainer, played by Martin Vaughan, highlighted to heartbreaking effect. If you haven't seen Phar Lap yet, do yourself a favour and add it to your watch list right now. Then make sure you invest in tissues. Lots of tissues.
Seabiscuit, 2003
You might not have heard of Phar Lap but you've definitely heard of Seabiscuit. Even if you've never seen the movie, you know its name – and that's due to its massive popularity and following upon its release. The story of a troubled horse, jockey and trainer who all overcome incredible odds, Seabiscuit is almost iconic in its retelling of this true story from the Great Depression – and it's one that the Academy of Motion Picture Arts and Sciences backed with a ringing endorsement, nominating it for seven Academy Awards.
Starring Tobey Maguire as jockey Red Pollard, Seabiscuit is a retelling of Laura Hillenbrand's novel Seabiscuit: An American Legend, the tale of one injured racehorse and three lives changed forever. Co-starring Chris Cooper and Jeff Bridges as Seabiscuit's trainer and owner respectively, the movie follows Seabiscuit from the training ground to the track, winning hearts and minds with every race, in a time when the only luxury people could afford was hope. Capturing the heart of a nation, Seabiscuit was the little horse that could, the poor man's hero, and a sporting legend whose legacy still lives on to this day. Keep those tissues you took out for Phar Lap, you'll be needing them again.
Secretariat (2010)
Widely regarded as one of the greatest racehorses of all time, Secretariat was an American thoroughbred, who, in 1973, accomplished the record-breaking feat of winning the Belmont Stakes by an unbelievable 31 lengths – an achievement that still stands to this day.
Telling the story of this giant of a racehorse right from his birth, Secretariat follows owner Penny Chenery, played by Diane Lane, as she fosters and nurtures the foal all the way to his title as Triple Crown winner, helped and guided by trainer Lucien Laurin, played by John Malkovich. If you're looking for a horse racing movie packed with a stellar cast and enough thrills to give you heart palpitations, you've found it in Secretariat. Pure entertainment from start to finish, and pure adrenaline too.
Dreamer, 2005
Looking for something for the kids? You'll find it in Dreamer, starring Kurt Russell, Kris Kristofferson, Elisabeth Shue and Dakota Fanning. A tale of an injured horse, Dreamer is set against the backdrop of a broken family, and follows the lives of both horse and family as each are nurtured back to health in their own way. Culminating in the Breeders Glass event for which Dreamer is being trained, the movie is a family tale of love, healing and redemption, and one for the whole family to enjoy.
Let it Ride, 1989
Not your typical horse racing movie, Let it Ride nevertheless has the sport at its centre, so technically it still counts. More of a focus on characters than horses, Let it Ride stars Richard Dreyfuss as a failed gambler on the outs with life – one who comes across a tip too good to overlook. This tip takes him all the way to the racetrack where unbelievably, he has a 'Golden Day' – a day where every bet he places is a winning one. Using the book Good Vibes as its source material, Let it Ride looks at horse racing from a comedic perspective – a welcome change from all the other heart-rending (though admittedly, exceptional) movies in the genre. It's a fast-paced movie laced with irony, and one well worth watching, despite its relative age in movie terms. And best of all, not a single tissue needed!
So, if you're looking to Netflix with a different kind of chill, why not take a look at one or more of these top horse racing flicks – or find one of your own to enjoy. Just get some popcorn, get comfy, press play, and prepare to be entertained from the first minute till the last!