Tut's Twister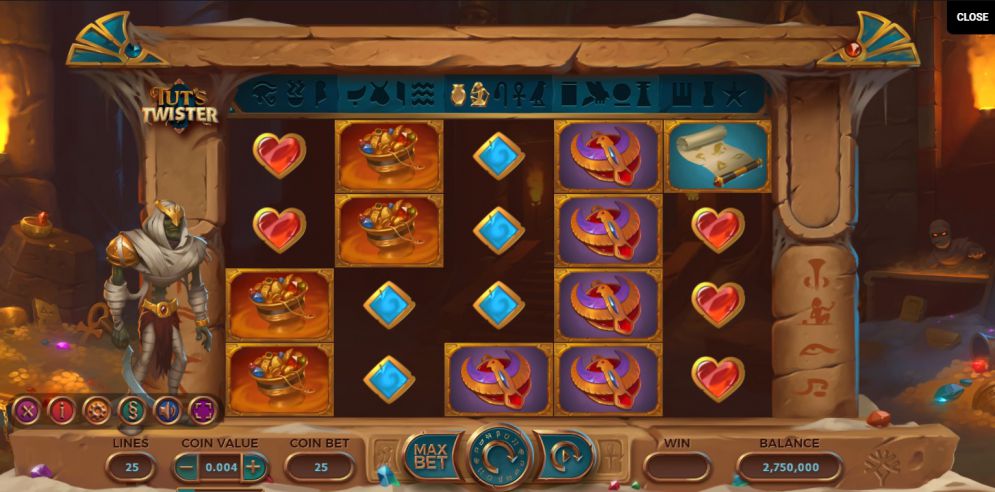 Let's hear it for Yggdrasil Gaming and their latest online slot, Tut's Twister. Sure, an Egyptian theme isn't exactly new territory where slots are concerned, but the team of Yggdrasil have put a new spin on an old classic with this release – one that's guaranteed to have you returning to the reels time and time again.
For starters, this isn't your run-of-the-mill static slot with graphics that stay put the whole way through. Instead, Tut's Twister features a mummy on the side of the slots reels, one who's always ready to get in on the action when the time is right. Enter the underground tomb in which the slot is set, and wait as the five reels spin you towards fame and fortune, often literally, with the mummy spinning onto the reels in a tornado – the 'Twister' from the title.
With a max jackpot of £16 250 and a very decent RTP of 97.1%, Tut's Tornado is well worth a spin, considering its minimum wager affordability of just £0.10. Or if you're feeling flush, you can go for broke with the max bet of £125 a spin, and go for the max jackpot at the same time!
Uncover glittering bonus treasure with Tut's Twister!
Want to start your expedition to wealth and riches? Start by looking out for high paying symbols and combinations, from scrolls and gold rings to Egyptian birds and jewellery too. Wilds substitute for all symbols and trigger bonus features too – like the thrilling Tut's Twister. Simply get two wilds on the reels on the same spin, and the mummy on the side of the screen will whirl onto the reels, expanding to fill reel 1 as a stacked wild. That's not all though – the tornado will bring free respins with it, each one with a multiplier attached. The more wilds you activate, the higher your multiplier, and the more your potential winnings will be!
The action doesn't stop there however. Find more wilds as the Twister spins and they'll transform into walking wilds, moving towards the Twister where they'll be sucked into the whirlwind. Once this happens, you'll immediately be rewarded with more respins and a bigger multiplier – and at the end of your respin round, all wilds will be sucked back onto the reels for one last (and hopefully giant) payout!
There's even more excitement to be had with the chance to collect a series of symbols in order to trigger more Twisters on the reels, but you'll have to log on first if you want to play. Once you do, remember that bankroll management is always key to intelligent game play. Sure, you won't be able to hit the max jackpot of £16 250 on Tut's Twister unless you make the max bet of £125, but will your bankroll be able to support a wager of that size? If not, rather play it safe and only bet with what you can afford. The Twisters may not bring the ultimate jackpots your way, but you'll still be in line for plenty of smaller wins, and you'll live to play another day – which is always the goal of casino play. So what are you waiting for? Get your bankroll ready and get your bets made – Tut's Twister is waiting for you!
Happy Spinning 🙂