Wild Seas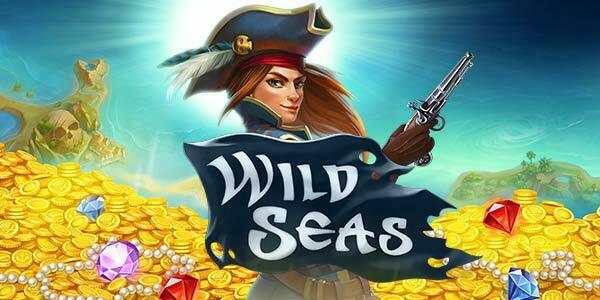 Elk Studios has to be one of my favorite software providers. They always seem to bring unusual slot titles to the market at seemingly odd times, but hey, they make it work and I like it. Wild Seas is no different with 5 reels and 178 paylines. Clearly, an ocean/sea-themed slot. Picture Pirates of the Caribbean with the ability to win real money and here you have Wild Seas.
Wild Seas gives you the option of picking your own betting strategy and you have 4 options:
Optimizer: changes your bet levels automatically to a chosen percentage of your balance. You can choose this to be 1%, 2%, 5% or 10%. Could save you some time I suppose.
Jumper: This will raise your bet 1 level after every win and resets after a loss.
Leveller: Raises your bet after 5 losses in a row.
Booster: Raises your bet by 1 level after a loss and resets it after a win.
You certainly don't have to choose any of these; they are simply betting tactics to help you play the game efficiently and more effectively.
Not only does Wild Seas have 4 different betting strategy options, but 3 wilds!
Wild + Bonus: The Wild Seas flag will substitute all other symbols in the game and when you land on 2 or more, you activate the Break the Convoy feature.
Sailing Wild: The Wild Ships are the sailing wilds. They got their name because they move one reel to the left after every spin. If you see a damaged ship, they stay sticky for one spin and if you hit it 3 times, the ship will sink and be replaced by a sticky wild.
Sticky Wild: is the chest symbol and will substitute for all other symbols in the game except for the scatter barrels which show face on reel 1.
My absolute favorite thing to do in this slot was hit the "Break the Convoy" feature. It starts on reel 5 and moves to the left. You have 3 captains and one random one is chosen as your opponent lets say. You have Captain of: Portugal, France and England. Your chosen captain will replave the other 2 and if you land on a pirate ship, it will begin shooting canons and hit anything in sight on the same row, yikes! Once your last ship has sunk, you begin the Loot the Treasure feature. Chest is the wild symbol during this feature and you find it on reels 2, 3 and 4. They will replace all other symbols with the exception of the Barrels. You want the ship to fire and hit a chest ultimately making it sticky. If a ship fires and hits a barrel scatter, bonus game is over.
Think you can handle this one?
Happy Spinning 🙂