3 Mermaids.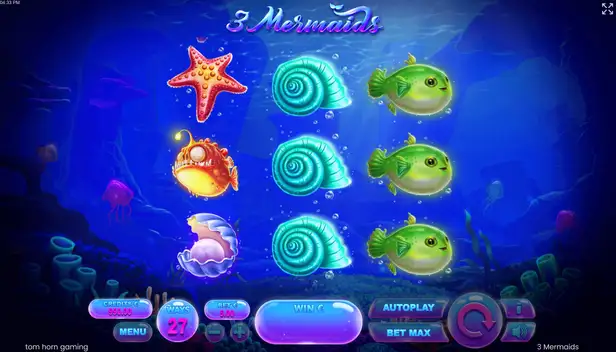 3 Mermaids. Fantasy and fairytales have always been a popular choice for slots themes. There's just something about their magic and mystery that keeps us endlessly captivated. Will Lady Luck be able to wave a wand over these two slots picks and make your jackpot dreams come true? Make your play and see what the fates have in store for you!
Uncover treasures of the deep with 3 Mermaids
While the internet is losing its mind over who plays Ariel in the upcoming live action remake of The Little Mermaid. We're just over here spinning the reels on mermaids slot instead. Because why not? A new release from Tom Horn, 3 Mermaids is a new take on an old favourite, bringing you the familiar concept of mermaids. But reimagined in a whole new light. Traditionally mermaids have always been half woman, half fish. But what if instead of fish, they were half something else instead? That's the question that 3 Mermaids asks, and we know you'll be just as interested as us to see the answer!
As you would expect, all the action of 3 Mermaids takes place under the sea. On a 3×3 reel game area. While it might seem simple, there's still plenty of winning to be had. With 27 possible winning combos, an RTP of 95.07%, and a top payout of 1,620x your original bet! And while you're swimming around spinning the reels. You'll also be able to take advantage of bonus features like wilds, respins and multiplier wilds too.
Lets move onto more wilds
Now for the best part though – the mermaids themselves. As we mentioned, you won't find any human/fish hybrids here. Instead you'll find each of the mermaids blended with other sea creatures to create a completely different underwater fantasy. From jellyfish tendrils to octopus tentacles and even shark tails too. These are the mermaids of a new generation. And they're set to bring ocean-sized winnings your way – if you're lucky, that is!
Of course if you want to dive down and discover some buried treasure for yourself. You'll need to place a bet first. Start with a minimum bet of $0.50 and increase it up to a max of $100. If your bankroll allows. Get the reels spinning and you'll find a collection of fish, pearls, shells and starfish for base game winnings. Or if you're fortunate enough, you could find one of the 3 mermaids too, each with its own special extra feature attached:
Every reel has a 3 mermaid surprise
Reel 1: The nudging octopus wild. Here the 3 mermaids with octopus tentacles will land as a stacked symbol. Nudging either up or down to fill the entire reel. Because it acts as a substitute, it'll also replace all regular symbols too. Helping you complete matching combos for even more winnings!
Reel 2: The sticky jellyfish respins. Look out for the 3 mermaids with jellyfish tendrils on reel 2. As not only is she a stacked wild symbol, she'll bring respins your way as well.
Reel 3: The wild shark multiplier. Usually we try to stay far away from sharks. But this is one we want up close! That's because the 3 mermaids with a shark tail on reel 3 brings a 2x multiplier with her. Boosting your wins and giving you more to celebrate!
So make a splash with 3 Mermaids and see what kind of riches they bring your way. These are no ordinary mermaids, and they could soon be making your life a whole lot more rewarding!