Are you brave enough to enter the Temple of Medusa?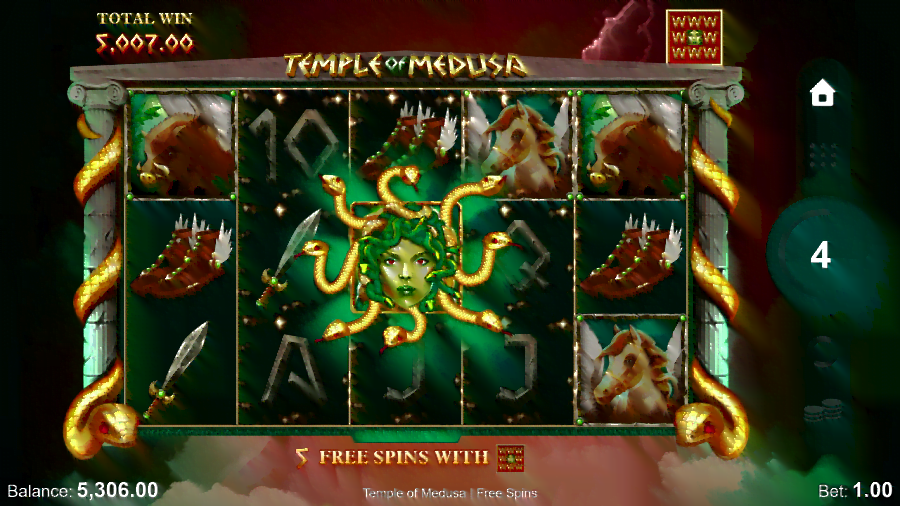 Another temple, another way to win in ancient Greece, this time brought to you by Microgaming, in conjunction with All41 Studios. Be warned though – you'll need to have your wits about you, as entering the Temple of Medusa will take courage, ingenuity, and an unwavering spirit of adventure!
You already know the legend of Medusa – the Gorgon with snakes for hair who transformed anyone who looked at her into stone. In mythology, it was Perseus who eventually slew her, but in Temple of Medusa, it's you that'll have to be brave enough to take her on and do battle for huge jackpot winnings!
Enter the temple and you'll immediately be met by themed symbols, from helmets, sandals and swords to the winged Pegasus, and even Medusa herself. You'll also have plenty of bonuses to look out for as well, including spreading wilds, free spins, scatters, and even a random lucky prize too! With a 5×3 reel game area, 25 paylines and a top 1,100x payout, there's everything to play for, so take a deep breath – it's time to enter the temple and prove that you've got what it takes to come out on top!
Ready? Then draw your sword and place your bets, anywhere from a $0.10 minimum all the way up to a $40 maximum. Just calculate how much you can afford to bet in a gaming session, and choose your bet size from there. Once you've made your choice, get the reels rolling because it's time to take Medusa on, face-to-face!
Take courage, because when you do meet the Gorgon, it'll be in the form of a Medusa wild, which has the power to bring payouts your way. As a wild, Medusa will substitute for all other symbols to create winning combinations, and will pay out 25x your original bet for 5 wilds on a payline too! What's more, Medusa can spread as well, expanding one symbol out in different directions, with the potential to take over a full 3×3 area, covering it with wilds and huge winning potential!
You'll also have the chance to play spreading wilds during your free spins round as well, with a choice between options as soon as the feature is activated:
5 free spins with wilds spread in 3 directions
10 free spins with wilds spread in 2 directions
15 free spins with wilds spread in 1 directions
Make your choice and see just what treasures come your way as a result! And speaking of treasure, there's even more to be found with the random lucky prize bonus feature. Keep playing the slot and if luck is on your side, you could randomly activate a bonus of 1,000x your original bet!
So keep your wits about you and enter the Temple of Medusa – if you dare! It's a jackpot adventure waiting to happen, and it could make your jackpot dreams a reality with just one spin. And that's no myth – just pure exhilaration and online gaming at its finest!
Happy Spinning 🙂