Banana Drop!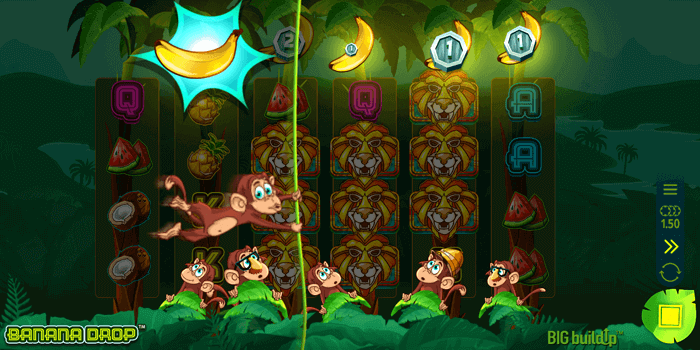 Why go for normal when you can go crazy for winnings instead with Banana Drop! It's bright, it's colourful, and it's packed full of energy and fantastic winnings too!
One of the latest slots releases from Crazy Tooth Studio, set to hit Microgaming's casinos from July onwards, Banana Drop promises to be hours of fun, and the type of top quality entertainment Microgaming players have become used to. With a fun, jungle-based theme, it's full of naughty monkeys and full of high jinks too – what else would you expect from a game that's designed to make you go bananas with jackpot excitement!
Get set to place your bets and you'll already have a wide selection of choices available, with a betting range from $0.15 right up to $30. With six reels and 4096 ways to win, there's plenty of rewards to be had no matter what size bet you can afford – although as always if your bankroll can support a max bet, it's best to go for it. And, given that Banana Drop's top jackpot stands at a super decent 6,000x, with an RTP of 96.70%, if you can afford a good-sized wager, place your bets and let the bananas fall where they may!
Speaking of bananas falling, that's an actual feature in this wild and crazy slot, along with free spins and scatters too. And yes, wilds as well – in this case symbols that'll fall on the screen either individually to complete combinations, or stacked to bring you even more rewards for your money. Either way, look out and let the winnings rain down!
Something else that'll be dropping into view are the falling bananas we mentioned – symbols that'll appear on the reels randomly whenever monkeys appear to push bananas down from the top of the screen. As the bananas fall, they'll either bring with them more wilds, or fantastic cash prizes – so while the monkeys might be naughty little creatures, they could also help to add significantly to your winning total. Even better, get more bananas on the trees with the Big Buildup feature, and you could find a bigger number of bananas falling next time, bringing even more fantastic prizes your way!
Finally there's the free spins round, which you'll access as soon as you find three leaf scatters on the reels. Each free spins round will bring with it a falling banana feature too, as well as stacked monkey symbols to increase the number of bananas on the trees – so the more free spins rounds you play, the more special features you'll find, and the more you could increase your winning total overall!
So if you want to go bananas with winnings, it's time to give Banana Drop a try. Just choose your bet size, hit the spin button, and you could soon be surrounded by monkeys, falling bananas and huge winnings – not to mention giraffes, hippos, zebras, watermelon, pineapple, and other tropical fruits too. Now that's what we call quality slots entertainment!
Happy Spinning 🙂