BitPay – A Must-have for Online Casinos.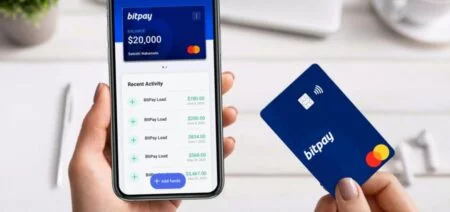 Looking for an easy way to make online casino cryptocurrency deposits and withdrawals? Then you're looking for BitPay. The crypto wallet that puts the power in your hands! Bitpay is a must-have for online casinos.
Consisting of a user-friendly wallet app and a BitPay debit card. BitPay allows you to buy, store and spend your cryptocurrency all from one place. And all within a fully secured environment. So if you've always wanted to use your cryptocurrency to pay for your online casino purchases, let BitPay show you the way!
What is BitPay?
Established in May 2011, BitPay was initially conceived as a method of managing Bitcoin transactions. Today, however, it has evolved beyond its original function. Giving crypto users a way to take control of their finances and spending across a wide selection of different cryptocurrencies.
Moreover, it has also given online casino players a way of using their cryptocurrency to make casino deposits, request casino withdrawals, and enjoy safe, secure, simple casino transactions.
Consisting of a handy wallet app and a BitPay Mastercard (for now only available to US users). BitPay allows you to manage all your cryptocurrency from one central place. Fund your BitPay wallet with your choice of cryptocurrency. Then use your crypto to make stress-free online casino deposits. Or request a withdrawal from your casino account back to your BitPay wallet, and use your funds as you wish. Even better, if you're in the USA, you'll be able to load your crypto onto your BitPay Mastercard and use it as you would any other debit card. Quick, easy, and hugely convenient too.
Using the BitPay app
Before you can use your BitPay wallet as an online casino payment mechanism, you'll first need to download the app. Thanks to its compatibility with both Android and iOS operating systems, you'll be able to download it for free from either the iTunes store or Google Play.
Once you've downloaded the app, you'll then be able to use it for transactions to and from your online casino account. You'll also be able to request a BitPay Mastercard if you're in the USA. And you'll be able to replace your card, request a new PIN, and view your account balance. All from within the handy app.
Making BitPay casino deposits and withdrawals
As soon as you've successfully downloaded the BitPay app, you'll then be able to use your wallet to make crypto deposits into your online casino account. Here's how:
Open your app to make a payment. Note that for your purposes, online casino payments are categorized as payments to merchants.
You'll see a number of different options on your wallet home page. As well as the number of tokens you have in your account.
Select the cryptocurrency you want to use to make your online casino deposit. You'll go to a new screen. Where you'll have a number of options. Choose 'Send' in order to send funds to your casino account.
At this point, you'll need to visit your online casino's banking page in order to find its wallet address. You can also do this before you start your BitPay transaction. So that you have the information ahead of time.
Once you've made a note of the wallet address, enter it into your app along with the number of tokens you'd like to transfer. And authenticate your transaction for verification purposes.
Your deposit isapproved instantly. Giving you immediate access to your online casino and its gaming selection!
While some online casino payment options support deposits only, BitPay is equally as effective for withdrawals as well. Adding to its convenience and its suitability as a banking mechanism.
How to make withdrawals from your casino account to your BitPay wallet?
Simply follow the same process as you would for a deposit. This time however, you'll need to enter your BitPay wallet address, rather than your casino's wallet address. So that you can transfer funds from one to the other. Successful withdrawals should take no more than 2 days. Once the funds reflect in your BitPay wallet, they're yours to save or spend as you like. Premium convenience and one payment option for both deposits and withdrawals – that's BitPay.
BitPay processing times
Time is money, as the saying goes. So how much time does it take for BitPay transactions to be processed?
If you're making a deposit, you're in luck. Provided you have sufficient funds in your BitPay wallet to transfer to your online casino account. Your transaction should be approved instantly. Or within up to 10 minutes at most. Even better, you won't be charged any deposit fees either.
When it comes to withdrawals, verification checks take a little longer. Meaning that your transaction takes up to 2 business for ap. Some online casinos pre-approve crypto wallets however, which means your withdrawal request could be processed instantly. Check with your particular online casino to find out if any kind of withdrawal waiting period applies.
While it was originally launched as a way of managing Bitcoin specifically, today it supports a variety of cryptocurrencies. Including BUSD, BTC, BCH, DAI, DOGE, ETH, GUSD, LTC, USDP, SHIB, USDC, WBTC, and XRP. It's this flexibility that continues to make BitPay such a popular choice for online casino payments around the world.
The benefits of BitPay
We've already looked at a few of the advantages of using BitPay. But what other benefits can you expect as a user?
Its global: BitPay is supported in most countries around the world.
It's flexible: BitPay supports a range of different cryptocurrencies including Bitcoin, Ethereum, Litecoin and more.
It's fast: BitPay deposits are approved instantly. With withdrawals processed in up to 2 days.
It's affordable: No deposit fees
It's safe: Innovative multi-signature security adds extra protection to your account. While biometric security guards you against fraud, hacking and identity theft.
So if you're looking for a way to transform your cryptocurrency into real money casino wagers, This could be just the payment mechanism to help you. Try it for yourself today. And find out just how convenient and stress-free BitPay transactions can be!