Casino industry news!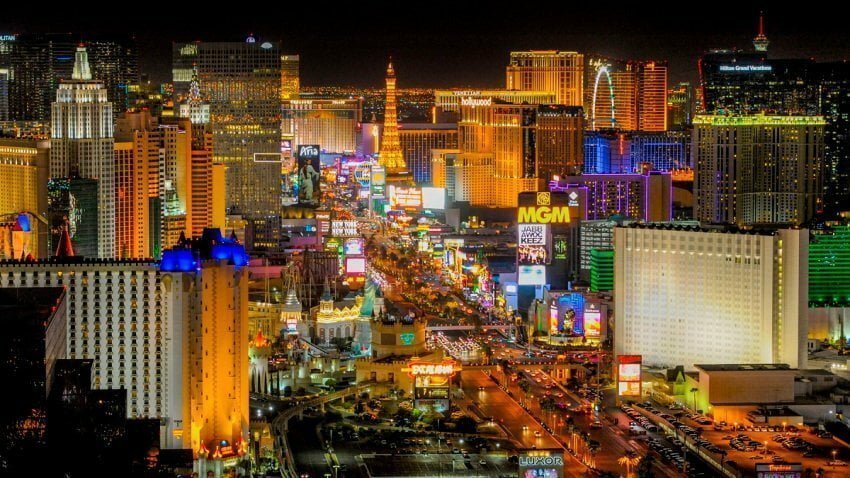 It's been a while since we've checked in with what's happening in the casino industry. Let's take a look at what's been making headlines in the world of gaming recently, and what you can look forward to from your favourite pastime!
New non-smoking casino set to open on the Vegas Strip
It's probably as synonymous with casino play as the games themselves – clouds of cigarette smoke adding an air of mystery and sophistication to a glamorous Vegas evening. Of course, that's not all cigarettes add though, which is why Park MGM will soon be following health trends by opening its very first smoke-free casino on the Vegas Strip.
After having been closed for six months due to coronavirus regulations, Park MGM will be affirming its commitment to health and wellness when it reopens, by ensuring a completely smoke-free environment for all its patrons throughout all areas of its resort casino. In the same way, Park MGM's NoMad Las Vegas, its 'hotel within a hotel' will also be following suit with a similar smoke-free status.
Reopened on 30 September, the venues' decision to institute a smoke-free initiative was made following input from customers – feedback which was heard, and will soon be duly implemented.
"As we looked toward our reopening, we identified an opportunity to be responsive to recurring guest demand for a fully non-smoking casino resort on the Strip," explains MGM president, Anton Nikodemus. And in a world that's so newly attuned to health and sustained wellness practices, it's a decision we understand and support. Of course if you want to have a puff, you'll still have plenty of other venues to choose from on the Strip – but if you want to enjoy good clean fun and good clean air, Park MGM is where it's at!
Barclays set to launch new 72-hour 'cooling off' period
So there's no smoking in the States – and over in the UK, there's no reckless spending either. At least there won't be for Barclays clients, following the upcoming launch of a new 72-hour cooling off period on gambling transactions.
Set to be rolled out over the coming weeks, this new facility will give customers the ability to manage their bankroll even more effectively, and institute a three-day period in which all gambling transactions will be automatically denied. So if you feel that you're spending impulsively, or that you're playing beyond your means, you'll be able to control your spend and ensure that you stay financially solvent.
Since December 2018, Barclays has shown its commitment to responsible gambling by giving customers the ability to block gambling transactions – a facility that's been used approximately 570,000 times since being launched. This new service is set to build on that commitment, and give customers even more financial control, and valuable peace of mind.
Barclays representative, Sian McIntyre, explains:
"We are always looking for new ways to support our customers and make it easier for them to manage their finances. Customer feedback on our gambling control showed us there was more we could do to help and we've worked closely with them to design the solution. Our customers have told us this 72-hour time delay gives them a real pause for thought and helps when they are tempted to return to gambling."
Good news for Barclays customers, and good news for responsible gambling too. That's what we call a win-win!
Online gambling thrives over lockdown
While a global lockdown has helped to flatten the coronavirus curve in many countries, a regrettable consequence of this has been the closure of many businesses, and a downturn in the economy. Very few industries have managed to survive the strictures of lockdown – however, while sports betting may have taken a downward turn over the past months, by and large online gambling has managed to weather the COVID-19 storm admirably.
Why? Firstly, its accessibility. Thanks to its digital platform, online gambling has been available to players 24/7 throughout lockdown, unlike its land-based counterparts that have had to close their doors for health reasons. Secondly, with more people at home more of the time, players have had more availability to play than they might have had previously, leading to an up-turn in gaming statistics. And finally, because when in a crisis, people turn to entertainment to keep themselves occupied and take a break from the harsh realities of everyday life – and online gambling has been able to provide just such an escape.
Thanks to these factors, and a growing interest in online casino gaming, esports, and sports betting in general, online gambling has seen a surge in players and in profits – one that looks to help the industry to a projected growth of $95 billion by 2025, and a massive $600 billion by 2027.
This is partly due to the boost that the pandemic has given the industry, and partly due to the increased global availability of online gambling in many countries, as well as the improvements that new technologies have made in the industry. Online gambling is now easier to access, and its quality is at an all-time high. No wonder more and more players are turning to it as a form of entertainment – numbers that experts say could continue to increase exponentially over the next few years.
Of course it's vital to gamble responsibly, especially when faced with the increased accessibility of online gambling, but keep financial management in mind, and there's no reason not to enjoy the superior entertainment that online gambling provides. Here's to the industry going from strength to strength, and taking its players along for the ride!
Get ready for the 7th Global Gaming Awards Las Vegas 2020
And the winner is… the gaming industry! Because not even a pandemic can keep this awards ceremony down. The Global Gaming Awards Las Vegas 2020 is back with a new time and date, and it's going virtual too. So not only will we have a dazzling array of winners, we'll have social distancing and responsible health protocols as well. Jackpot!
Set to be held on Tuesday 27 October at 1:30pm EST, the awards will be taking place on the first day of G2E 2020, making for a memorable event all round. It's been a challenging year for the industry but it's also been one worth celebrating, and for our part, we can't wait for what promises to be a spectacular ceremony. Good luck to the nominees, although with the year we've had in the industry, everyone's a winner in 2020!