Casino industry news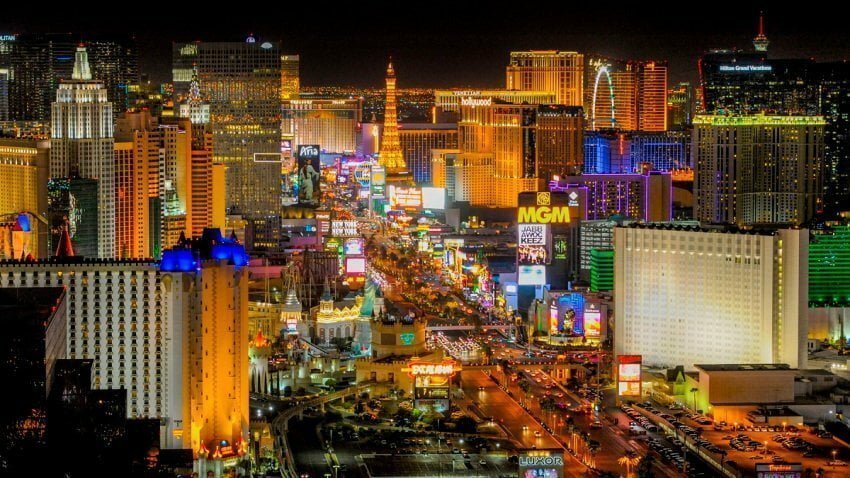 New COVID-19 monitoring software installed at the Plaza
Now here's something that sounds right out of a sci-fi movie: an AI-based surveillance system that can not only scan for firearms, but for fevers (such as those associated with COVID-19) as well. Turns out it's not the stuff of sci-fi fiction though, it's an actual reality, and one that's currently being installed in the Plaza Hotel & Casino in Las Vegas.
Designed to identify threats of violence such as altercations and fights, as well as COVID-19 symptoms like high temperatures, and any lack of protocol such as no masks and no social distancing, this state-of-the-art software is the next level in monitoring and prevention technology, and it's set to revolutionise the casino security industry.
While patrons will be mostly unaware of the existence of the technology throughout the casino, thanks to its hidden, unobtrusive sensors, should any weapons, firearms or COVID-19 symptoms be detected, security staff will immediately be alerted, allowing them to neutralise any potential threats as quickly and discreetly as possible.
Known as the PATSCAN Multi-Sensor Covert Threat Detection Platform, this AI software from Canada's Patriot One Technologies is able to learn as it goes, improving its detection abilities with every successive experience.
As CEO Peter Evans explains, "The PATSCAN Platform is… driven by artificial intelligence software coupled with a network of sensor solutions that can detect specific situations or information and provide actionable intelligence to the user. This system is non-intrusive, and is designed to not interrupt business, the flow of traffic, or cause privacy concerns. The platform looks for threats first, before identifying an individual, thus protecting the person's privacy and civil liberties."
This software installation coincides with a tightening of police presence in Las Vegas, due to an upsurge in violence round the city, thought to be the work of gangs. As such, the increased security at the Plaza is a welcome relief for patrons, providing much-needed peace of mind. So if you've been putting off a trip to Vegas amid COVID-19 and other concerns, the Plaza might just be the safest bet.
BGO Casino set to spin the reels with Pragmatic Play
Software provider Pragmatic Play has quickly established itself as an operator to watch in recent years. Now they're building on this reputation even further thanks to an exciting new partnership with BGO Casino.
Log onto BGO Casino and you'll now be able to enjoy the full suite of Pragmatic Play slots – an ever-increasing portfolio comprising more than 200 cutting-edge slots, including popular titles like the John Hunter adventure series, and the award-winning Wolf Gold.
Looking for more player engagement while you're at the casino? Now you'll find it, thanks to Pragmatic Play's sharing of its gamification tool Enhance. From tournaments and prize drops to free round bonuses, free card bonuses and multipliers, Enhance offers a full range of in-game promotional tools designed to boost acquisition and retention, while adding significant value to the player experience at the same time.
This partnership marks another level in Pragmatic Play's growth throughout regulated markets, one that shows no signs of slowing down. Pragmatic Play Chief Commercial Officer, Melissa Summerfield, explains: "BGO has an exciting reputation as a rapidly-growing operator and we're thrilled to partner with them. Our content portfolio continues to grow at an impressive rate with five new slots added a month, all appealing to a variety of demographics and player tastes, and this deal allows us to reach a wider audience than ever before."
What does this mean for you? That if you're a BGO Casino player, you'll have a whole lot more slots excitement to look forward to – and if you're not a player yet, it could be worth signing up. One thing's for sure, it'll be an entertaining move – and if you're lucky, it could be a rewarding one as well!
Microgaming plays it forward
It's the season of giving once again, and this year Microgaming is exemplifying the spirit of generosity by supporting the Gordon Moody Association, and its commitment to responsible gambling.
A recognized charity with more than five decades of experience, the Gordon Moody Association offers critical support to those affected by problem gambling, providing counselling programmes, treatment centres, relapse prevention housing and expert online support.
Now through its CSR programme, PlayItForward, Microgaming is lending its own support to the Gordon Moody Association, providing much-needed funding for its vital responsible gambling initiatives.
"Collaborating with the likes of Microgaming and the wider industry is integral to what we do," says Rob Mabbett, Head of Growth at the Gordon Moody Association. "On behalf of the team at Gordon Moody Association, we would like to thank Microgaming for their generous support and for all of the good work they are doing in the space of CSR and responsible gambling. The donation from Microgaming PlayItForward will go towards a comfort fund. It will also help to assist families physically, emotionally, and mentally to find peace of mind while their loved ones access therapy for problem gambling."
Since 2014, Microgaming's PlayItForward programme has helped support numerous local and international charities, and with its new partnership with Gordon Moody, it's continuing this proud and valuable tradition. It's better to give than to receive, as the saying goes, and Microgaming is showing us all how it's done!
Look out – Live Craps is here!
Live games have grown from strength to strength in recent years, and Evolution Gaming has helped revolutionise the movement with hugely popular titles like Crazy Time, Monopoly Live and Lightning Roulette. Now Evolution is back with yet another thrilling offering – this time in the form of Live Craps!
Not a Craps player? You will be, thanks to Evolution's helpful 'Easy Mode' and online interactive tutorial. Learn how to rule the Craps table like a boss, and you'll have all the skills you need to play either online, or 'Go Live', and participate in Craps in a live online setting.
With this most recent development, Evolution is cementing its reputation as a world leader in live dealer games, and it's one we can't wait to try for ourselves! Step aside, we're here to rule the table, and hopefully rake in some action-packed winnings at the same time!