Check out NetEnt's NEW Street Fighter II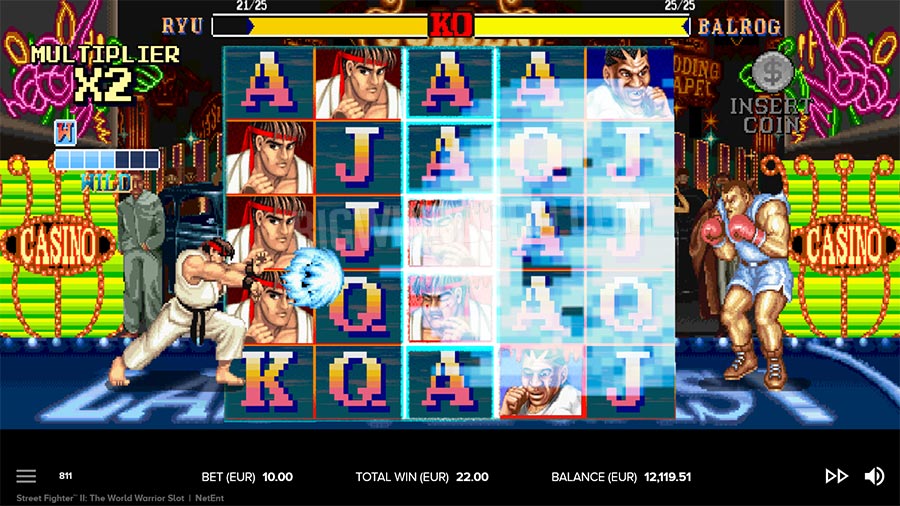 When it comes to slots, NetEnt never disappoints. Street Fighter II is a twist on the classic arcade game…. if you can remember playing this game, the title says it all. This slot boasts 5 reels with clusters pays (yay!). Before you start spinning those reels, be sure to adjust your betting ranges (+/-) as well as ensure 'Autoplay' is on or off, depending on your preference. Autoplay will continuously spin the reels for you so you can just sit back and relax.
The main 8 characters of the game are: Chun Li, Dhalsim, Honda, Blanka, Guile, Ryu, Ken and Zangief. The base game is a battle between 2 of the characters. In every battle, you will get to choose one of the 8 characters and fight an opponent at random (very similar to the classic arcade game). When any character runs out of health points, the round ends. If you win the battle, you will be placed into the 'Beat the Boss' stage of the game. If you lose, you will go to the 'Car Smash' stage.
You're probably thinking, this all sounds great, but how do I win coins? Your character will inflict damage when a winning combo includes their particular 'victory' or 'defeat' symbols. It will receive damage when your opponent's win or victory symbol is included.
You will also notice that above every characters head, there is a wild gauge. (only during the first stage and 'beat the boss' stage). For every high value symbol in a winning combo, the gauge will increase by 1. Once you fill the gauge to 7, your character uses their unique wild combo feature and places wild symbols on the reels at random.
Beat the Boss 
This is a free spins round with multiple levels. Your character will have to fight various opponents and as you win and levels increase, so will the multipliers that get added on the reels. You can win up to 100x your wager on this round!
Last but not least, during the car smash feature, you will be able to gain control of your characters but with the help of on-screen character control panels which help move your character and destroy the car. You will randomly be awarded a win between x5 and x15.
Happy Spinning 🙂