Circus of Horror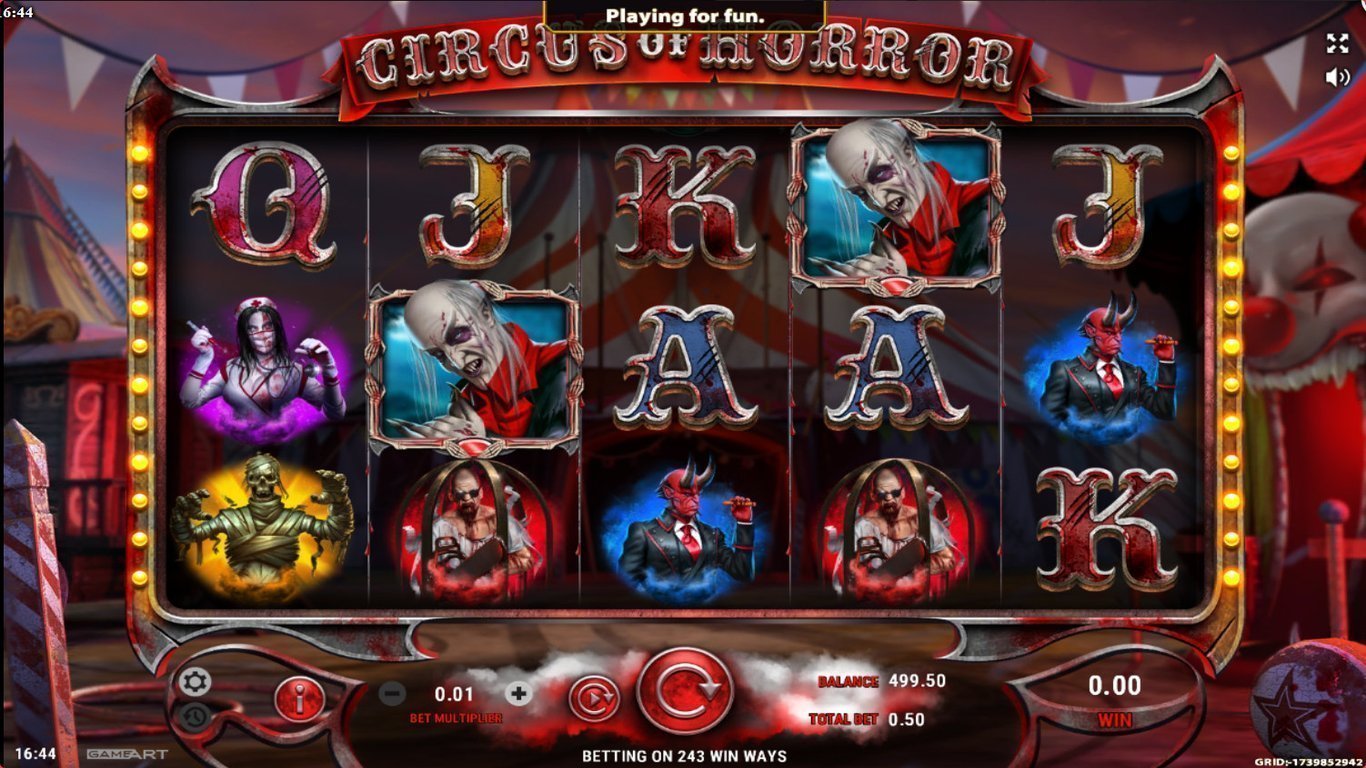 Enter the Circus of Horror… if you dare
So we know that claustrophobia is a fear of confined spaces and that acrophobia is a fear of heights, but what's coulrophobia? If you know the answer then you obviously have it, which means you might want to give this next slot a skip…
That's because coulrophobia isn't a fear of cool people (weird), it's a fear of clowns (even weirder)! And, unfortunately for those of you who are scared of people in face paint and red noses, the Circus of Horror is packed full of them! What's more, these aren't your fun, friendly birthday party clowns. These are terrifying killer clowns, and they've brought even scarier friends with them too, like serial killers, mummies and more! Well, it is called Circus of Horror, not Circus of Rainbow Unicorn Kittens. So beware!
Keep your wits about you and win
There's no clowning around in this circus, not with ghouls and crazies lurking behind every corner. The common 5 reel layout and 243 ways to win combination might lull you into a sense of false security but watch out! The electric chair bonus game will leave you shocked – as will the free spins, multipliers and wild and scatters too.
Unlike other slots games, this might not be one you actually want to start playing, but when you do, you'll have the choice of betting the minimum of $0.50 per spin, all the way up to a horrifying maximum of $50 per spin. How far will your bankroll stretch for this terrifying game? Once you've made a decision, start spinning – because every creepy character you meet will bring more and more winnings your way.
First, there are the necro nurses, who'll pay you back up to 1 000x your line bet if you find them – or triple that amount if you come across them in a free spins round. Then there's the Killer Clown wild symbol that completes winning combinations, and becomes sticky as soon as knives are thrown at it. Don't get scared now – you will bump into vampires, at least in the form of the bonus symbol. Get three of these bloodsuckers on the reels, and you'll go straight through to the electric chair… although you won't be sitting in it. Instead you'll be playing a mad scientist-type bonus game, giving electric shocks to different body parts until the shock button gives out.
Last but not least, go after the female vampire, if you dare, and win up to 15 frightening free spins for yourself, along with a multiplier of 3x too. Watch out for rivulets of blood dripping onto the reels – although when they land on the third reel, they'll transform the column into a wild, bringing even more spine-chilling winnings your way.
You might not be a fan of horror movies, but if you're into heart-pounding wins, this innovative slot could be just what you need to escape from reality. It's not going to be everybody's game, but with a huge jackpot up its sleeve, it's one well worth playing – hair-raising clowns and all!
Happy Spinning 🙂