Cupcakes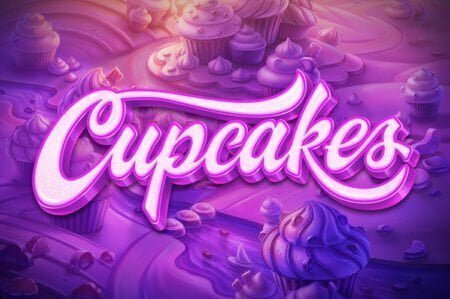 Cupcakes. If you're feeling a bit Christmass-ed out with all the themed slots that have been popping up lately, never fear! We've got just the antidote to trees, gifts and decorations right here. All-new online casino slots that have absolutely nothing to do with Christmas and everything to do with action-packed slots excitement. Are you ready to get the reels rolling? Then let's spin!
Taste sweet jackpot treats with Cupcakes
We don't know about you, but we absolutely love cupcakes. Delicious mini cakes topped with creamy frosting and if we're lucky, some sprinkles too. What more do you need in life? Well, if you're NetEnt then you need a side of winning with your cupcakes. Which is exactly what they've offered up with their brand-new Cupcakes slot.
Hope you like pinks, purples and pastel colours because that's exactly what Cupcakes is delivering. Along with yummy symbols like candy, jelly, and of course, cupcakes too. And the best part? These treats are zero-calorie. Great for your waistline and hopefully your bank balance as well!
These don't need to be bought from a bakery!
No need to get these Cupcakes from a bakery though. Instead you'll be playing for sweet, sweet winnings from a 6×7 reel game area. Complete with a scatter pays engine and a top payout of 2,762x your original bet. You'll also have extra treats like avalanches, free spins, 100x multipliers and a 96.05% RTP. Tasty enough to make you want to come back for seconds and thirds!
Don't worry if you're on a budget at this time of year. Cupcakes has a wide range of betting options, starting at $0.10 for a minimum bet and $200 for a max bet. Just choose the bet size that best suits your bankroll and your session limits. And you'll be ready to take a big bite out of winning!
Ready to sink your teeth into some delectable game play? Hit the bet button and you'll have 42 symbols spinning on the reels. Find 8 or more matching symbols anywhere in the game area, and you'll have a winning combo thanks to the scatter pays mechanism. Once you've found a winning combo, the avalanche feature will activate. Removing all the matching symbols to make space for new symbols tumbling down from above. The more winning combos you find and the more avalanches you trigger, the more you'll win! Cupcakes is the slot for you.
Look out for special symbols!
Look out for special symbols too, either cupcakes in a 2×2 size or gumdrops in a regular size. Getting the right colour and number of cupcakes and gumdrops could help you to a multiplier anywhere from 2x to 100x. Which could prove to be hugely rewarding for your account balance. There's also a crush mechanic that'll trigger once you find 5 or more gumdrops on 2 reels. At which point a cupcake will crush the reels with the gumdrops on.
Finally, find 3 to 5 scatters on the reels and you'll trigger up to 16 free spins for yourself. With the chance to re-trigger them from within the round too. You'll also have multipliers appear during the bonus round. Which could help put the icing on your winning cake!
Cupcakes are sweet and heavenly. And your winnings in NetEnt's latest slot could be too. Leave room for dessert. There's plenty of gaming action to be had with Cupcakes. And you'll want to enjoy every last indulgent bite!