Diva. It's Hawaiian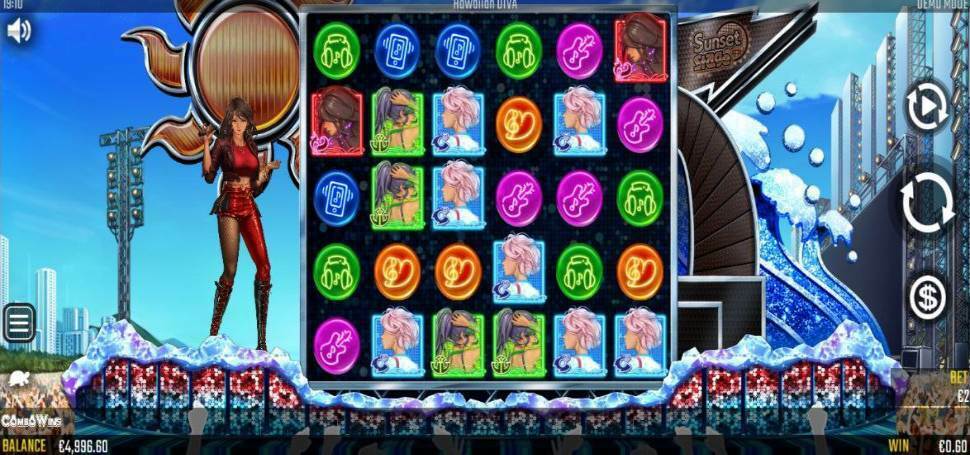 Diva. It's Hawaiian. Slots are all about having fun and feeling the thrill of gaming – that's why this week we've picked out two super fun-filled games for you to try. Place your bets, have a spin, and if you're having a good time, you'll be winning right from the start.
Getaway to winnings with Hawaiian Diva
There's nothing like a tropical island vacation to rejuvenate mind, body and soul, and Hawaiian Diva is just the slot to give you all the holiday vibes you need. New from Win Fast and part of their already successful Hawaiian slot series. Hawaiian Diva puts you front and centre in a show-stopping concert. Featuring the three divas of the title. The symbols also include a guitar, a music player and headphones too. Get ready to sway to the music, and hopefully to some harmonious jackpots at the same time!
Set on a stage near a beach, Hawaiian Diva features a 6×5 reel game area, an RTP of 96.77%, and a top payout of 2,700x your original bet. With medium volatility and an exciting cluster pays mechanism, it promises fun and games. And with a minimum bet of just $0.20, it's affordable enough for every size of bankroll.
Let's party on this slot
Once the reels start rolling and the concert kicks off, it's game on and time to diva! To win a payout for yourself, you'll need to create winning clusters by finding matching symbols next to each other on the reels. The bigger the cluster, the bigger your rewards. And if you manage to build a cluster of at least 30 matching symbols, you'll be in the money! Once you've built a cluster, the matching symbols will automatically be removed. With new symbols cascading down from above to replace them. The more matching symbols you continue to find, the more cascading symbols you'll trigger. And the more you'll be paid out as a result!
Keep on activating diva cascades, and you'll win a combo bonus. One that could either win you a prize, or take you straight to the free spins round. Of course because this isn't just any concert, it's not just any free spins round either. Instead, you'll have a choice of three different stages on which to play your free spins (Sunset, Midnight or Super Secret) each with its own individual set of rewards for you.
The best part about this slot…
Don't forget about the three divas either – they're not just there to put on a show. The diva, they'll bring extra modifiers your way too as soon as they form a cluster. Even better, trigger all three of them during a single spin, and you'll get a 4×4 Mega Wild on the reels. To hopefully bring you mega winnings at the same time!
It's great entertainment all the way with Hawaiian Diva, and it's a show you don't want to miss out on. Take centre stage with this thrilling slot today, and you could soon be putting a spotlight on huge jackpot winnings!