Dragon & Knights!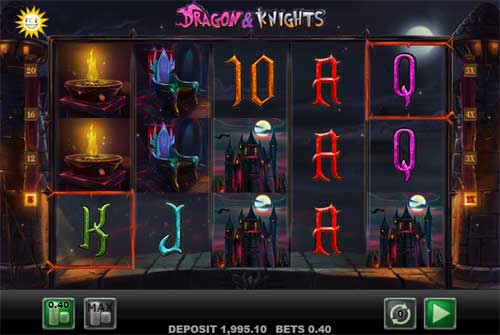 this New Year you'll find knights and dragons too, thanks to the new Dragon & Knights online slots release from Merkur Gaming. If you've always been fascinated with medieval times, or simply want to go up against a fire-breathing dragon, now's your chance to do so – and fight for golden winnings at the same time!
Don't expect rainbows and unicorns with this mysterious slots game – instead get ready for war with shields, maces, flames and more, all set against a 'ye olde time' backdrop, designed to give the game an eerie, enigmatic theme. Keep your wits about you at all times, because if you've got what it takes to face off against the dragons and win, all the glorious treasure will belong to exactly one person – you!
Set off on a winning adventure today
Start your quest for riches by placing a simple bet, anywhere from $0.20 to $40. With 20 lines and 5 reels, Dragon & Knights has a wide range of winnings to offer, with payouts of up to 5 000x your bet, max bet potential payouts of up to $40 000 per spin, or even the ultimate jackpot of $200 000! Keep an eye out for the wilds, scatters, spins and multipliers you'll encounter along the way, and use each of them to take you ever closer to the top jackpot total.
Get your journey off to a quick winning start with the wild symbol – in this case either a knight or a dragon that can be used to complete regular winning combinations. Plus, keep an eye out for the bottom spot on reel 1 and the top spot on reel 5 – because if you get a wild in either of these positions, you could be looking at a very generous payout.
As soon as you get a wild in either spot, a meter will pop up – a free spins meter in the case of reel 1, and a multiplier meter in the case of reel 5. Reach the top of the free spins meter on the left, and you'll get a fabulous 20 free spins, plus whichever multiplier you're lucky enough to hit on the right. With a wide range of different free spins and multiplier combinations to look forward to, you could be sitting on a huge potential bonus by the end of your round – so make sure to take advantage of every wild winning opportunity you can!
Of course, to really be a big winner you'll need to stay in the game as long as you can, and that means being mindful of your bankroll not just for your current session, but for all future gaming periods. While the end of the year often means Christmas bonuses, resist the temptation to go big or go home with your cash – or you could be going home with nothing at all. Instead, be smart about your gaming, set yourself strict wagering and loss limits, and stick to them no matter what. The more level-headed you are about your play, the more often you'll be able to come back and win another day!
Happy Spinning 🙂