Enchanted Crystals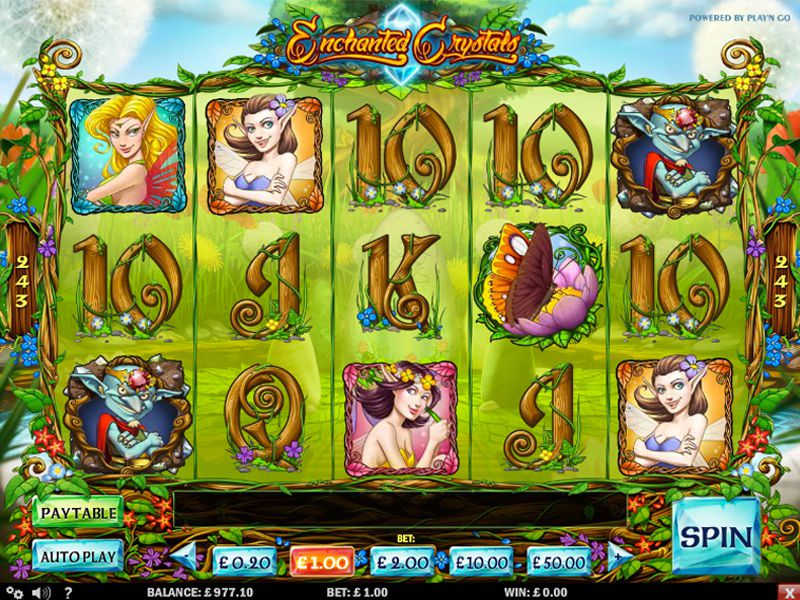 Cast a winning spell with Enchanted Crystals
So that's your summer taken care of – now what to do in autumn? Well, we've got that sorted for you too, with Betsoft's all-new Enchanted Crystals online slot, due to be released in autumn 2019. So once you've had your fill of watching leaves falling, you can watch jackpots come your way instead!
Crafted to the same exceptional standards as the rest of Betsoft's gaming portfolio, Enchanted Crystals is set in a magical forest, with an innovative steampunk design. Not the fairies and spells you might have been expecting, that's for sure. In fact, rather than a magic theme, Enchanted Crystals has a mining theme, complete with sparkling gemstones and its main character, master miner Lukas Gembreaker.
That's not all that's different about Enchanted Crystals, as you'll soon find out. Rather than a traditional 5-reel layout, this new and improved slot features a 9×9 grid instead, one that incorporates Betsoft's all-new reel system – MAXPAYS.
Want to find out what MAXPAYS is all about? Then keep an eye out for Enchanted Crystals when it launches, and get ready for layer upon layer of winnings to reveal themselves! You'll still be able to choose your bet size though, so no matter how big your budget, you'll be able to spin and win with the best of them.
That's not all you'll need to look out for though – because not only does Enchanted Crystals have a new grid and a new reel system, it has collapsing reels as well! Get a winning combo of three or more symbols, and they'll instantly be removed from the grid, allowing more symbols to fall down in their place from above. The more winning combos you make, the more new symbols will keep falling, so the payout potential is huge! Get the collapsing reels right, and you could be walking off with a gold mine!
Of course it's worth remembering that no matter which of Betsoft's new or existing slots you choose to play (or any slots for that matter), it can be easy to get carried away in the moment, and end up betting more than you can afford to spend. So in order to stay within your budget and keep enjoying your favourite online slots, always bear these simple tips in mind:
Know your limits. Set yourself a wagering limit and a time limit too. Once you've reached these, end your session and come back to play another day.
Keep a clear head. Never gamble when you're under the influence of drugs or alcohol, or are in a mentally altered state, such as being ill or depressed.
Never chase your losses. There's no point throwing good money after bad. If you find yourself on a losing streak, the best move is always to walk away.
Stick to your budget. Plan how much you can afford to spend on a daily, weekly or monthly basis, and stick to your pre-set amounts like glue.
Have fun! The number one rule of gambling is always to have fun, so if you find yourself too attached to the outcome of a spin, rather take a step back and clear your head.
Keep these easy-to-follow guidelines in mind, and you'll always feel like a winner, no matter how much you happen to walk away with. So with that said, mark the dates on your calendar, get ready to try our new Betsoft picks, and we'll see you at the reels!
Happy Spinning 🙂