Enjoy super winnings with Super Fun 21 online Blackjack!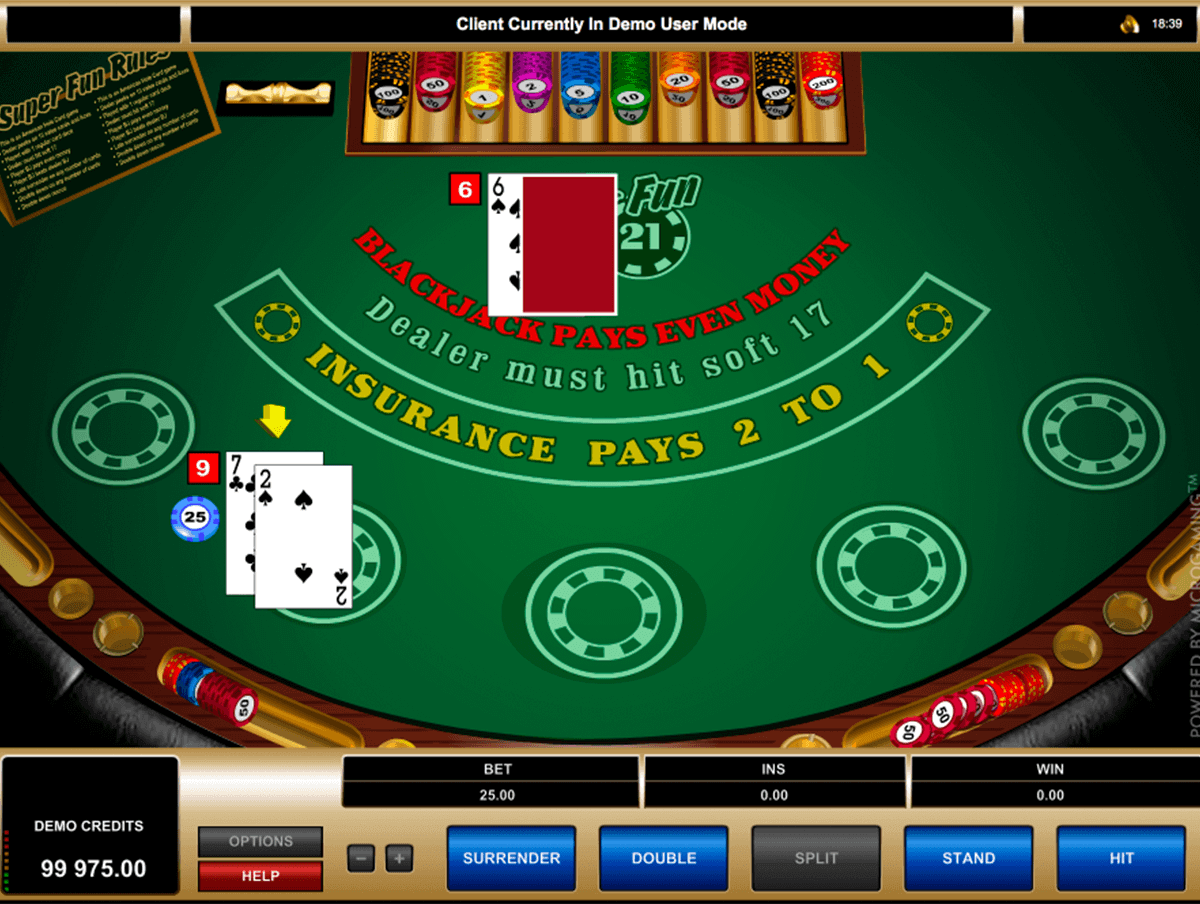 Looking for a game that's super exciting and packed with super awesome winnings too? Then you're looking for Super Fun 21, a fresh take on classic Blackjack and a variation that's guaranteed to provide hours of super electrifying entertainment!
Created in 1999 by Howard Grossman, Super Fun 21 became an instant hit with Blackjack fans in Vegas – so much so that it was soon developed for online gambling by none other than Microgaming. Available at most popular Microgaming online casinos, Super Fun 21 has enough similarities to traditional Blackjack to interest existing players of the original game, while incorporating enough new rules to attract brand-new ones to the table. So if you're looking for a game that's simple to learn, easy to play, and offers thrilling bonuses too, step right up to Super Fun 21 and start placing your bets today!
How to play Super Fun 21 online Blackjack
Nervous about taking on the dealer in a new form of Blackjack? You needn't be, as it's fairly similar to the traditional Blackjack you're likely familiar with. As always, the aim of the game is to beat the dealer's hand, without getting a card hand value of more than 21 and going bust.
Super Fun 21 is dealt from a single deck of 52 cards, with card values the same as they've always been in Blackjack – 2 to 9 worth their face value, face cards worth 10, and Aces worth either 1 or 11. Place your bet to start a new game, and you'll be dealt two cards face up as usual, with the dealer also dealt two cards – one face up, and one face down. So far, so good. It's at this point, however, that game play starts to veer away from classic Blackjack towards Super Fun 21 territory:
Got Blackjack on the draw with an Ace and another card worth 10? Congratulations on your win – and note that you'll be paid out at even money, rather than the 3:2 or even 6:5 that you might be used to.
Don't feel too hard done by though – if both you and the dealer hold Blackjack after your first cards are dealt, your hand will always win, as player's Blackjack beats dealer's Blackjack in Super Fun 21. Usually this would result in a push, so it's here that you score.
If you're into splitting as a strategy, then you'll love Super Fun 21. Not only can you split like cards as usual (such as 6 and 6), you can split like-valued cards too (such as J and Q).
You can also split your hand up to three times, to a maximum of four hands (remembering of course that you'll have to increase your bet with each new hand you create).
What's more, unlike in regular Blackjack games, you'll be able to re-split Aces, and you'll be able to hit or double down after splitting Aces too. Just think of the winning opportunities!
Something else you'll be allowed in Super Fun 21 is a late surrender – surrendering your cards after the dealer has checked for Blackjack. What's more, you'll be allowed to surrender with any number of cards – a departure from classic Blackjack where a surrender is only allowed on your first two cards.
Similarly, if you're keen on doubling down as a strategy, you'll be glad to know that not only can you double down after a split, you'll be able to double down on any number of cards, rather than just your first two, as is usual with most other Blackjack games.
If your double down doesn't go your way, don't despair! Just go for the Double Down Rescue and you'll be able to surrender half your bet, and keep the other half, rather than losing your whole stake.
Win even more with some Super Fun bonus action
That's it for the regular rules – now let's look at some of the bonus action you can expect when playing a hand of Super Fun 21:
Want to win instantly? All you'll need to do is accumulate 6 cards with a score of 20 or less, and you'll be in the money.
Try this bonus out for size – get a total of exactly 21 with a hand of 6 cards, and you'll win 2:1.
Think you can beat that feat? Then get 5 cards that total 21 exactly and you'll be paid out 2:1 again!
Finally, get Blackjack on the first deal, and if both of your two cards are diamonds, you'll be paid out 2:1 – more than the 1:1 available on all other forms of Blackjack in Super Fun 21.
Get in the game and start reaping the bonus benefits as soon as you can!
Things to keep in mind
Give yourself even more of an advantage in Super Fun 21 by bearing these points in mind:
Super Fun 21 is a hole card game, which means the dealer will be able to check for Blackjack if his face up card is either an Ace, or worth 10. If the dealer holds Blackjack (and you don't) the game will immediately come to an end. It's also worth noting that the dealer will always have to hit on soft 17 – so keep this in mind when strategising your own game play.
The payout for Blackjack might be 1:1, but in order to balance this in the player's favour, the house edge in Super Fun 21 is set at a hugely favourable 0.94% (approximately). So if you know what you're doing at the tables, you could make out like a bandit.
It's safe to say that unless you're an avid online Blackjack player, you probably won't have come across Super Fun 21 before. If that's the case, you might want to give yourself a better chance of winning real money by playing for free first. Not only will it help to familiarise you with the different rules of the game, it'll give you the confidence you need to make informed decisions when you finally go up against the dealer. Plus by playing with virtual credits, you won't risk a single cent – so what have you got to lose?
Enough theory – it's time to get some practice in! Log onto your favourite online casino today and pay a visit to the Super Fun 21 tables for super thrills and super winning payouts!