Expensive cakes: Part 2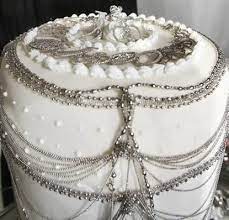 ( aExpensive cakes – part 2. We're back with more deliciousness and more extravagant cake creations! Read on for all the yummy details on more of the world's most expensive cakes. And who knows – if you're lucky enough to win a casino jackpot, you could soon be enjoying a slice of luxury yourself!
1. Nobue Ikara's platinum cake – $130,000
We're kicking off our list with a question to you. What kind of incentive would make you most likely to buy platinum jewellery? If you answered 'cake' then you're thinking along the same lines as Platinum Guild International. Which is exactly why they commissioned a one-of-a-kind cake in order to boost their platinum jewellery sales.
Expensive cakes: yay or nay?
Of course, when there's such an important goal at stake, it takes more than just an ordinary cake to achieve it. Which is why Japanese pastry chef, Nobue Ikara, went above and beyond, creating a completely unique cake confection. With platinum jewellery as its main decoration (of course) the cake featured a dazzling collection of necklaces, pendants and pins, all set against a plain white fondant background.
A cake at its sparkling best!
Designed to showcase the jewellery to its sparkling best. But why stop there – why not shower the cake in flakes of edible platinum too? Go big (and expensive) or go home was the approach here. Particularly in terms of price. With the cake coming in at an amazing $130,000! We're not sure if the people who shared in the cake were able to keep the jewellery. But we certainly hope that platinum sales were boosted as hoped. Glittering jewellery and delicious cake too. Now that's our kind of event!
2. Princess Kate's Fiona Cairns Royal Cake – $78,000
While we might expect royals to go all out for their wedding day, with cakes standing more than six feet tall. In fact the cake created for Prince William and Kate Middleton's wedding was fairly understated by usual standards. Though pricy all the same. Standing at three feet, and weighing in at 200 pounds, this eight-tiered fruitcake by Fiona Cairns was planned and begun more than two months before the actual ceremony. Which might sound strange, given its nature as edible art. But fruitcake is known for keeping its taste and texture for at least six months (when refrigerated), so no worries there. Plus we appreciate the power of good planning too. While William and Kate's cake may not have entered any record books due to its relatively small size. It's still noteworthy for its expensive $78,000 price tag – a king's ransom!
Cake or diamonds?
3. Sofía Vergara And Joe Manganiello's wedding cake – $50,000
We love a good celebrity wedding – they're always over the top and filled with expensive extravagance and showmanship. And when it's a wedding between two much-loved celebrities, so much the better! That was exactly the case in 2015 when Modern Family actress Sofia Vergara and Magic Mike actor Joe Manganiello tied the knot.
With her iconic bombshell looks, Sofia Vergara is known for her love of the spectacular. And her wedding (and cake) were no exception! Designed by Sylvia Weinstock, the couple's cake was a five-layer extravagance. With gorgeously crafted white and ivory flowers tumbling down each tier. Coming in at an amazing $50,000, the cake was pure Hollywood. And we're sure it tasted every bit as spectacular as it looked.
If you also have a sweet tooth and a taste for the dramatic, you may want to commission a similar cake for yourself. All you'll need is a casino jackpot to help with the expensive price tag. Piece of cake!