Get Busy with Joker Troupe!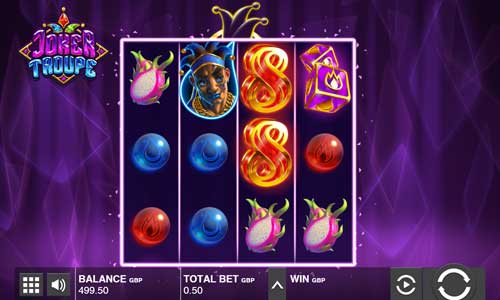 Celebrate the weekend with Push Gaming's brand new – Joker Troupe. If you're keeping up with the Award nominations, you'll know that Joaquin Phoenix has been dominating for his role in The Joker. While this game certainly has a lighter twist than Joaquin's Joker, it's definitely an award-winner in our books. Boasting 4 reels and 10 paylines, it's very easy to play.
Joker Troupe has an unusual grid layout and you'll notice that the game has 3 different Jokers: blue, green and red. They all come with their own unique set of features.
Red Joker Free Spins: This joker will give you 20 seconds worth of free spins. It's really different because there is no set number of free spins, only a timer. So if you can spin 20 spins in 20 seconds, that's how many you'll get 🙂 If you land on a red joker during these free spins, your timer will increase and you'll get extra time. Also make a note that there is a meter at the side of the game. If you fill up this meter before the time runs out, it will reset and you'll get 10 extra seconds.
Green Joker Wheel: This joker is a scatter and will give you one spin on the green joker wheel. This wheel has 2 'booster segments' and if you land on there, the wheel will multiply by whatever value is displayed in the segment and you will receive one respin. The illuminated colored segments will give you a payout as well as a respin and the regular color segments will give you a payout based on your wager as well as one wheel multiplier.
Blue Joker Feature: This joker gives you a feature when you land on 3 of them in a row.
Are you ready to play Joker?
Happy Spinning 🙂