Get Poppin' with Betsoft's Monster Pop!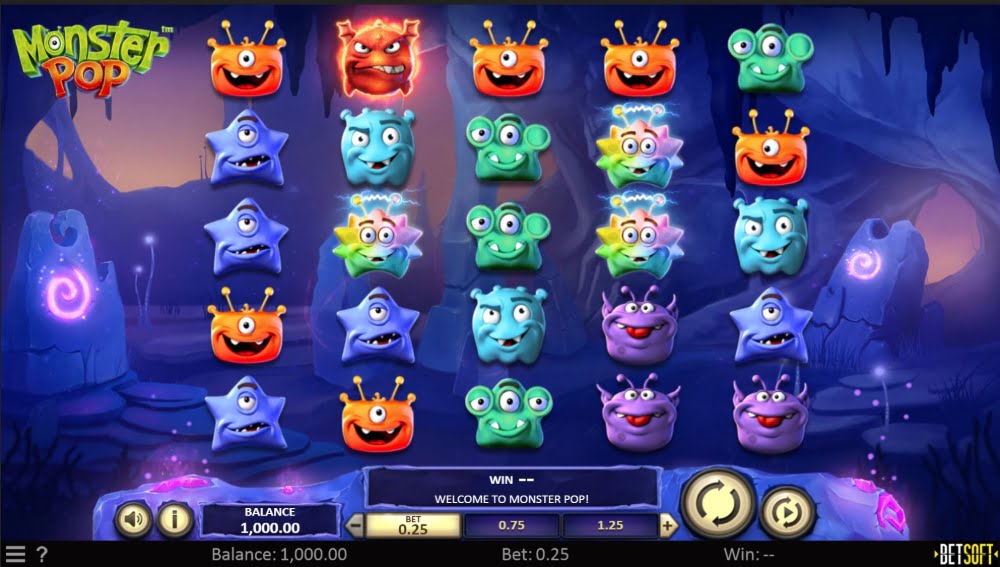 Monster Pop is a fun and colorful slot to play! Betsoft ensured there were various bonus features to keep you on your toes. Monster Pop has 5 reels and 'cluster' paylines which create a wonderfully chaotic atmosphere. With cluster paylines, you will typically need about 9 matching/touching symbols anywhere on the reels to get a winning combo.
You'll be happy to know that there are 4 different features in this game:
Monster Cloner: Each time you see a Monster Cloner shows up on the reels (during the base game), it expands the grid and clones is horizontally or vertically. Sometimes even both. It basically creates an identical row or column and adds a Wild Oracle Eye in their places which increases your chances at a big win. The grid will continue to expand so long as Monster Cloners keep falling on them.
Oracle Eye Wilds: these are the wild symbols in the game replacing every other symbol with the exception of the scatter symbol (Flaming Sphere Free Spins) and the Monster Cloner.
Flaming Sphere Free Spins: When you land on 3 Flaming Sphere in a row, anywhere on the reels, you will activate the Flaming Sphere Free Spins feature and you'll earn yourself 7 free spins right off the bat. You will earn one addition free spin for every sphere you trigger. You can earn up to 17 free spins.
Monster Fury: If your cascade ends up with zero wins, your Monster gets angry. Once they get mad, they will either make a Cloner Bomb for you that spreads Monster Cloners across the reels or they move around on the reels and encourage monster twins to form together to increase your chances at winning.
Are you ready to tackle some Monsters?
Happy Spinning 🙂