Get ready for a jackpot explosion with Super Boom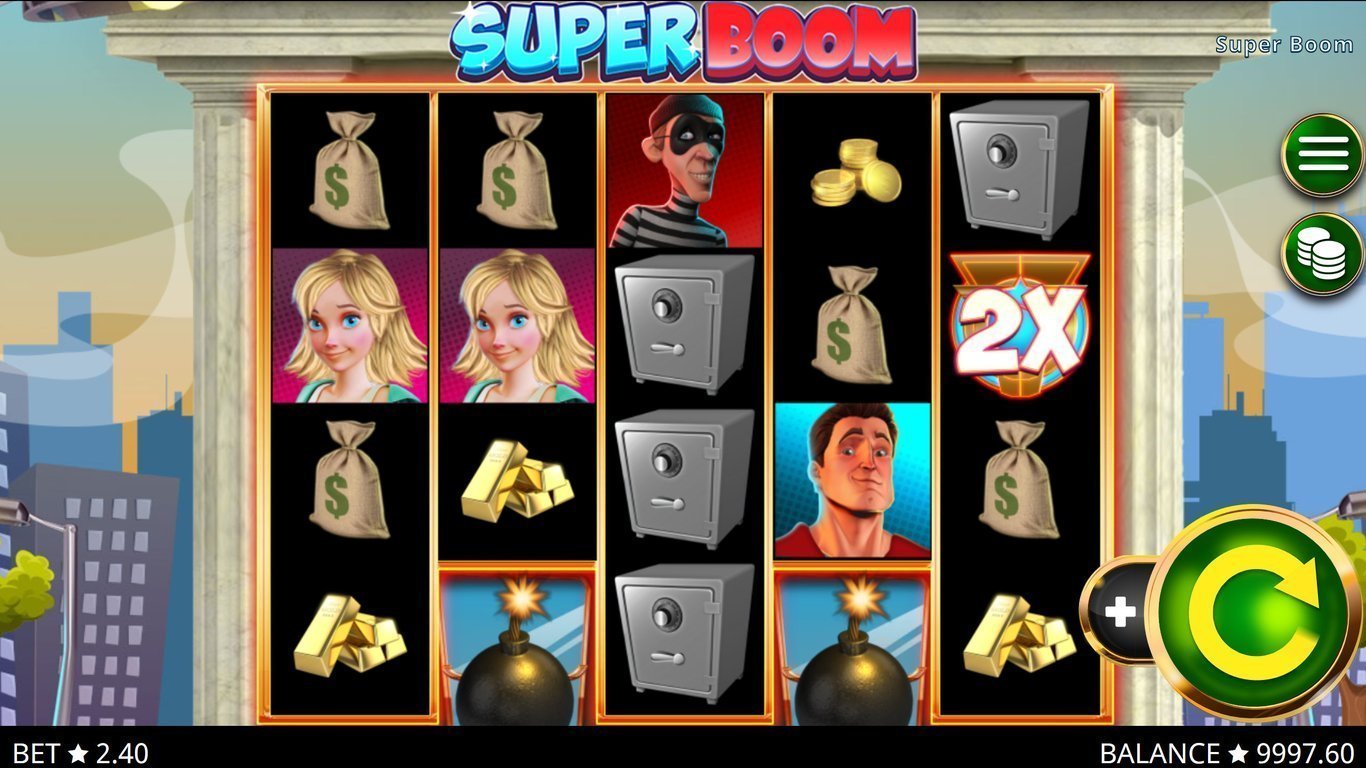 Looking for more things that make you go BOOM? Then get ready for Super Boom, the bank robbery-inspired slot that'll hopefully see you making off with a horde of jackpot payouts! Get ready for loads of fun, loads of excitement, and loads of explosives too – Super Boom indeed!
Of course, we can't have a slot that's all about villainous bank robbers (as fun as the theme is) – we need to have a hero as well. That's why in Super Boom you'll find a superhero attempting to thwart the robbers' heinous deeds, while safes, money bags, coins, cash and explosives go spinning round the reels. Speaking of reels, you'll have 5 to play with, along with 12 paylines and a max bet of $10 on each one. That means when it comes to bet size, you'll be looking at a range from $0.12 to $120 on each spin, giving you plenty of scope for affordable play and responsible bankroll management.
Choose your bet size, spin the reels, and you'll be playing for a 1,200x payout on all regular winning combos, and a top prize payout of $14,400! You'll also have wild multipliers to add even more excitement to the game, along with free spins and more multipliers for even more rewards. Get lucky with your spins and your winnings will be an absolute steal!
Get your balaclava ready – it's time for a bank job! To help you stash the cash, you'll come across either regular wilds, 2x wilds or 3x wilds. Regular wilds substitute for other symbols to create winning combos, while multiplier wilds do the same, and multiply your winnings at the same time! Mix and match them and watch your payouts soar!
Stealthy scatters are what you'll need to be looking out for if you want to get your hands on some free spins, and in Super Boom, you'll have a chance at finding scatters on every reel – sometimes in more than one place at the same time! Finding 5 to 12 scatters will score you 5 to 12 free spins (yes, that's 1 free spin per scatter, for some truly excellent maths) and you could even find random wild reels during your bonus spins too. Get lucky with these and you'll get 2x multipliers to send your winnings skyrocketing!
It's a wild, wild time in Super Boom, and some wild jackpots to be found too – if you can escape without getting caught. Time to tiptoe in and steal the cash from under the superhero's nose – because it's only what you deserve, after all. Here's hoping one big BOOM can help bring you one big jackpot! Good luck!
Happy Spinning 🙂