Get ready for a jackpot fiesta with Popping Piñatas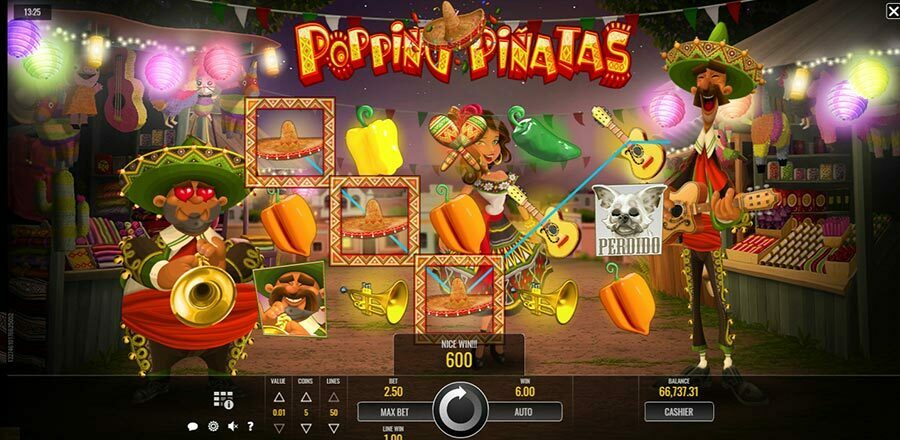 The festive season might be over, but we're not done with partying! And there's no party like a Mexican party – the sounds, the colours, the energy, and of course, the piñata! You know what piñatas are – a type of container filled with small toys and candy that you hit until it breaks open and rains down surprises! Well, Popping Piñatas isn't a container, but it's a slots game that's just as colourful and vibrant – and when you hit that spin button, who knows what spectacular surprises will come pouring out?
New from Rival Gaming, Popping Piñatas is as exciting a Mexican party as you can get, with a 5×3 reel structure, 50 paylines, a top jackpot of 2,500x your original bet, and an RTP of 94.25%. It also packs a winning punch with wilds, scatters and bonus games too – everything you need to crack the grand payout of $312,500! Throw in some Mexican singers and dancers, as well as themed symbols like guitars, hats, sugar skulls, and of course tequila, and it's a party you'll want to join as often as you can!
It's time to get your winning on – ole!
So how do you get in on all the party action? By placing your bets of course! No matter what type of budget you're playing with, you'll find the wager to suit your bankroll, thanks to Popping Piñatas' wide betting range. With 50 paylines and 10 coins per line, bets can soon start to add up – which is why Rival gives you the option of activating or deactivating as many lines as you like. Wagers run from $0.50 to $125 per spin, so it's up to you to decide how much you can afford to bet, and how many bets you can afford to place. Once you've got that sorted out, it's time to get the party started!
With that in mind, let's get to those bonuses. The great part about Popping Piñatas is that it has two modes – Night and Day – so depending on which one you're in, you'll have two different wild symbols that could appear. Both complete winning combinations as usual, but they also pay out individually as well. Day pays out 1,000x while Night pays out 750x – so watch closely for both of them!
When you're not amusing yourself by watching the mariachis Pancho and Pepe compete for the attentions of the beautiful dancer Catalina, keep an eye out for the bonus symbols too. In the Day round, you'll have a piñata symbol, which will take you to the free spins round when three or more appear – and in the Night round, three missing dog icons will activate the Where's Pequeño game, where you'll have to search for Catalina's missing dog. Finally, watch out for the sugar skull scatter – a symbol that'll pay out, and take you from Day mode to Night mode as well.
The party never stops in Popping Piñatas, no matter what time of the day or night. So choose your bets, hit the spin button, and prepare for your most exciting slots fiesta yet!
Happy Spinning 🙂