Get ready for bundles of winnings with Blobsters Clusterbuster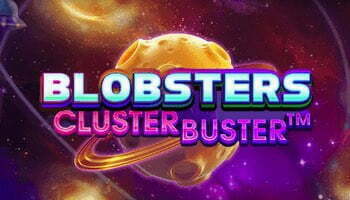 What's the difference between a blob and a cluster? Get ready to find out with Blobsters Clusterbuster. The all-new online slot from Red Tiger Gaming! As you'll soon see, this one is a slot with a difference. Featuring cluster pays (which you could probably tell from the title), cute little alien characters. And a galaxy full of special features and winnings. 3…2…1… it's time to blast off to huge jackpot winnings!
The first difference you'll notice? Rather than evenly spaced symbols throughout the reels. Blobsters Clusterbuster has a giant 3×3 symbol in the middle of its reels. Front and centre and ready to bring the noise. Clustered around the special symbol you'll find your alien friends along with Royals too. Waiting to be matched up in cosmic winning combos.
All the action will be taking place in the slot's 9×9 game area in Clusterbuster.
So get ready for clusters of excitement to soon come your way! That's because the cluster pays system is at the heart of Blobsters Clusterbuster. Designed to bring you nuggets of winnings that keep boosting your bankroll with every round.
Of course what you'll really want to be going for is the top 7,517x payout. So shoot for the stars with every spin and if a fortune is in your future, it could soon be yours! And whether you manage to land the big one or not. You'll still enjoy supercharged slots play thanks to modifiers, cascading reels and invader spins too.
Before you can launch into the jackpot atmosphere in Clusterbuster.
You'll need to place your bet, and it won't need to be astronomical either. With a betting range of $0.10 to $100, Blobsters Clusterbuster has plenty of scope for every kind of player and every kind of budget. Whether you need to keep a close eye on your money or can afford to invest a little more in your gaming session.
Ready to set off on your journey among the stars? Then get the reels spinning and look out for those precious clusters! You'll be able to form them with anywhere from 5 to 35 matching symbols. And as soon as you do, the matching symbols will disappear to be immediately replaced by new ones. The more clusters you form, the more you'll keep winning. Helping you to boost your bankroll to intergalactic heights in Clusterbuster!
Speaking of clusters, as soon as you form one next to the UFO in the centre of the game area.
The green lights from the wheel will unlock and you'll have access to 1 of 3 hugely rewarding modifiers. Giving you a selection of upgrades or extra wilds that could be hugely valuable to your winning total.
Once you've gained access to all of the modifiers and the UFO is activated, you'll trigger the invader spins. Where you'll have 10 free spins to play and even more modifiers and multipliers coming your way.
It's all happening in Blobsters Clusterbuster so don't miss out. A universe of winnings is waiting, and your future could soon be written in the stars!