Go Deep Sea Diving and Explore Arrow Edge's Ocean Life!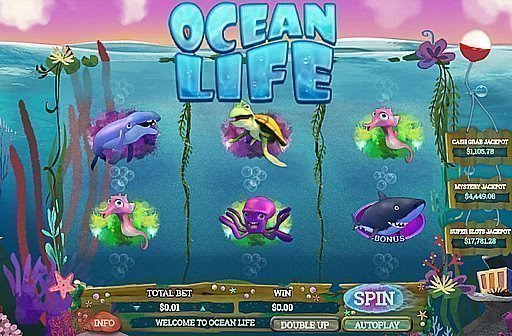 December is finally here and what a year it's been! After the past 12 months of grind, we could all do with a decent break – particularly a relaxing beach holiday with sun, sand and surf. Of course, not all of us are lucky enough to be able to take a tropical vacation – but the good news is that no matter where you are in the world, and no matter how big your bankroll, you'll still be able to get away this December thanks to Ocean Life!
A brightly coloured seaside-themed slot from Arrows Edge, Ocean Life takes you on a thrilling getaway every time you log on – one filled with marine life and winning underwater action. With three reels and one payline it's a simpler layout than you may be used to, but it still packs a huge jackpot punch!
Spin the reels and you'll instantly dive into adventure, surrounded by tropical fish, sharks, dolphins, whales, sea horses, turtles and octopuses at every turn. Even better, if you're lucky you'll also stumble upon the fantastic underwater bonus, as well as not one, not two, but three action-packed progressive jackpots!
So how do you get your winning on? For starters, by finding the bonus symbol, in this case, the shark. Get the shark on the middle reel and you'll activate the bonus underwater game. Choose from one of 12 fish you'll be presented with, and as soon as you do, it'll swim to one of four areas under the ocean – a submarine, a coral reef, a school of fish and a treasure ship. Keep choosing fish and if three of them swim to the same place, you'll win that area's special bonus prize.
If you've always wanted to go swimming with the dolphins, now's your chance! That's because in Ocean Life, the dolphin is your wild symbol, bringing huge rewards your way. Get one in a winning combination and you'll win a 2x multiplier. Get two in a winning combo, and you'll have a 4x multiplier coming your way!
What's more, if you're confident in your guessing skills, you could double your money too. That's because after every winning spin, you'll have the chance to guess the outcome of a coin toss and instantly double your payout. Correctly guess if the coin will land on the shark or the whale side, and you'll be a winner – plus you'll have the chance to keep on guessing all the way up to a max payout of $25 000! Get it wrong however, and you'll lose your winnings – so you need to make sure you can afford a guess before you risk it all.
Finally, you'll have the chance to dive for fabulous jackpot winnings with the THREE progressive jackpots on offer. Each one triggers randomly once it's reached its prize range, so the only way for you to win is to keep on playing for as long as your bankroll holds out. With prizes ranging from $2 000 all the way up to $45 000, there's plenty to play for, so make sure you're in it to win it!
Even if you don't have a holiday planned this year, the sea is only ever a click away with Ocean Life. So log on, place your bets, and enjoy the rewarding break you deserve!
Happy Spinning 🙂