Godzilla vs King Kong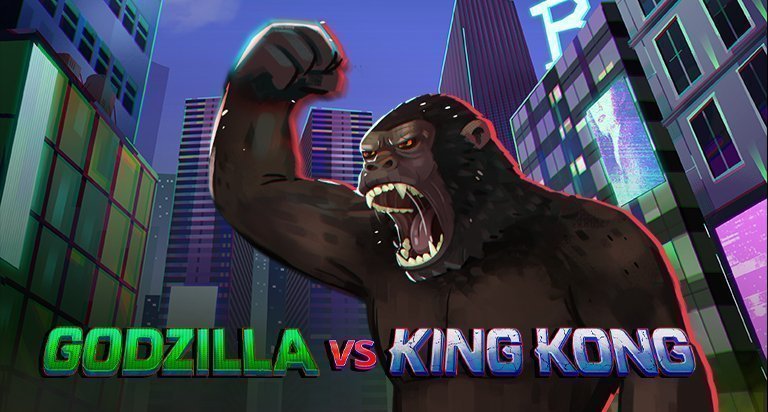 Looking for some different slots to play while you're sheltering in place? We've got some gems from Arrow's Edge that are sure to bring huge excitement to your day. Play on your laptop, on your mobile device, or even in your pjs – we're not judging!
Godzilla vs King Kong
Who would win in a battle between Godzilla and King Kong? Play this Arrow's Edge thriller and you'll finally have the answer to your question! With the king of the lizards going up against the ruler of the gorillas, it's bound to be an epic showdown – and it's one that could win you some huge jackpots too.
So where does this monstrous clash take place? On a 5×3 video slot format with 20 paylines and a host of extra features to keep you entertained throughout. With a King Kong wild and a Godzilla bonus symbol to look out for, there's plenty of excitement to be had – plus with huge payout multipliers to look forward to as well, it's action-packed slots play at its best. Throw in free spins, sticky wilds and a progressive jackpot too, and this is one encounter you won't want to miss out on!
Of course in any monster movie, there are always people who need rescuing – and Godzilla vs King Kong is no different. Here you'll have three different people who'll you'll need to try and rescue, namely a reporter, a man and a doctor. Once you do, you'll earn a random multiplier in return – anything from between 4x to 6x, which just goes to show that playing the hero totally pays off! Look out for your multiplier on winning paylines once you've made your rescue, and get ready to start raking in huge payouts!
There's more where that came from though, in the form of free spins and sticky wilds. Make sure to keep an eye out for the airplane (remember King Kong fighting them on top of the Empire State?) and if you find 3, 4 or 5 symbols on the reels, you'll be rewarded with 7, 10 or 12 free spins respectively. Get any King Kong wilds on the reels during your free spins round and they'll automatically become sticky, staying in place for the duration of the bonus round. Plus, trigger the Rescue People feature during the round and you'll have random multipliers to look forward to as well, giving you the best of both worlds!
Don't forget about the Godzilla bonus, because two of these symbols on the reels will instantly activate the Titan's Duel Bonus. Here Godzilla and King Kong will go head to head with each other for five rounds, and in order for you to progress to the next round, you'll need Godzilla to defeat King Kong every time. The more rounds you go through, the more your winnings will accumulate, increasing to a potential 195x your original bet. So even if you're a King Kong fan, this time you'll need to back Godzilla for your chance to be a winner!
Finally, there's the progressive jackpot to play for too – one that could trigger at any time, and pay out hugely too. Usually the progressive pays out when it hits $10,000, so add that to the top payout of $1,000 on the slot itself, and you could be looking at a monster payout of epic proportions! It's all happening in Godzilla vs King Kong so make a date to face up to these two mega beasts, and you could soon have a mega payout to show for it!
Happy Spinning 🙂