Handbags: The world's most expensive!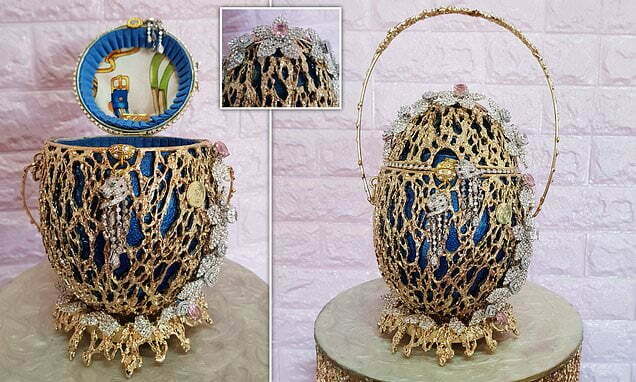 Handbags – the key accessory to complete an outfit. Whether it's a scarf, sunglasses or jewellery, the perfect accessory can help create a flawless ensemble from head to toe. Of course, if you're looking for top quality, you're looking at a hugely expensive price tag too. Particularly when it comes to designer labels and custom-made items. And one of the most lucrative accessory industries? Handbags of course!
Fetching five, six and even seven figures in some cases. The world's most expensive handbags are out of reach for most of us – unless you've got a casino jackpot in your back pocket, that is. Take a look at some of the most extravagant purses and handbags ever created, and see with which of these you'd most like to strut your stuff.
Handbags, handbags, and more handbags
1. Debbie Wingham's Upcycled Easter Egg Purse – $6.7 million
Why would you have a handbag that looks like a handbag when you can have one that looks like an egg instead? And not just any egg – an emu egg of course! That's the philosophy behind the Upcycled Easter Egg Purse from famed couturier Debbie Wingham. A creation that took a full three months to bring to life. Designed for an anonymous American buyer, who provided an Hermès scarf and Cartier earrings to be used in the making of the purse. The piece was designed in time for Easter 2019 (hence the name and the unusual shape).
Using the upcycled scarf and earrings (which were worth $40,000 alone), the purse also incorporated 8,000 diamonds in gold and platinum settings. With a coating of blue diamond dust, just to make it that little bit extra. As if it wasn't extravagant enough to begin with. Titled 'Reborn' by the designer, as a nod to its usage of previously worn items, the bag fetched an unbelievable price of $6.7 million. Which is way more than we would ever pay for a handbag. Or even a house for that matter. But we assume that if you're just handing over silk scarves and designer earrings, you're not really struggling for money.
We need a jackpot!
2. Mouawad 1001 Nights Diamond Purse – $3.6 million
If we told you that a certain item had taken 8,800 hours to create, you'd probably assume it was something substantial in size – a house, a car, maybe even a boat? You certainly wouldn't think it to be a small, heart-shaped purse, right? And yet that's exactly how long the Mouawad 1001 Nights Diamond Purse took to create. 8,800 hours of painstaking craftsmanship, which resulted in this one-of-a-kind creation being auctioned off at Christie's for an amazing $3.6 million!
Of course, there's more to this unique purse than simply man hours. There's its embellishment as well, which in this case consisted of 18-carat gold. Along with over 4,500 yellow, pink and colourless diamonds. No surprises that it was listed as the world's most expensive handbag in the 2011 Guinness World Records. Definitely something that we'd need an equally record-breaking casino jackpot just to purchase!
We are high rolling now!
3. Hermès Kelly Rose Gold – $2 million
Looking for something perhaps a little less ostentatious? Then why not try the Kelly Rose Gold purse from Hermès? We've already mentioned their scarves, but this fashion house also creates designer handbags and purses that are just as coveted. Especially when created in conjunction with a world-famous jeweller.
While the Hermès Kelly Rose Gold might look as if it's been crafted from crocodile leather, in fact the entire purse is manufactured from actual rose gold. And while the bag itself is tiny, it's hugely opulent at the same time. Featuring an amazing 1,160 diamonds. Having taken a full two years to create, only 12 of these purses were ever made. Which explains where the price tag of $2 million comes from. It's still massively outside our budget, but hey, we can dream…
4. Hermès Birkin Bag by Ginza Tanaka – $1.9 million
Staying with Hermès but this time moving to its iconic Birkin range, the Hermès Birkin Bag by Japanese designer Ginza Tanaka is a work of art all its own, and functions not just as a bag, but as a mobile jewellery box as well.
Incredible Handbag Work
How so? Because the bag has been designed to feature detachable parts that can each be worn as accessories in their own right. So you can either use the bag with all its various parts attached, or detach them for an entire accessory look. Designed from pure platinum and embellished with more than 2,000 diamonds. The bag features a strap that can be detached and worn as a necklace, as well as a stunning 8-carat diamond in the centre that can be worn as a brooch. Small wonder then that the bag is priced at $1.9 million. But with a bag, a necklace and a pear-shaped diamond brooch all in one, it's worth it for the innovation alone.
5. Hermès Chaine d'Ancre Bag – $1.4 million
Same designer, completely different concept – that's the Hermès Chaine d'Ancre Bag. With its unique chain design. Crafted entirely from white gold chains shaped like anchors and studded with more than 1,160 diamonds. This Pierre Hardy design is one of only three ever made. And at a price of $1.4 million each, we can see why. An extraordinary bag for an extraordinary person. Could you be one of the lucky three people sporting one of these innovative designs? A casino jackpot could be just what you need to make this handbag dream a glittering reality!
Hello Casino Jackpot
6. Lana Marks' Cleopatra Clutch – $400,000
If this particular clutch bag looks familiar in any way, that's because you may just have seen it on the red carpet, held by famed actresses such as Kate Winslet and Angelina Jolie. It's the Cleopatra Clutch by designer Lana Marks, and only a single one is ever made in a year. Customized for the buyer. With finishes like jewels, metal and various leathers, each clutch is completely unique. And can cost anywhere from $100,000 to $400,000. Certainly the most affordable bag so far on our list, although we'd still need a credit card with a very hefty limit to purchase one.
Seen anything you like yet? If so, put it on your jackpot list – because soon Lady Luck could be treating you to one of your very own!