Headline News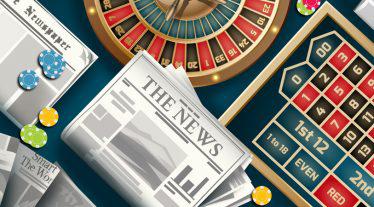 Headline News. It's about that time – where we bring you the latest headlines to hit the online casino industry. What's been happening in the world of online gaming since we last took a look? Read on and find out!
Pragmatic Play goes all out with Bingo
In keeping with its reputation as one of the dominant forces in online gambling today, operator Pragmatic Play has extended its reach even further. By launching its very own Bingo suite in collaboration with bet365. Having already gone into partnership with bet365 in May of this year, Pragmatic is now increasing its offering to the operator with even more games. And a bigger audience to enjoy them. Now that's headline news.
With titles including 90-ball and 75-ball bingo in preparation. As well as other popular titles like Diamond Dazzle, Drops Pots, Pumpkin Blast and more, Pragmatic Play is further solidifying its status as one of the industry's leading operators. And is adding even more value to its bet365 partnership.
Top online casino headlines 
Speaking about the growth opportunity, Pragmatic Play VP of Bingo Claire McDaid said, "Now proudly supplying both Slots and Bingo to one of the most renowned names in the business is a crucial strengthening of our standing as a multi-vertical provider. The opportunity to place our games in front of a huge number of new players is an incredible boost to our global growth ambitions and we couldn't be more pleased." This is what we call headline news.
Bet365 is equally as excited about the new offering, and we are too. More games means more excitement and more chances to win, which is something we're always on board with. Get ready Pragmatic Play fans – Bingo is here. And it could be your ticket to huge casino winnings!
Betsoft makes a play for gamification
You may have heard the term 'gamification' before, but what exactly is it, and how does it benefit the online casino player? Quite simply, gamification is one of the biggest growing trends in the online gambling industry. And it's one that brings a wealth of winning opportunities with it, giving players more ways to win through 'games within games', various rewards, bonuses and promotional tools. It's a long word, but it's one that brings huge winning potential with it. Which is always something to get excited about! Headline news.
Something else to get excited about is Betsoft's latest contribution to gamification. The addition of an in-game Tournament tool that allows players to enjoy boosted promotions and the chance to take home bigger wins than ever before!
Betsoft is making headline news!
This isn't Betsoft's first venture into gamification; previously they launched a tool known as Take the Prize. One that offered players a fortune wheel filled with prizes and bonuses that could be launched at any time. Now with their second gamification offering they're giving players the chance to win huge prizes. And to track their progress in real time via leaderboards, without any interruption to their gaming session. It's tournament play but on a whole new level, and it's one that we're here for! Yay for headline news.
CMO of Betsoft Gaming, Renata Banyar, is just as thrilled: "Tournament is the natural next step for us, and we are very excited about the potential it brings to our clients."
So if you're looking for even more from your game play, it looks like Betsoft is the place to be. We'll see you there!