How to become a casino croupier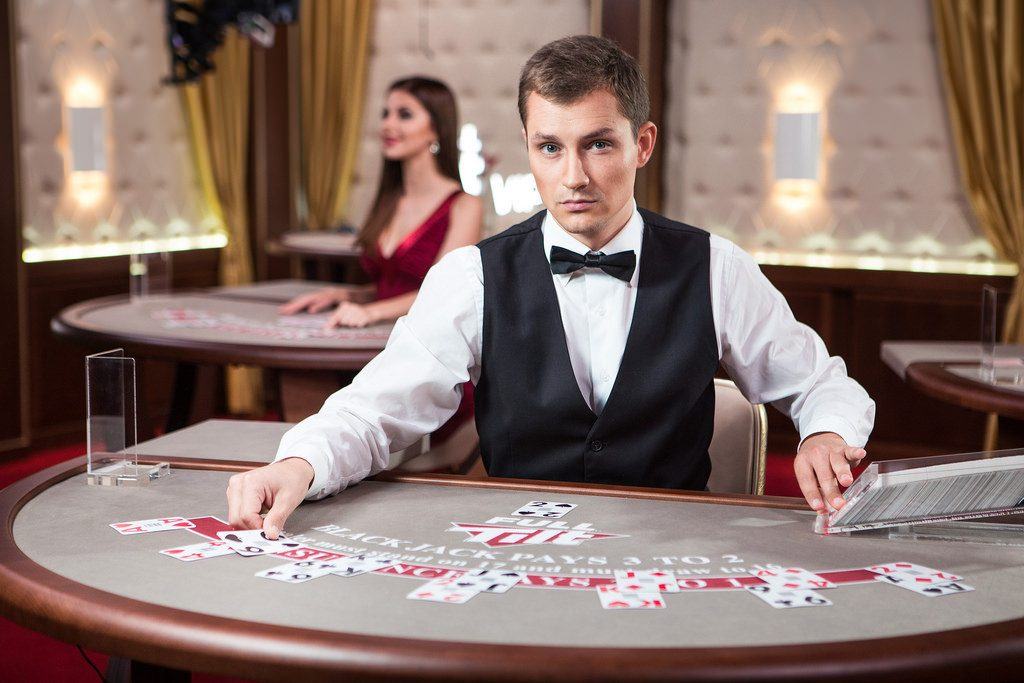 Have you ever wondered what it takes to be a casino croupier? Perhaps you've even considered becoming one yourself – managing games, dealing cards and spinning wheels in a glamorous land-based casino, on board an elegant ship's casino, or even in an online live casino. But before you start considering a career as a casino croupier, let's take a look at what the job actually entails.
What does a croupier do?
While you might think being a croupier involves little more than standing in a glitzy casino dealing
cards, in fact it's a more difficult job than you might think – particularly considering that it's a job that works outside the regular 9 to 5 office schedule. Firstly, the croupier is where all the action is in a casino game – no dealer, no game play. So you'll need to be alert, aware, and at the top of your game at all times. Secondly, you'll need to be hugely technically proficient, with an in-depth understanding of all the rules of every game, as well as all the betting systems available, the rules of the casino, and excellent chip management as well. You'll need to be fast, efficient, professional, accurate, and a good knowledge of maths be a will huge asset as well.
In addition to a wide range of technical skills, you'll also need to be good with customers, and deliver a high level of customer service, as while you're managing a game, you're the face of your casino and an important brand ambassador. You'll need to know how to interact with players appropriately, how to deal with any problems that may arise, and how to ensure a successful outcome for any queries or issues.
Think you can handle all of that? Then what about these daily tasks on top of it all:
Setting up the betting table before each game
Welcoming players to the table and creating a warm, friendly atmosphere
Checking that all wagers and chips are placed correctly
Ensuring that all bets are within the table limits
Reminding players of rules and procedures where necessary
Handling money, cards, chips, dice and more with confidence, precision, efficiency and accuracy
Keeping each game running smoothly
Keeping a mental tally of all bet amounts, and accurately paying out winning players and collecting losing bets
Keeping a close eye on players for any signs of illegal activity or card counting
Reporting any suspected illegal play to the casino floor manager
What qualifications do you need?
Right now you may be feeling a little overwhelmed at all the tasks you'll need to perform and the skills you'll need to have. Take a deep breath. The good news is that you don't need any formal qualifications in order to become a croupier – no tertiary degree or diploma required. Instead what you will need are some basic skills, such as numeracy, and the ability to work well in a team. Additionally, some casinos may also require previous experience in customer service, however this is more of a nice-to-have, instead of a compulsory requirement.
Rather than higher education, what will stand in your favour is the ability to think on your feet, to solve problems creatively, to perform calculations in your head, and to have a good understanding of arithmetic. You'll also be a good candidate if you can demonstrate strong decision-making abilities and good communication skills. What's more, trustworthiness is essential, as you'll be working with large sums of money all day, and so your reliability and integrity need to be beyond question.
Finally, as a brand ambassador for the casino, and often the first casino employee that many of the people at the gaming tables might see, your appearance needs to be neat, tidy, and well-groomed. Aside from working the casino floor, you may also be asked to work private functions and parties, as well as special occasions and VIP events too, so the more care you take with your appearance, the more this could work to your advantage, and to your career growth as well.
In addition to these basic skills, you'll also need to:
Be 18 years or older
Have a clean criminal record
Be able to focus for long periods of time
Make swift mental calculations
Be friendly, polite and welcoming at all times
Work well within a team
Be able to stand for the duration of a shift
Manage money successfully
Be able to distinguish between different colours
Demonstrate excellent customer service skills
Handle cards and chips with skill
Take care of complaints graciously and timeously
Maintain a professional demeanour at all times
What kind of training do you need?
While it's true that you don't need any formal tertiary education to become a croupier, you do need to undergo specific training before being allowed on the casino floor. Usually most of the training you do will be performed on the job, learning as you go, however there are a number of dealer schools you can attend as well, if you'd prefer to go through training before applying for a job.
Whether you learn in a school or in a casino, you'll be taught everything you need to know about casino gaming, from actual lessons on the games themselves, to local gambling laws, and licensing and regulations too. Depending on where you undergo your training, you can expect to be trained anywhere from six weeks to three months before being allowed on the casino floor. And that's just for the fundamentals – often casinos will insist you remain in on-the-job training for as long as 18 months to ensure you're fully qualified to carry out all the duties of a professional croupier. Once you've met all the requirements of your specific casino, you're on your own – and that's where the real fun begins!
While being a croupier is a challenging, but rewarding job, doing well in the short-term could help your career in the long-term. Perform your duties to the best of your ability, and a few years down the line you could be promoted to inspector, pit boss, and even a manager too – so there's plenty of room for career growth and development if you work hard and stay motivated. Of course, you won't actually be able to play at your own casino, but that's a minor drawback. If it's a career choice you've been considering, it's a good one, and you'll be in demand in casinos around the world. So go on, give it a try and see what kind of hand fate deals you!