How will you be celebrating Halloween?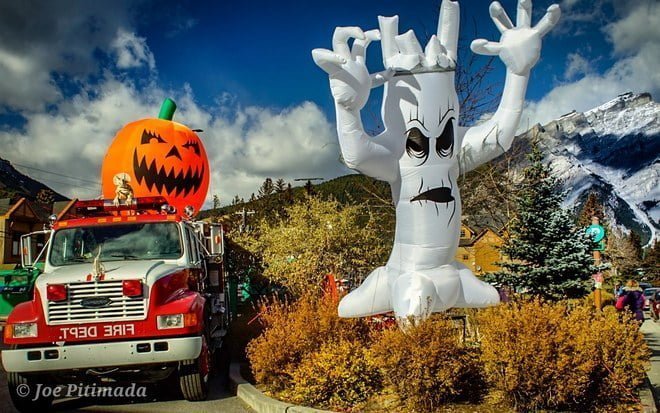 It's almost time for everyone's favourite costume party – one packed with tricks, treats and excitement galore! So where and how will you be celebrating the occasion? If you're not sure yet, not to worry! We've put together a list of our favourite ways to enjoy Halloween around the world, all packed with luxury and style, of course. Read on for some terrifyingly amazing inspiration – chills and thrills await!
Hilton Playa Del Carmen, Mexico
If you haven't heard of the Mexican tradition of Dia de los Muertos (the Day of the Dead), then get ready for an experience like none other! A traditional holiday designed to honour the souls of the deceased, Dia de los Muertos takes place on 1 and 2 November every year, and it's an occasion you definitely want to be a part of! Sounds intriguing? Then why not jet off to the Hilton Playa Del Carmen in Mexico! Known for its all-out celebration of Dia de los Muertos, in previous years this luxury hotel has offered a range of themed activities, from a detoxifying and cleansing Temazcal Stone Steam Bath guided by an actual shaman, to a traditional Hanal Pixan (Food of the Souls) experience, including delicious tasting dishes and a menu designed specifically for the occasion. Other past festivities have also included the Catrinas Parade, and the Festival de Tradiciones de Vida y Muerte, one of the biggest Dia de los Muertos gatherings in the region.
There's more excitement where that came from though. If celebrating Dia de los Muertos sounds like something you'd enjoy, there's plenty to look forward to in the city of Oaxaca, also in Mexico. Here you'll be able to don traditional dress and join the colourful participants as they parade through the streets, honouring their passed loved ones. Stay in the historical Casa Antonieta hotel, and enjoy the sights and sounds of this singular festival – one you'll remember and treasure for years to come.
Hudson Valley, New York
If ghosts and ghouls are more your Halloween cup of tea (or mug of pumpkin spice latte), then a trip up to New York's Hudson Valley could be just what you need to mark the occasion in a macabrely memorable way. That's because it's here you'll find Sleepy Hollow, the location for the famed short story (and the subsequent Johnny Depp movie).
Written by author Washington Irving who himself lived near the Hudson River, 'The Legend of Sleepy Hollow' tells the tale of the Headless Horseman – and now, more than 100 years later, this gothic tale is brought to life in the same place it was first created. And what an event it is – one filled with more than 10,000 carved, illuminated pumpkins, a creepy showing of the film, The Unsilent Picture, and live performances of The Legend of Sleepy Hollow in the town's old church. Stay in the nearby Castle Hotel & Spa and soak up all the spookiness – it's a Halloween adventure in the making!
Finger Lakes Region, New York
Still in New York, this time in the Finger Lakes Region, there's more than enough to warm the cold cockles of any die-hard Halloween enthusiast's heart. From the haunted Belhurst Castle to ghost hunting in the William Phelps General Store & Residence, and the Haunted History Trail of New York State, there's plenty to send chills up and down your spine during your stay. Book a room at the charming Inns of Aurora for an eerie murder mystery evening, or brave the supposedly haunted Fainting Goat Island Inn instead – it's your choice. The Finger Lakes Region beckons, and strange and unusual happenings abound!
Braşov, Romania
We can't talk Halloween without talking vampires, and that's where Brasov comes in – a city in the Transylvanian region of Romania, and the legendary home of Count Dracula himself. If you've always been fascinated by vampires and their lore, then a trip to Brasov is a must for your next Halloween celebration.
With its medieval walls, old-style cobblestones and towering gothic church, Brasov is everything you could possibly want in a visit to Transylvania. Stay in the gorgeous Vila Katharina hotel, treat yourself to a tour of Bran Castle, and listen to age-old stories of Vlad the Impaler, commonly thought to be the inspiration for Bram Stoker's Dracula. Soak up the legends of yesterday while enjoying the comfort and convenience of today – it's the best of both worlds, and it's a Halloween experience never to be forgotten! Just don't forget your garlic, your crucifix, and your holy water – better safe than sorry…
Banff, Canada
If you're a Brooklyn Nine-Nine fan (cool, cool, cool), you'll already know Captain Holt's advice to "Never vacation in Banff". But if you're a Halloween fan as well, you might want to ignore his sage wisdom, in favour of a ghostly getaway in Canada's Fairmont Banff Springs.
That's because this luxury hotel is said to be home to all manner of ghosts, including the aptly named Ghost Bride and Sam the Bellman. We don't know about you, but that's an experience too mysterious to pass up! Even better, ask about which rooms are said to house paranormal activity, and book one for yourself – who knows what will come out to play when the lights go out!
Staying in Canada but moving to the Fairmont in Vancouver, if you're lucky enough you could catch a sighting of the hotel's famed Lady in Red. And even if you don't, the hotel bar has been known to offer a selection of frighteningly good cocktails as well. Sip on enough of them and who knows what you might be seeing by the end of the evening! Three cheers to phantoms, fabulousness, and fun Halloween times!
Ready to get your trick or treat on? Then a world of Halloween surprises awaits! Simply choose the spot you'd most like to visit, get your costume ready and you'll be sorted! Or if recent events require you to stay indoors this year, there's plenty of Halloween excitement to be had on the slots – and who knows, a sweet casino jackpot could soon be yours!