James Bond and gambling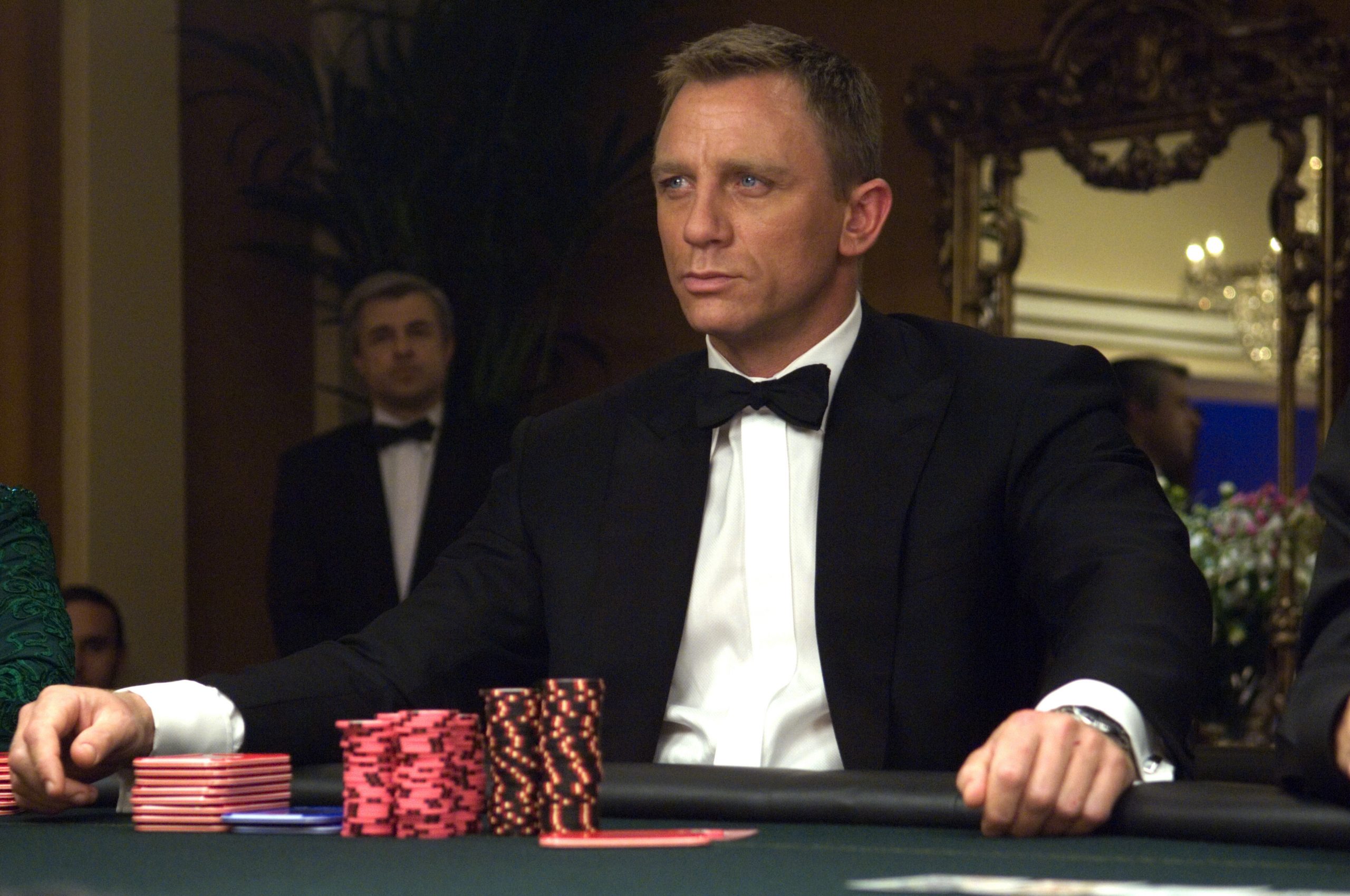 With the latest James Bond movie, 'No Time to Die' currently reigning supreme at the box office, 007 is trending once again. And while this super spy with a license to kill has always been known as a ruthless secret agent and an incorrigible ladies' man, he's also something of an expert gambler as well.
Bond's penchant for gambling should come as no surprise though – his love of the tables is elegantly detailed right from the first of creator Ian Fleming's novels, Casino Royale: "Bond has always been a gambler. He loved the dry riffle of the cards and the constant unemphatic drama of the quiet figures round the green tables. He liked the solid, studied comfort of card-rooms and casinos, the well-padded arms of the chairs, the glass of champagne or whisky at the elbow, the quiet unhurried attention of good servants. He was amused by the impartiality of the roulette ball and of the playing cards – and their eternal bias. Above all, he liked it that everything was one's own fault. There was only oneself to praise or blame. Luck was a servant and not a master."
Which is why along with slick gadgets, suave suits, beautiful women, fast cars and dry one liners, casinos and gambling also feature heavily in James Bond books and movies. But which games are Bond's favourites, and how does he master them? Let's take a look.
Baccarat
Known historically as a game for high rollers and VIPs, it's no surprise that Baccarat seems to be a favourite of super spies too – which is why this revered table game makes an appearance in no less than four Bond movies. First seen in the film that started it all, Dr. No, in 1962, Baccarat makes its debut in a scene with Sean Connery at Le Cercle. Here Bond plays the dealer, rather than a player, dealing cards to one of the very first Bond girls, Sylvia Trench. As she introduces herself, it's at this point that Bond introduces himself with the iconic line, "The name's Bond. James Bond." And with just five words, a legacy is born.
Baccarat also appears in the Bond movies Thunderball, On Her Majesty's Secret Service and GoldenEye, the latter featuring a memorable scene between Bond and the sultry villain Xenia Onatopp. Here Bond plays a variation of Baccarat known as Chemin de Fer – one where players are each dealt two cards by the dealer, and given the option of receiving a third, or staying with their initial hand. While Xenia wins the first hand against Bond, the spy wins the second, interestingly enough with a King, a Queen and a 6. As in Baccarat, face cards are worth 0, his hand totals 0-0-6 – the spy number of his late friend, Alec Trevelyan, the 006 to Bond's 007. The scene is an explosive one, as is the rest of the film – but no spoilers! All we'll say is that the casino setting is chic and sophisticated, with Pierce Brosnan's Bond coming out on top, and Onatopp bitterly gracious in defeat. License to thrill, indeed!
Poker
We can't talk James Bond and gambling without talking about his talent for Poker, featured masterfully in Daniel Craig's first outing as the spy in Casino Royale. Here Bond plays a high-stakes game of Texas Hold'em against the sinister and savvy villain, Le Chiffre (played in the movie by the incomparable Mads Mikkelsen). Playing with millions in ill-gotten terrorist gains, Le Chiffre is one of Bond's most formidable opponents at the gaming table – although after losing a number of hands, and almost his life as well, Bond finishes the game with a straight flush of spades to take the entire pot of $115 million. And it's from this moment that his problems with Le Chiffre escalate even further.
We wouldn't advocate risking millions of dollars on a single hand, and we wouldn't encourage you to restart your own heart with a defibrillator at the same time, but if, like Bond, you have a love for Texas Hold'em, then you'll have plenty of real life and online casinos to choose from.
Roulette
Poker may be the big draw card in Casino Royale, but before facing off against Le Chiffre across the table, Bond indulges his love for gambling at the Roulette wheel as well. Although not detailed in the book, the system used by Bond while playing Roulette is mentioned as being a progression system – one which was later revealed to be the Labouchère system.
Also known as the cancellation or split martingale system, the Labouchère system was invented by Roulette enthusiast Henry Labouchère, and designed to be used on even money outside bets, such as red/black, odd/even, and so on. While the system was developed for Roulette initially, it can also be used for other even money games such as Baccarat, Blackjack, or even sports betting as well.
One of the more complicated progression systems in use, the Labouchère system can take some time for players to adapt to – so if it is indeed the system that Bond was using at the Roulette wheel, it's clear that his talents lie as much at the gaming tables as they do in espionage. For our money, we'll stick with simply placing bets, and leave the strategy to the experts!
Craps
It turns out that James Bond likes a throw of the dice just as much as the next person, as evidenced by his behaviour in the movie Diamonds are Forever. Here, with his legendary suaveness, he manages to win $65,000 in Craps at the Whyte House in Vegas – an impressive sum by today's standards. And of course because he's James Bond, he doesn't just play Craps, he seduces Bond girl Plenty O'Toole at the same time. A player in more ways than one!
So if you fancy yourself something of a super spy, see how your skills match up to Bond's. Try your luck at Baccarat, Poker, Roulette or Craps and see how you fare – just remember to leave the martini till after you've finished playing.